January brings the spirit of a new year to Ibiza. Though it isn't as warm, the days are still mild and refreshing when compared to the hotter months, like August. 
January is a time to enjoy Ibiza at your own pace and take in the sights without needing to fear swathes of tourists. If you want to start your year in the lap of luxury, there is no better time to visit Ibiza. 
You may be wondering, what is Ibiza like in January? In this article, we will explain everything you need to know about what to do in January, what events are happening and give some recommendations for places to visit.
Weather in Ibiza in January
You can enjoy a Mediterranean winter in Ibiza during January. With highs of 15℃ most days, the weather is still enjoyable and much more bearable than the peak summer heat. The evening brings lower temperatures of around 8℃. 
If you make the most of the warmer winter by exploring in the day, alfresco dining is certainly still a viable option for lunch. However, if you are wanting to have dinner out, be sure to bring layers with you to avoid the chill.
January in Ibiza is fortunately quite dry, with only 40mm of rainfall over 10 days. Showers aren't long-lived, so you won't have to worry about heavy rains that will prevent you from sightseeing. You should still pack a variety of clothes that are suitable for ambient weather, such as jumpers and a raincoat. 
While the beaches will be entirely open to you due to the lack of crowds, the seawater remains at a cool 15℃. It's not the ideal temperature for swimming but can be very refreshing in the middle of the day!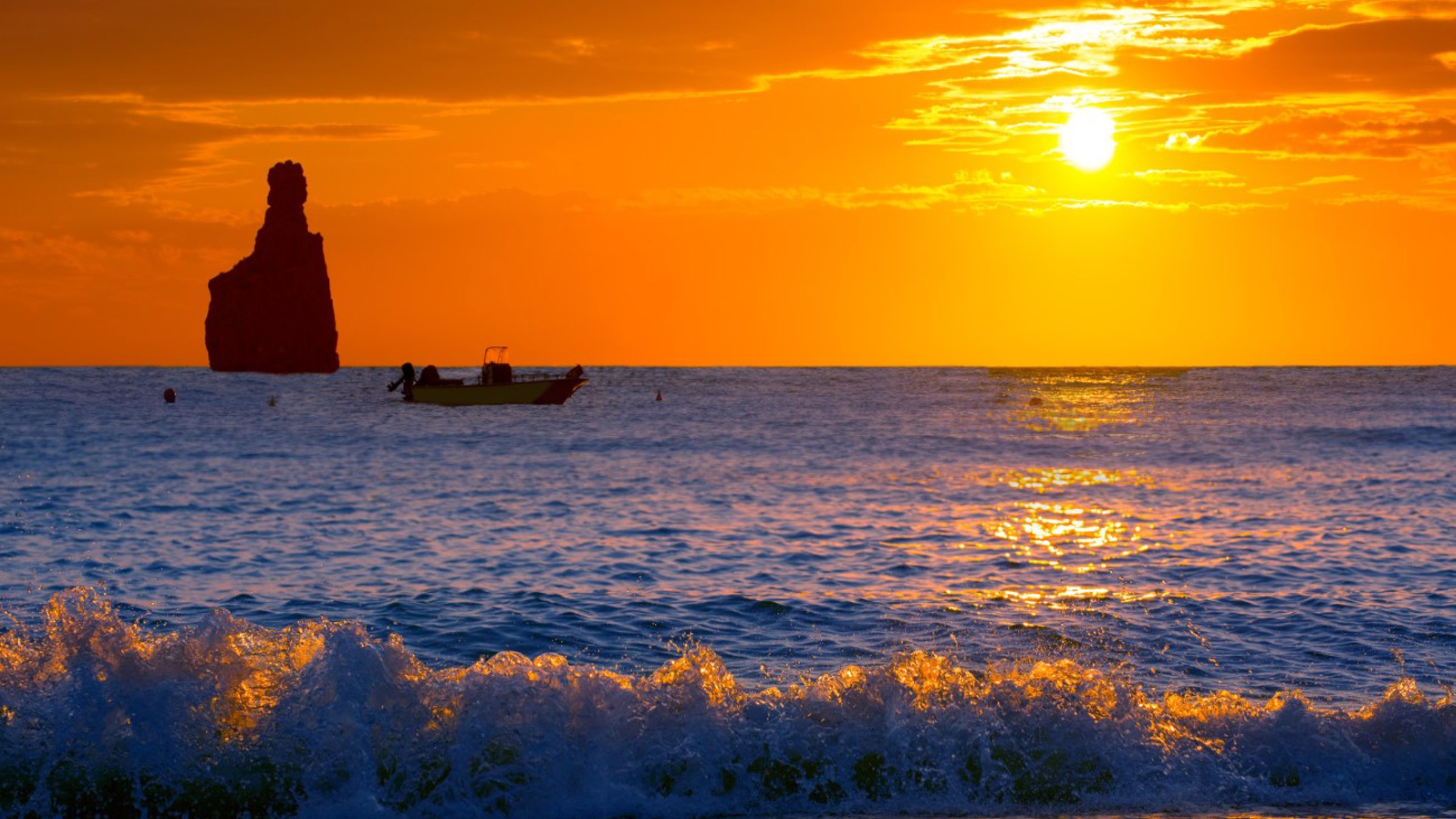 Festivals and Events
Los Tres Reyes Magos
Christmas celebrations last until the 6th of January in Ibiza and conclude with Los Tres Reyes Magos, the Three Wise Men celebration. The event starts on the evening of the 5th across the island, the celebration marks the arrival of the three wise men with their gifts of gold, frankincense and myrrh. 
Festivities include parades, horse riding and displays of meticulously decorated boats. The parades are highly anticipated, featuring dancers, musicians and other performers. The kings follow on floats and throw sweets into the crowd.
The following day, Spanish children wake up to gifts from the three kings and families come together for a long lunch filled with hearty food and chatter. The main event of the feast is a dessert made especially for the festival, the astonishing roscón. This crown-shaped cake is a staple of the festival and holds a king figurine inside. Whoever gets the little king in their slice of cake will have good luck for the rest of the year!
San Antonio Flower Power
If you find yourself in Ibiza in early January, the festivities of San Antonio are a welcome delight. A whole programme of events is organised and none is more awaited than the Flower Power party. 
This is a celebration of all things 60's and 70's, with psychedelic colours, entrancing music and lively street performances. Everyone dresses up in their best 70's attire for the day which feels as though you've stepped back in time. 
The event begins at the fountain square with a hippie market, selling a range of bohemian clothing and handmade gifts. Alongside the vibrant market, you will find singers and dancers performing on the square, making the whole event a very lively affair.
Later in the day, DJs start playing some of the best 60's and 70's hits. Come the evening, the celebrations shift into a spirited party where you can dance and enjoy some drinks. 
Festival de Ball i Cançons de la Nostra Terra 
The celebrations of San Antonio are truly exquisite, but if you want to further explore the culture and history of Ibiza then you should get involved in the annual folk festival. Known as the Festival de Ball i Cançons de la Nostra Terra, this event celebrates the rich culture of Ibiza with folk music and dancing. 
Held in San Antonio's Regio Cinema every year, the event brings the community together as they don colourful costumes inspired by history and keep their traditions alive by sharing their dances and music. If you want to truly immerse yourself in Ibiza's long-lived history then this is not a festival you want to miss.
The Best Places to Visit
As Ibiza is yet to draw in the raucous summer crowds, you will have your pick of which sights you want to see and will likely have them all to yourself. This gives you a chance to break up your itinerary and enjoy your visit at a leisurely pace. Below we expand upon some of our favourite places to visit in Ibiza in January. 
Formentera 
We highly recommend chartering a boat and exploring the other Balearic islands. There is nothing quite like floating on the azure water and taking in the incredible natural beauty of the Balearic coastlines. 
A great place to visit is Formentera, a charming island just 40 minutes away from Ibiza by boat. This slice of paradise is the smallest of the islands and carries an air of calm making it an excellent place to visit in January. 
Formentera has some of the most untouched beaches and coves in all the Balearic islands. The natural beauty also extends inland to its small villages and hidden caves. With a reduced tourist presence in January, the island is yours to explore.
As Formentera is rather small and very flat, it lends itself perfectly to a day of cycling. With the relaxed atmosphere, you can spend all day discovering the wonders of the island at a comfortable pace. You will also find many restaurants on Formentera that offer a charming blend of luxury and rustic gastronomy. Many of these are situated on the beach, providing azure ocean views to complement the fine food.  
Santa Gertrudis
There are many villages dotted around Ibiza, with each having its own contained traditions and atmospheres. One such village is Santa Gertrudis, nestled in the heart of the island. This gem of a village is famous for its yellow church tower and central square, which serves as the hub of the community. 
This enchanting town is filled with boutiques and independent shops, selling stunning collections of clothing and accessories. There is a large creative community at Santa Gertrudis, so you will also find plenty of handmade gifts and art pieces that are truly unique. 
What is most captivating about Santa Gertrudis is its artistic charm. There are many galleries with works from local artists and others from around the world. It's an exquisite place for those who love all things bohemian. 
Cala Conta Beach
You can't leave Ibiza without having walked on a beach. Though January doesn't have the scorching sun and warm ocean, it is still an excellent time of year for beach walks. What is more, you will be able to comb every inch of the beaches that would usually be filled with tourists. 
One of the best beaches to see in January is Cala Conta, or Platges de Comte, a mere 15 minutes away from San Antonio. While all beaches in Ibiza are serene white sandscapes, Cala Conta is special. From the shores, you can see out to the other Mediterranean islands that sit on the clear turquoise waters. 
The large stretch of beach has many bars and restaurants serving fresh catch of the day, among other Spanish dishes. If you climb the small cliffs to the west of the beach, you will find a hidden cove called Cala Escondida. The cove is a popular spot in summer and during January it offers a tranquil escape where you can relish its natural beauty.   
But perhaps the most compelling reason to visit Cala Conta, is the immaculate sunset views it offers. As the sun dips below the horizon, you will be treated to postcard-perfect views of crimson skies and crystal waters.  
Whether you're on the beach or anchored in a boat, the spectacle of sunset here is unlike any other.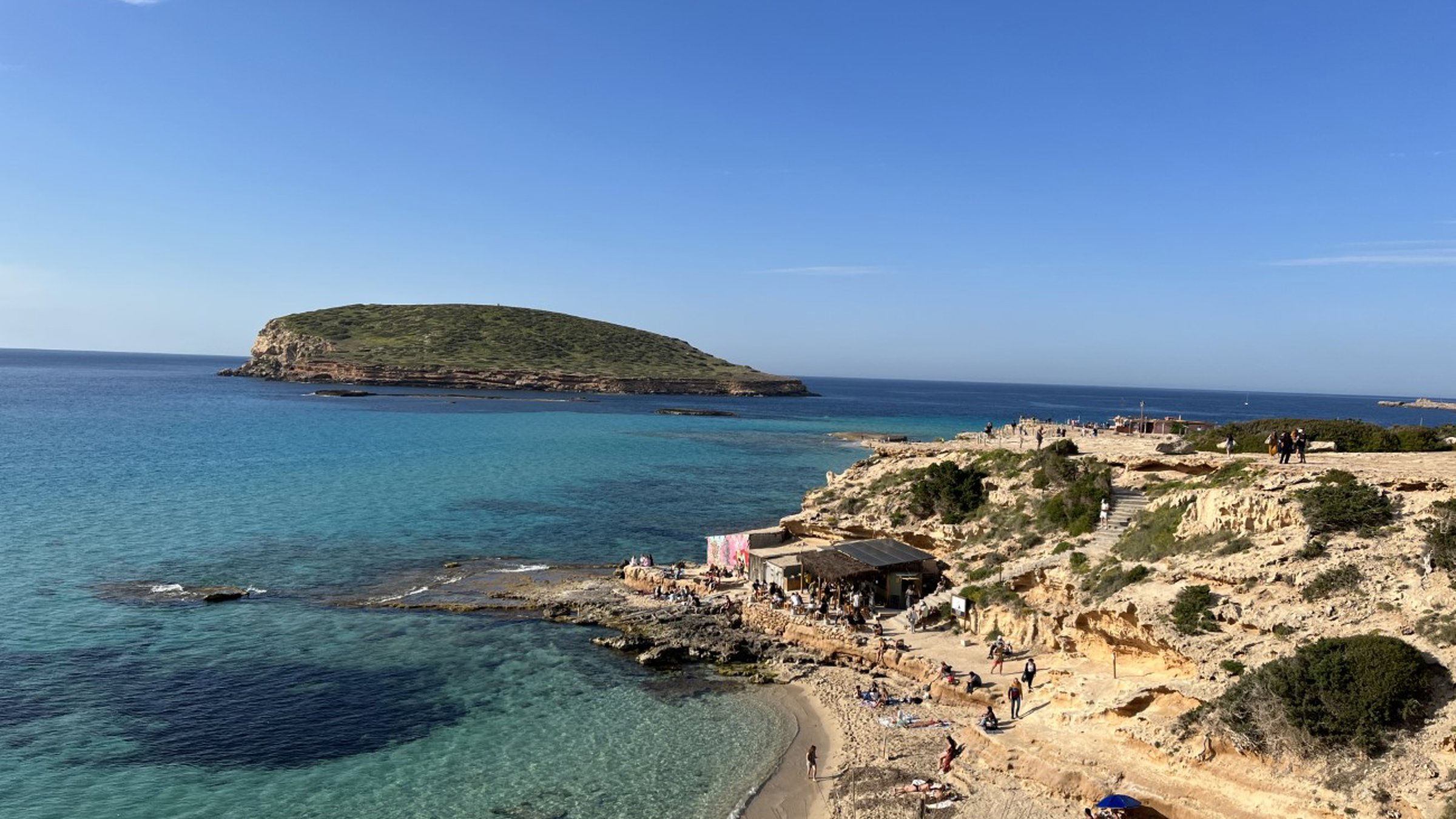 The Best Things to Do
Despite the low season feeling much slower than the rest of the year, there are still so many activities in Ibiza that could complement your visit. We've shared some of our favourite things to do in January below.
Discover the Almond Blossoms 
Winter brings a natural delight to Ibiza and it cannot be seen at any other time of year. From January, the almond trees across Ibiza will burst into bloom. This is a magical time to be in Ibiza and you will find that many of the locals look forward to the season.
It is thought that almond trees have been cultivated here for over 2000 years. Almonds are a staple of Ibizan cuisine, you'll find them in many dishes like Flaó and Bullit. But before they produce the nuts that garnish Ibizan meals, the trees blossom with pale pink and white flowers that transform the White Isle into a canvas of colour. 
You'll find almond trees everywhere, especially if you're driving through the countryside. The best place to see the beautiful blossoms is Santa Ines. This rural valley provides a glimpse of the real Ibiza, secluded from the bustling party towns. 
The seasonal bloom of the almond blossoms makes January one of the best times to visit Ibiza. The budding trees perfectly reflect the growth that we all wish to see in the new year and are a welcome sign that spring is not far away. 
Sample the Gastronomy
You will have most of Ibiza's attractions to yourself in January and this also applies to restaurants and bars. With fewer visitors, you will have your pick of where to dine in the evenings without fear of needing a reservation. 
Ibiza has a selection of restaurants that offer incredible local cuisine with a magnificent flair. Among the high-end restaurants, you will find some Michelin-starred establishments that offer a dining experience full of Mediterranean splendour. 
As well as divine dining, Ibiza is home to six wineries that produce exquisite local wines. You can arrange a tasting at the wineries themselves and enjoy a private affair with dedicated service. Equally, if you want to explore the extent of Ibizan wine, consider booking a wine tour to sample the delectable productions from across Ibiza.   
Take a Private Boat Charter
Many of the islands around Ibiza are accessible via ferries, opening up a greater range of experiences on your holiday. But what if you could enjoy your own private charter?
Our daily boat charters give you the opportunity to explore the intimate corners of Ibiza and the surrounding isles. With expert crews and top-of-the-line vessels, your every need will be catered for. A private charter gives you the chance to discover Ibiza in a way that is unique to you and will certainly make your trip one to remember. 
While the sea is much colder in January, you can still try diving and snorkelling if you want to brave the chillier waters. But the allure of a boat charter in January is the pleasant island views, with coastlines that appear untouched and serene. 
FAQ
Is it worth going to Ibiza in January?
With fewer tourists and crowds, January offers a much more intimate experience of Ibiza. You can truly connect with the local atmosphere and discover unique celebrations that only occur at the beginning of the year. 
Can you still party in Ibiza in January?
Ibiza is known for its nightlife and this is still true in January. Roaring parties are certainly still available, especially for New Year's Eve. 
You will also find many events and parties being held in the squares and plazas across the island. However, January offers a more relaxed setting that lends itself more to evening cocktails in a lush beachside bar. 
Summary
Ibiza in January is an exceptional experience that illuminates a whole new side to the island. The festivals that fill the winter months reveal a community connected to the nature and history of Ibiza. With a quieter ambience, January feels like a more genuine reflection of life in Ibiza.
All the offerings of the White Island are at your fingertips and the slower pace of living makes the island feel like a remote paradise.      
Do the idyllic beaches and colourful festivals sound like the perfect winter escape? Contact us now to book your lavish January getaway. Our villas can be found across Ibiza, from the white shores to the rustic countryside.