Santa Gertrudis is a cosmopolitan yet bohemian village located in the rural heart of the island, and aside from a beach, this quaint little area really has it all when it comes to Ibiza living. A tight-knit community of Dutch and British expats call this charming leafy village home and the variety of family friendly restaurants, bars and shops peppered throughout the main square – presided over by a beautiful white-washed church – keep visitors smiling from day to night.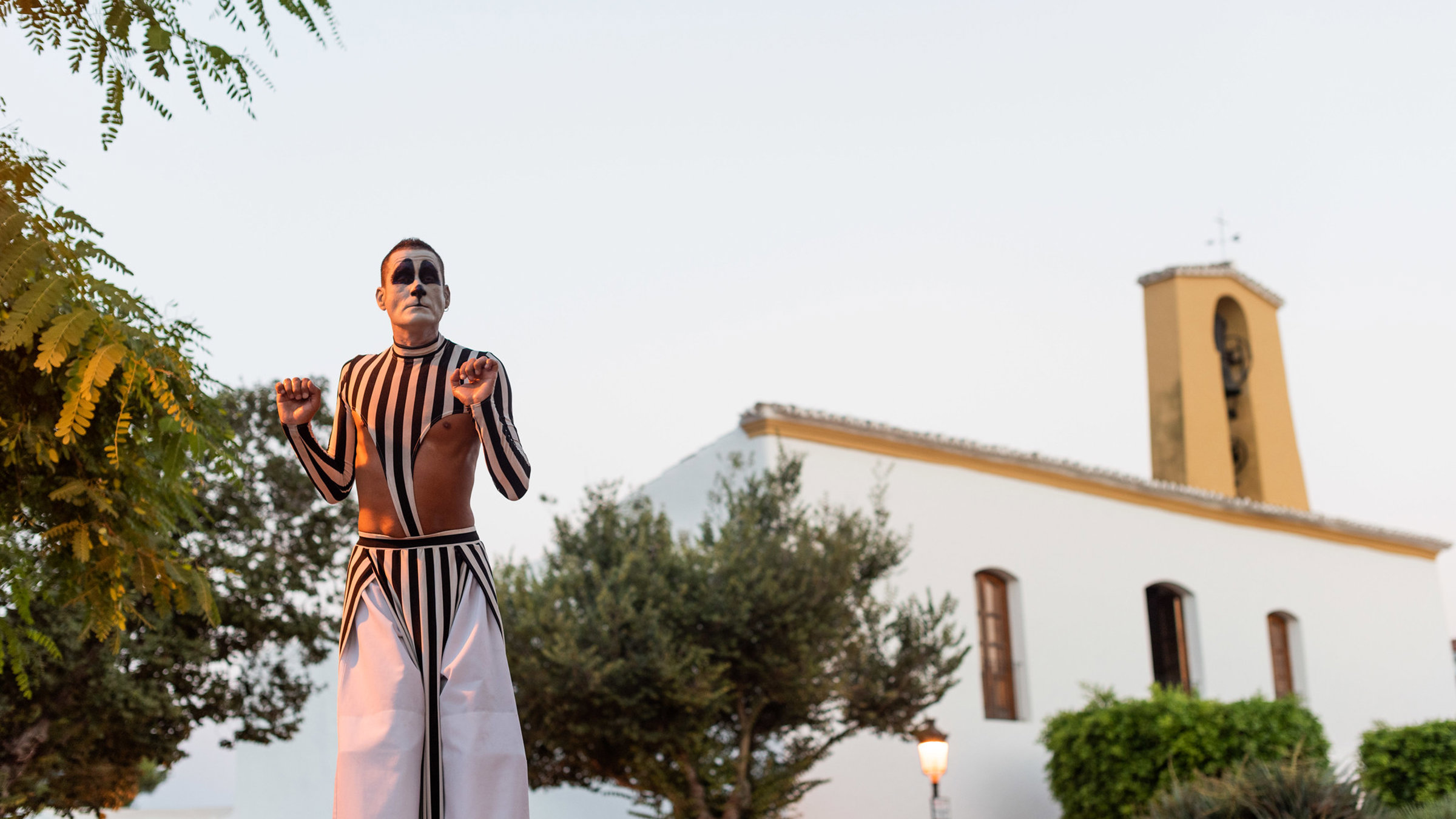 Favoured by families of all nationalities, Santa Gertrudis (dubbed Santa G by locals) is a magnet for those with children aged from toddlers to teens. The church square has ample space for little ones to run about while their folks enjoy a coffee or vino, as does the popular playground, set directly opposite resident parent trap, Musset. It's where all the local school kids hang out and the language of fun transcends any language barrier – new friends are guaranteed. Just a two-minute stroll from here – everything is within walking distance in Santa G – is unique new concept store and restaurant Numero 74 L'Atelier, offering a healthy buffet breakfast, lunch and early dinner, plus cool arts, crafts and yoga workshops for all ages (grown-ups included).
In recent years, Santa Gertrudis has become a bona fide Ibiza culinary hotspot.Two much-loved destinations for all-day dining are the plant-based, raw, vegan and vegetarian foodie haven Wild Beets, and the fashionista friendly Keto Kitchen, though if you're looking for something less Insta-friendly but more authentically Ibiza, you can't go past Ulivan's, where the montadito(toast) mixed plate comes with ham, cheese, fresh tomato and tortilla(Spanish omelette). Dynamic Lives general manager Electra Garcia – who grew up in Ibiza and knows the local eateries well – says Bar Costa (often called 'the ham bar') is a must for village first timers. "It's been there for-e-ver," she explains. "Don't stress if you can't get a table outside – there are plenty of cosy nooks and bigger dining tables inside, and you really have to check out the hundreds of legs of cured ham hanging from the ceiling!"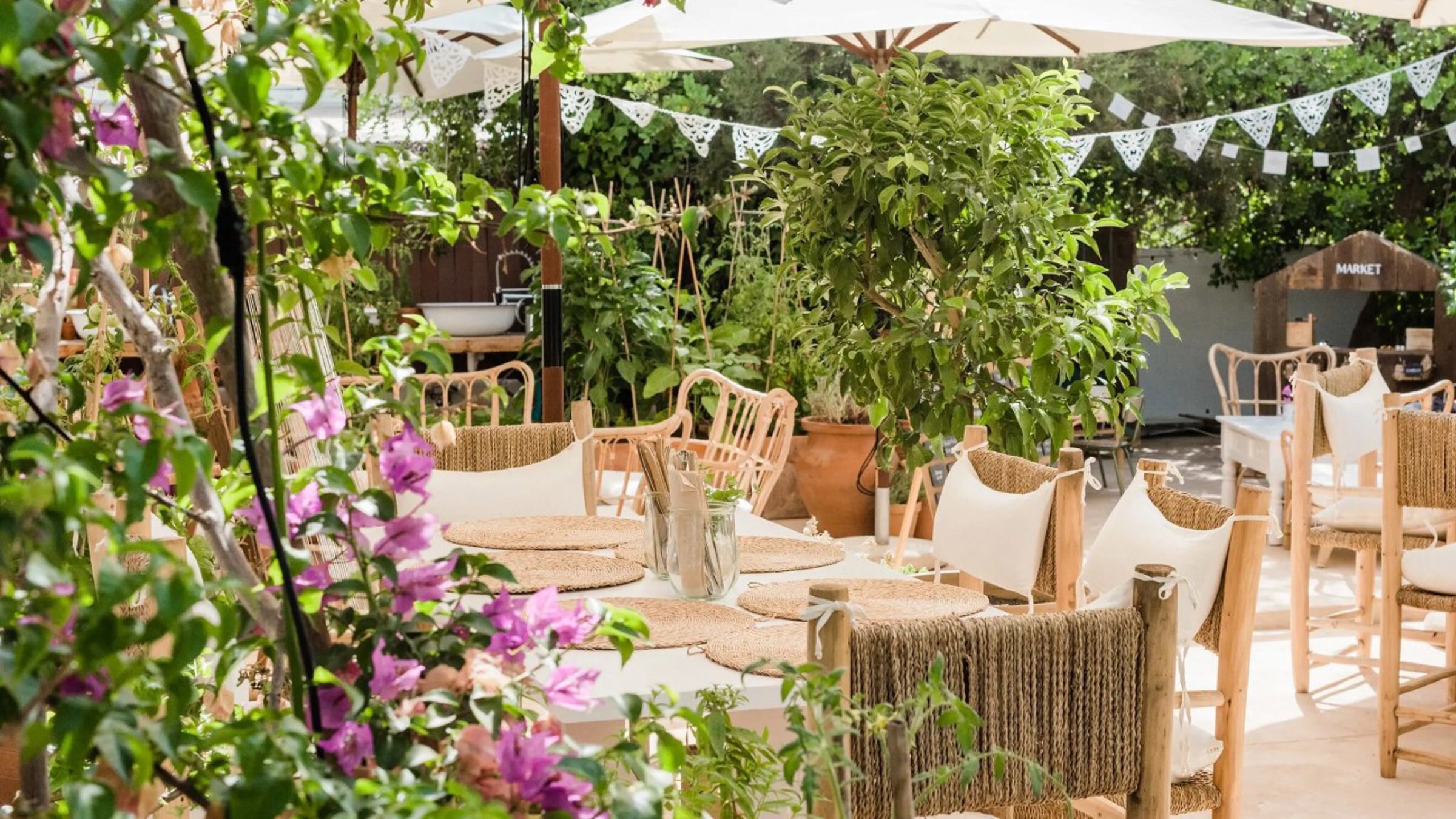 Those en route to Ibiza's northern beaches – most of which are handily located within a ten-minute drive from the village – should swing into Picadeli for healthy takeaway boxes and while you're there, be sure to check out the bookshop next door. "You can grab your favourite English magazines (or Italian, French and German) here," says Electra. "It's also the locals' go-to place for stylish woven straw hats and eco-friendly beach baskets." We'd be remiss if we didn't mention that Santa G is a retail therapy hotspot – for all things boho chic head to Angels Ibiza (think crystals, long skirts and ethnic jewellery) and The Rose (with vibrant silk clothing, incredible art by local painter Aldo Kodac, chic home decor and statement jewellery). The corner finca housing the popular Es Cucons La Tienda keeps shoppers of all ages happy, with kids clothes and toys, funky homewares and collections for men and women alike.
Baron Ibiza has long been a hotspot for guys in Santa G and recently this stylish men's fashion store expanded to include an equally savvy boutique for women next door. Cool concept store Skandish is a treasure trove of carefully selected Scandinavian and British brands, designs and textiles and is a fab place for gift shopping – prepare to be in there for quite some time! Locals love Casi Todo, an eclectic auction house brimming with treasures and headed up by a German auctioneer who is quite the character! When you do eventually leave the village centre, you'll find two of Ibiza's best concept stores on the cusp: La Galeria Elefante, which boasts treasures from all over the world, and SLUIZ, which is a destination in itself. The bonus in this cavernous warehouse-like space that stocks everything from shoes, clothes and soft furnishings to art, décor, kitchenware and lighting, is its super kitsch bar and restaurant – you really do need to see it to believe it.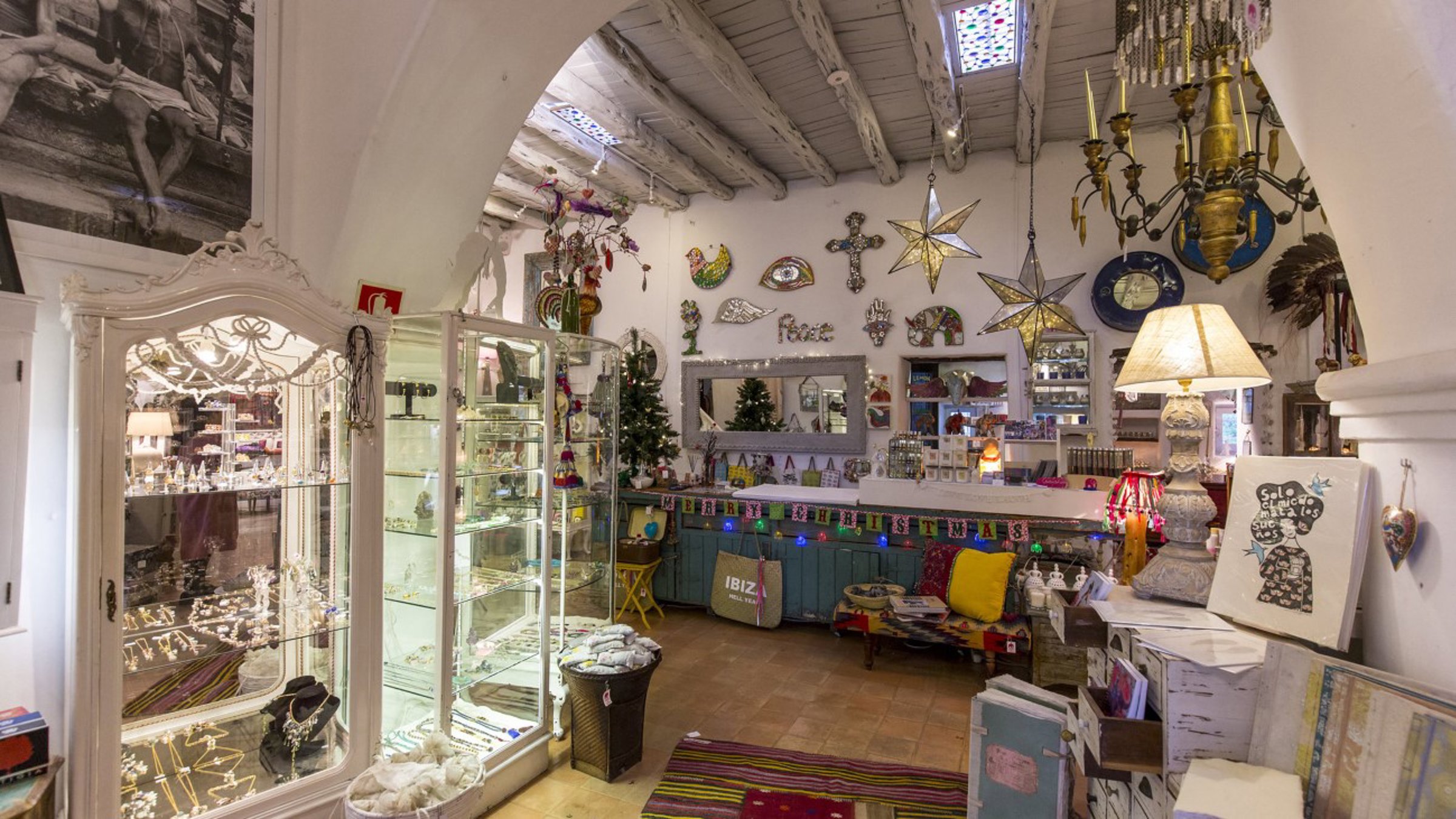 Après-shopping, or après-beach, the village square is the place to be as the sun goes down, bursting into life with street performers, buskers, families and the twinkling lights of the many alfresco dining spaces. For Dynamic Lives founder George Burdon, there's no question as to where he likes to take visiting friends and family first. "Macao Café is an institution and one of my all-time favourite restaurants ̈, he says. "Charismatic owner, Luca, delivers some of the greatest Italian cuisine on the island and the kids love it too." Homemade pasta, wood-fired pizzas and the fried zucchini starters are heavenly – reservations are essential and we can sort that out for you! There's no shortage of pizza in Santa Gertrudis (which all parents know equals happiness), with laid-back and cosy new pizzeria Zeno getting rave reviews of late for its authentic sauce, tasty pizzas, great little wine bar and warm service.
Meanwhile, the Ibiza outpost of NYC fave Bottega Il Buco is known for its amazing focaccia (by the slice), and it's here you'll find Ibiza locals mixing with the A-list, supermodels and rock stars – seriously. "It's like the who's who of the Ibiza private jet terminal sometimes," laughs Electra. "It's buzzing from morning until night, and they've really upped their game with the à la carte menu this year. There's so much more than just focaccia." Choose delicacies from the counter such as Sicilian anchovies, international cheeses and Portuguese mackerel, or quaint Italian deli goods from the Alimentari (shop) to start, followed by mains like the Wagyu beef carpaccio or paccheri ossobuco. All can (and should!) be washed down with their top selection of organic wines – which you can also take home to your villa.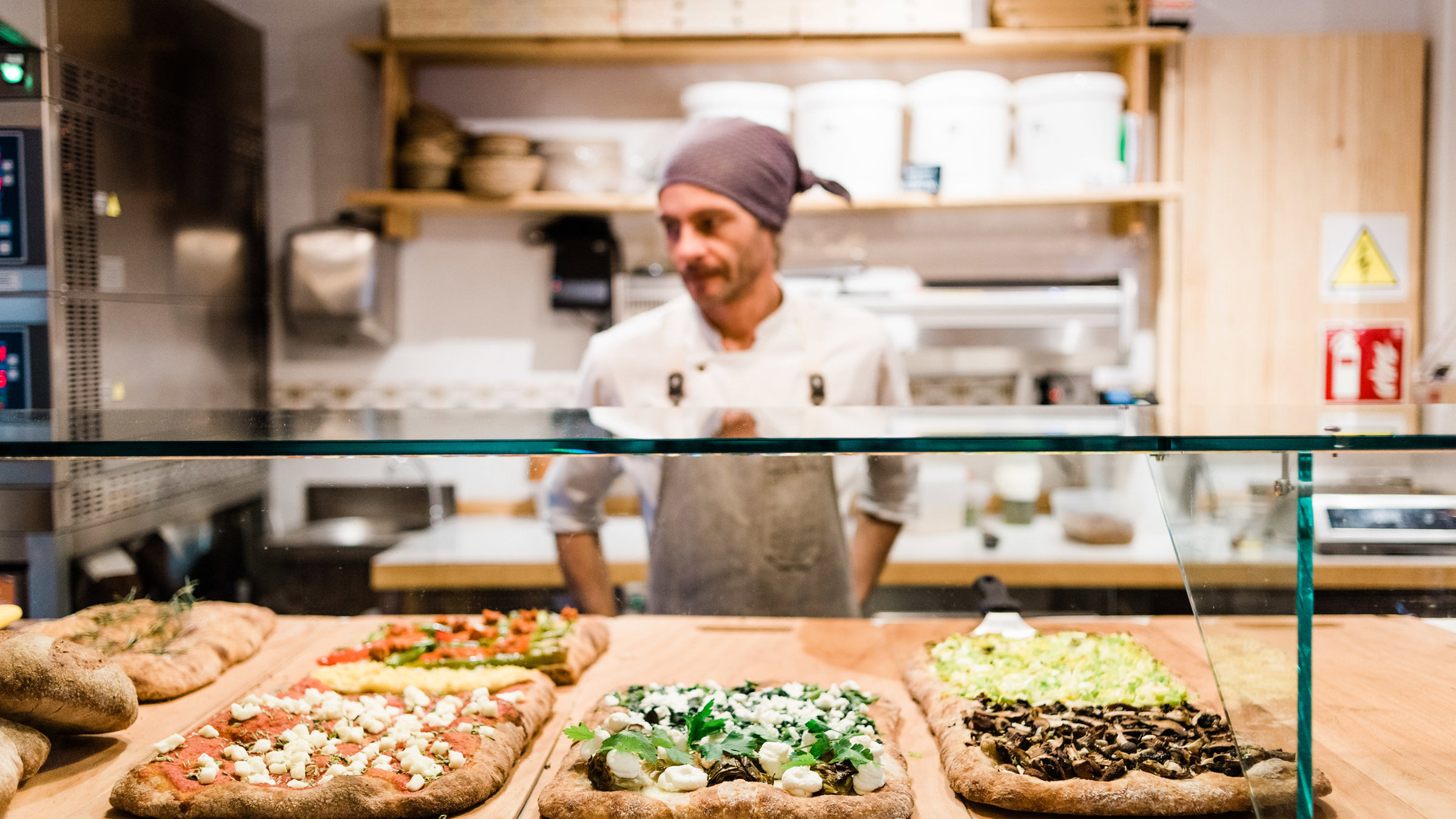 A Santa Gertrudis classic that was recently given a new lease of life is the stylish garden restaurant, Finca La Plaza. The new menu includes amazing pre-dinner cocktails and a lobster risotto that's a huge hit with all ages. Delectable grilled local meats, hearty pastas and light salads and a legendary truffle mash – there's something for everyone here. Just across the road, the new kid on the block in Santa Gertrudis is Can Mimosa – an ancient finca with famed Brit chef Tim Payne and local restaurateurs Pedro Cervera and Holly Rees Thomas at the helm. This pretty garden oasis opens at the family friendly dinner hour of 7pm and embraces an authentic, local and warm barbecue vibe with a kids' playground that means there's no rush to go anywhere once your meal is over, unless of course they want ice cream, in which case Zero Gradi, the gelateria on the edge of the square, has been called the best ice cream on the island, is calling. We told you: Santa Gertrudis really has it all.
If you'd like to stay in or near the village of Santa Gertrudis, we have a number of luxury Ibiza villas in the area, including Villa Rura, Villa Mateus and Can Talaya, or if you'd like to organise a day trip while you stay elsewhere, let us know and we can book you into our favourite haunts.