Picture the scene: you have arrived on the White Isle, transferred quickly over to your luxury Ibiza villa, where the mercury is nearing 30 degrees, and dropped off your luggage. 
What better way to begin your holiday than with a quick dip in the pool to cool down and shake off the fatigue from the flight?
What if your pool also offers an incredible view over Ibiza's fantastic scenery? The advantage of infinity pools is that they tend to offer fantastic views from the overflowing edge; consider it a welcomed introduction to the surrounding Mediterranean landscape.
Infinity swimming pools are common in the most modern and luxurious of Ibiza villa rentals. Ibiza has become a byword for luxury; this reputation, which has emerged in recent years, is due in part to the spectacular accommodation options on the Balearic paradise. Discerning guests have come to expect the most indulgent amenities, whether booking a modern villa with a spectacular sea view or a finca in the heart of rural Ibiza. An infinity swimming pool is the most luxurious of all amenities, and sets the tone for a memorable holiday.
We've hand-selected seven of the best Ibiza villas with infinity pools in the Dynamic Lives collection. Indulge your fantasies by reading on.
1. Casa San Miguel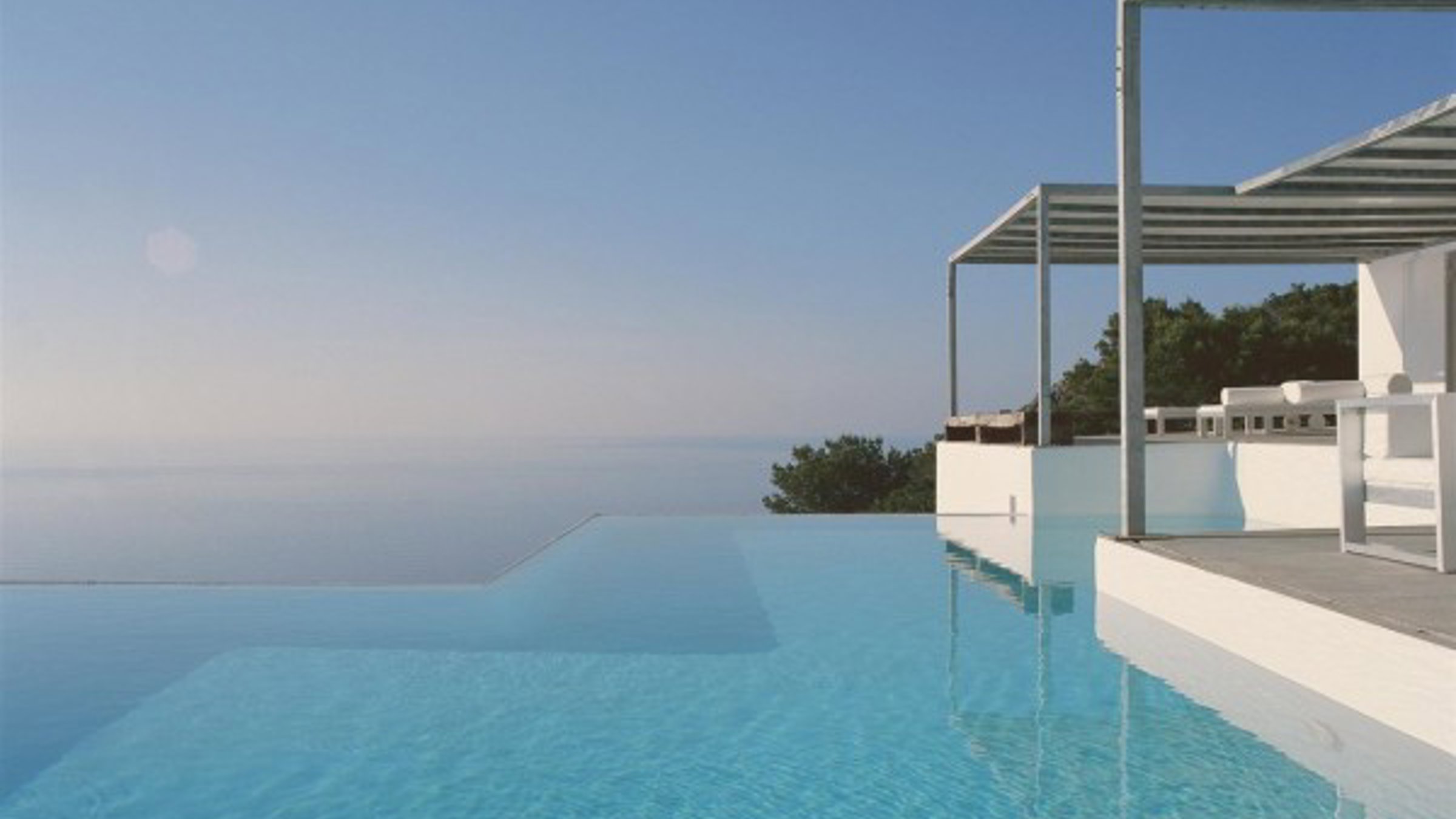 Casa San Miguel in the north of the island provides a stunning 13 x 6m heated infinity pool in an ideal location. Perched on a cliff, this luxury villa boasts 180-degree views of the Mediterranean. Its pool has been designed in such a way so as to give villa guests a feeling that the water runs from the pool into the sea. It is little wonder then that Casa San Miguel has been featured in a number of luxury magazines, including Elle and Côte Sud.
Price: from €10,250/week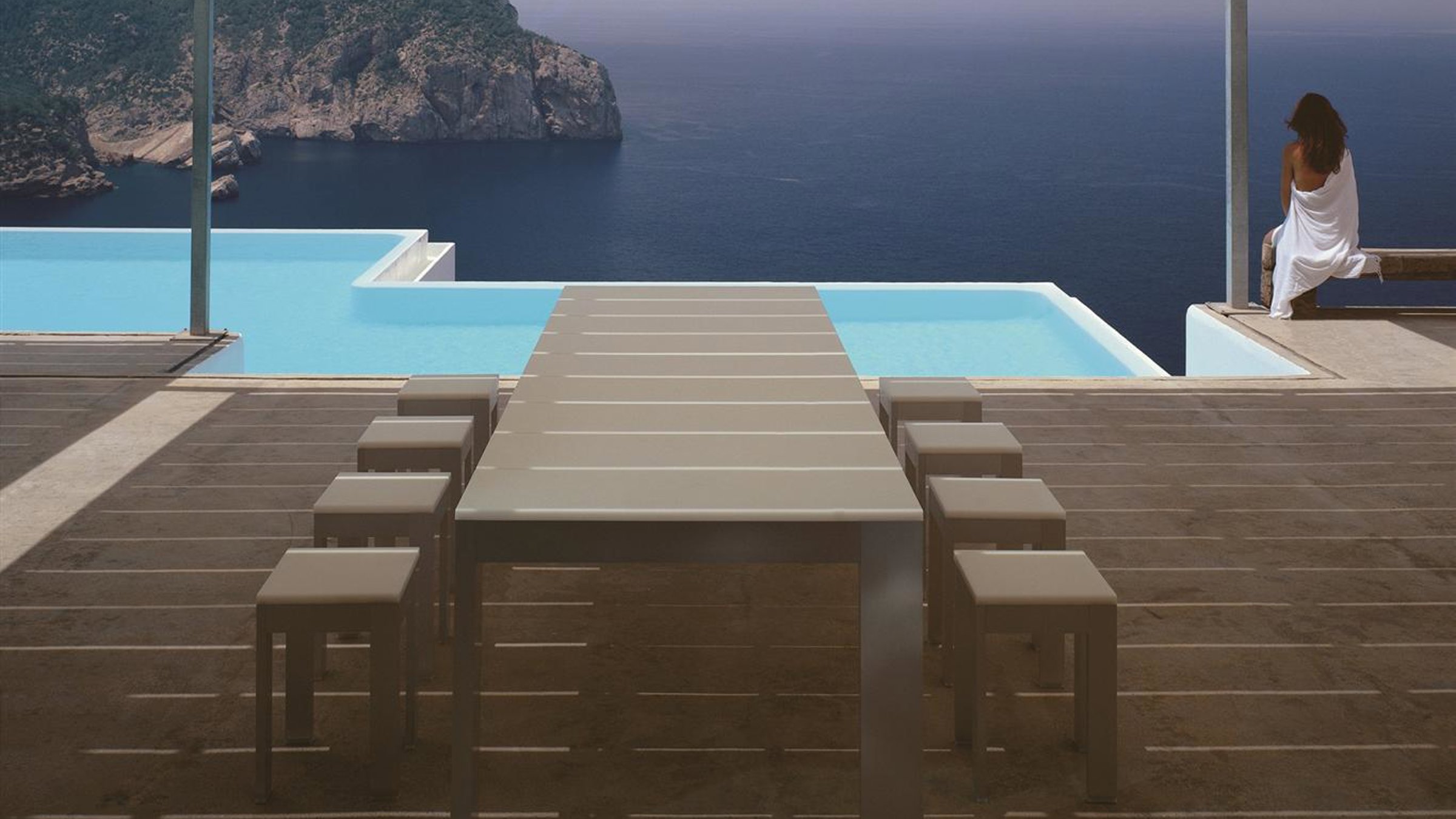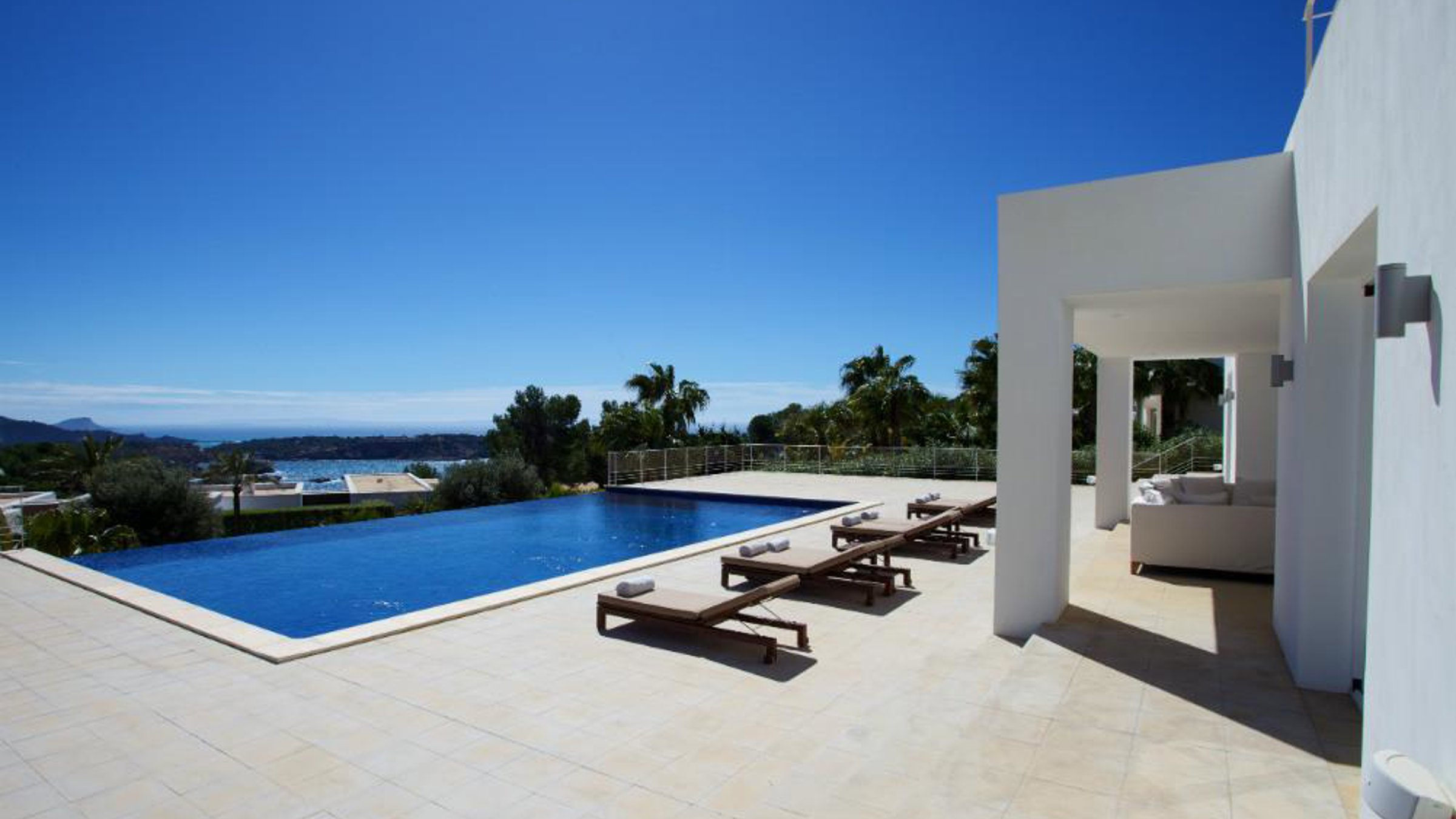 Located near Es Cubells, Villa Acai boasts an impressive open plan design as well as some of the best views over the Mediterranean Sea. The placement of the spectacular infinity swimming pool means it provides uninterrupted sea views and leaves guests feeling on top of the world. There is also a large chill-out terrace and seating area next to the pool – perfect for al fresco dining and days spent relaxing. The villa offers guests a gym, a stunning garden, Wi-Fi and a sound system. The local beach, Es Torrent, is just a short walk away, while Cala Jondal is also nearby. All four of the villa's bedrooms are ensuite and decorated with style. The villa rental is particularly good fo families and groups of friends.
Price: from €10,400/week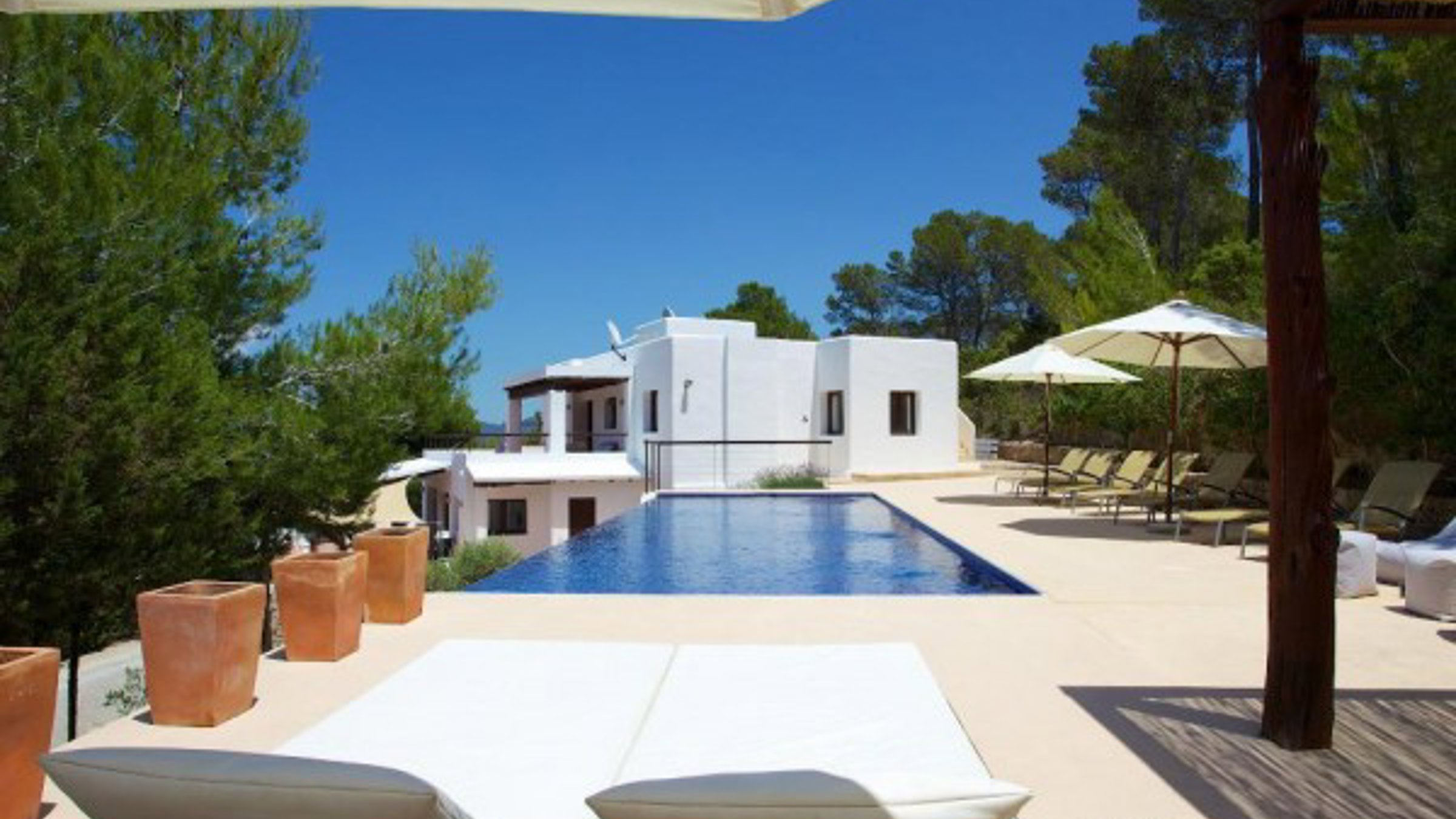 Located just a short drive from Es Cubells and its beautiful beaches, Villa Can Jordi is a contemporary six bedroom property which has first class views over the surrounding local countryside and the Mediterranean in the distance. The pool measures 11×4 metres from which guests can admire countryside views. When not in the pool, there is a large terrace for sunbathing and dining al fresco whilst enjoying the same scenery.
Price: from €5,300/week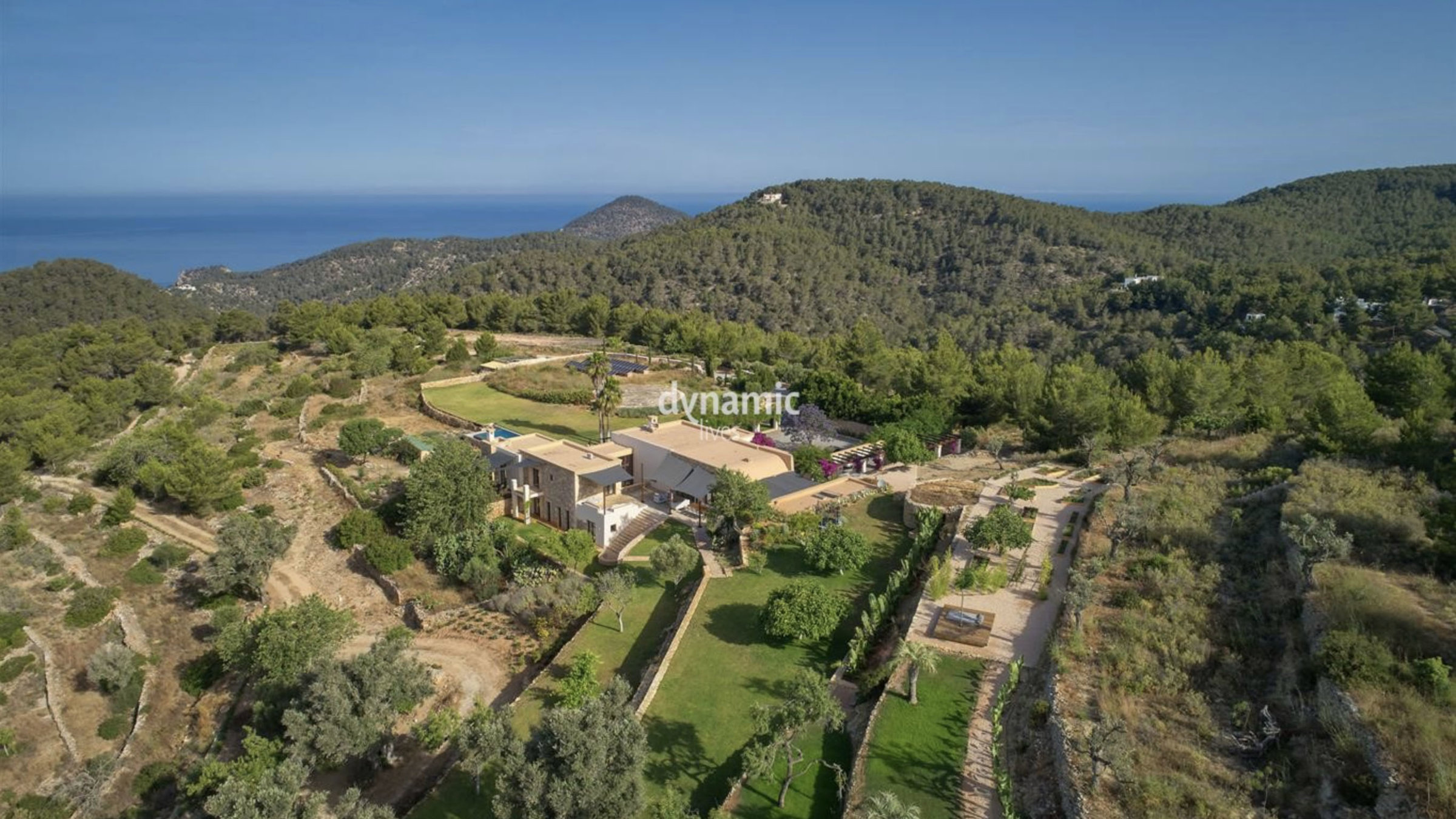 Featuring panoramic sea views and ample luxury, Mont St Claire is a stunning hilltop villa with an infinity pool in the midst of some beautiful natural surroundings. Located on a hilltop high above Cala Bassa, this exclusive hideaway has a very personal and secluded atmosphere, while the seven hectares of nature surrounding the villa appears just as luxurious as the interior. From the four plush bathrooms and five lavish bedrooms to the incredibly spacious ground floor which includes a bright living room and fully functional kitchen; both the features and facilities never fail to disappoint. With that said, the patio includes an outdoor professional kitchen with dining area, manicured lawns and an infinity pool with arguably the best views anywhere in the region.
Price: On application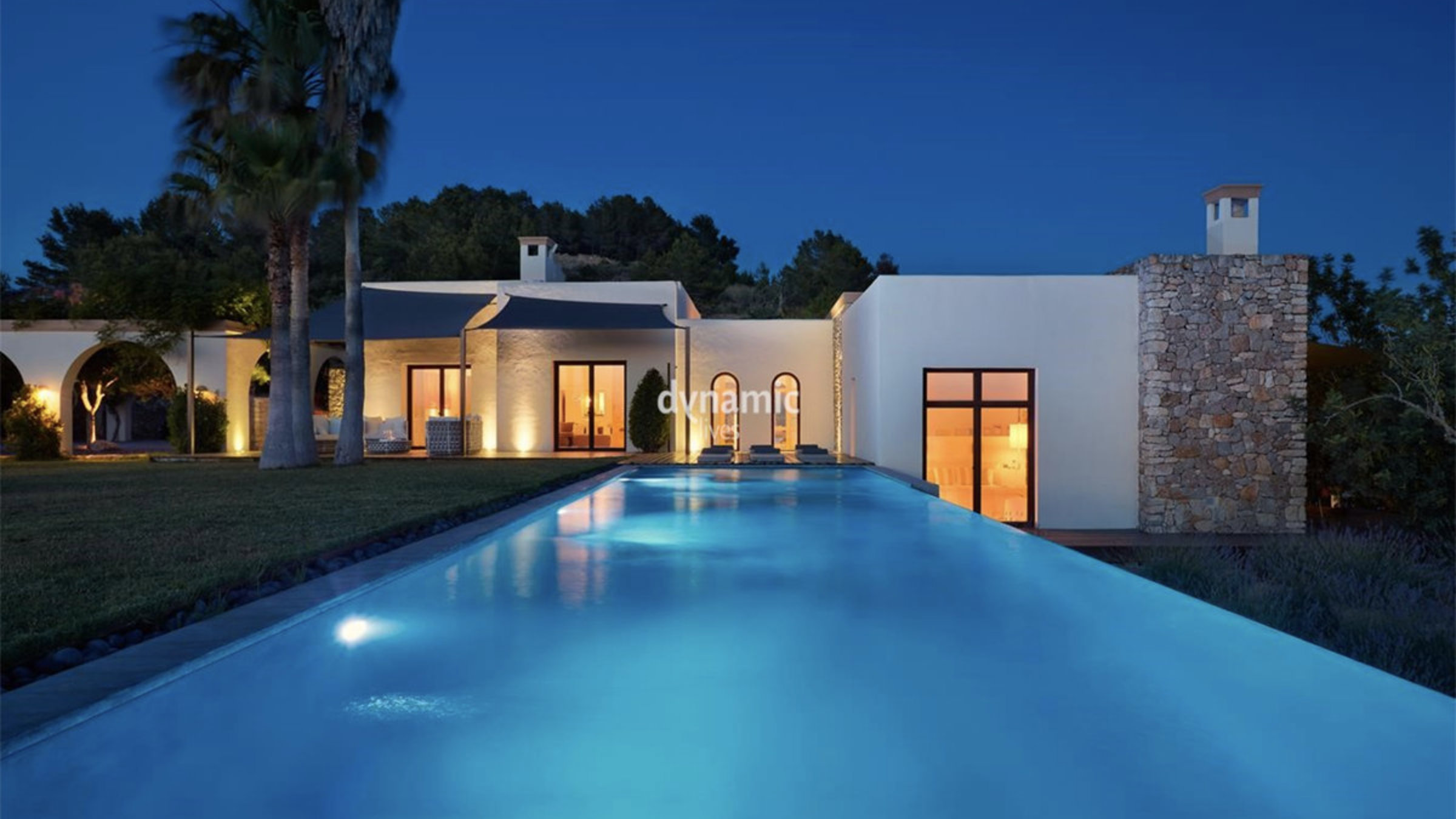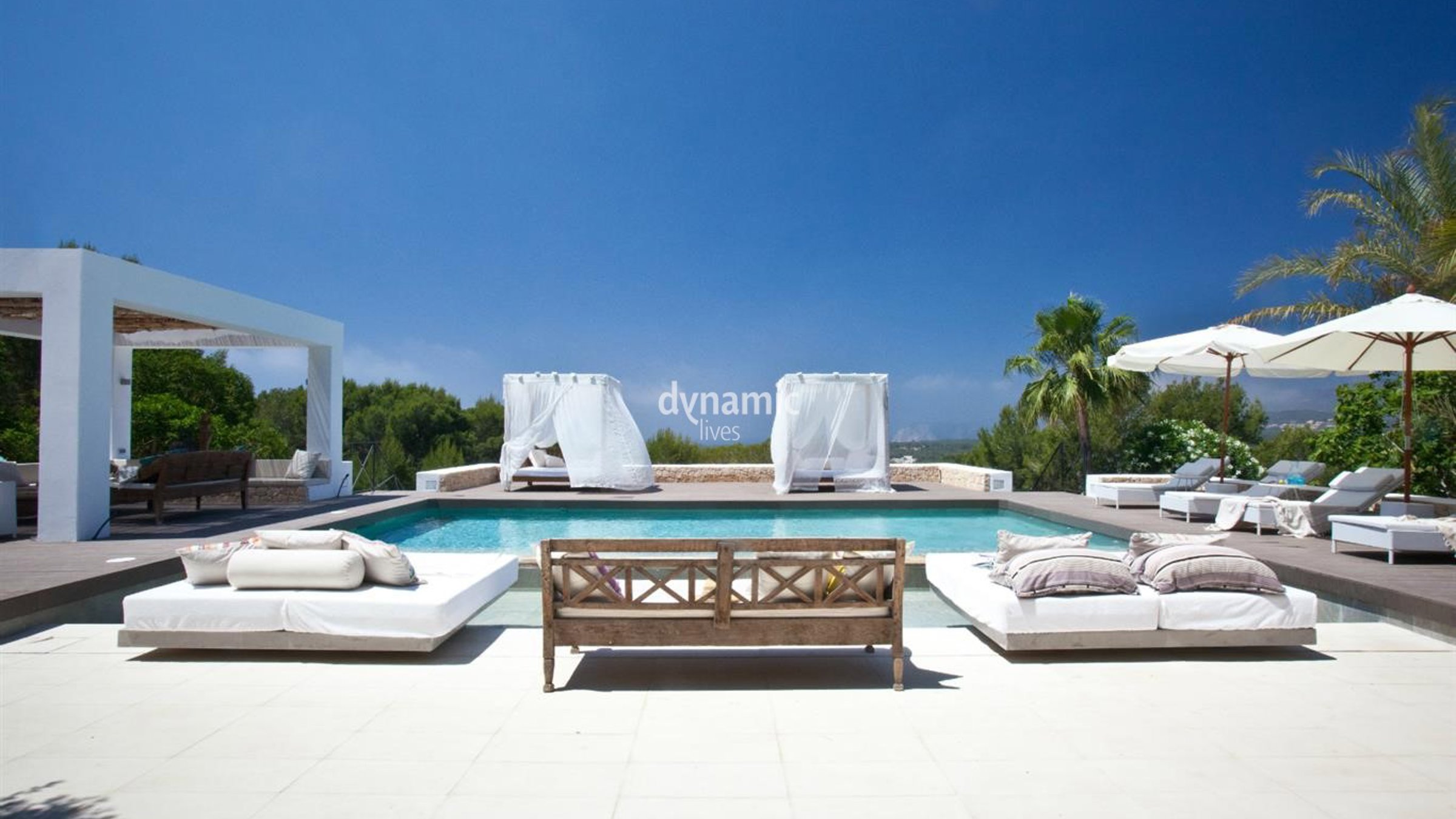 Hidden amidst Mediterranean gardens near Cala Jondal, an exclusive beach in Ibiza, Casa Pura is an incredibly spacious villa with an endless array of luxurious features. When it comes to amenities, facilities, and wanderlust inducing terraces, few luxury villas anywhere on the island can compare to the variety on offer in Casa Pura. Having mentioned the extravagant open plan interior complete with elegant sofas, a fireplace for winter months and supremely comfortable master bedrooms, we can consider the outdoor terrace.
After all, the outdoor terrace at Casa Pura exemplifies everything about this luxurious villa, from the beautiful garden, inviting seating areas, sunbeds, umbrellas and a stunning swimming pool.
Price: from €12,600/week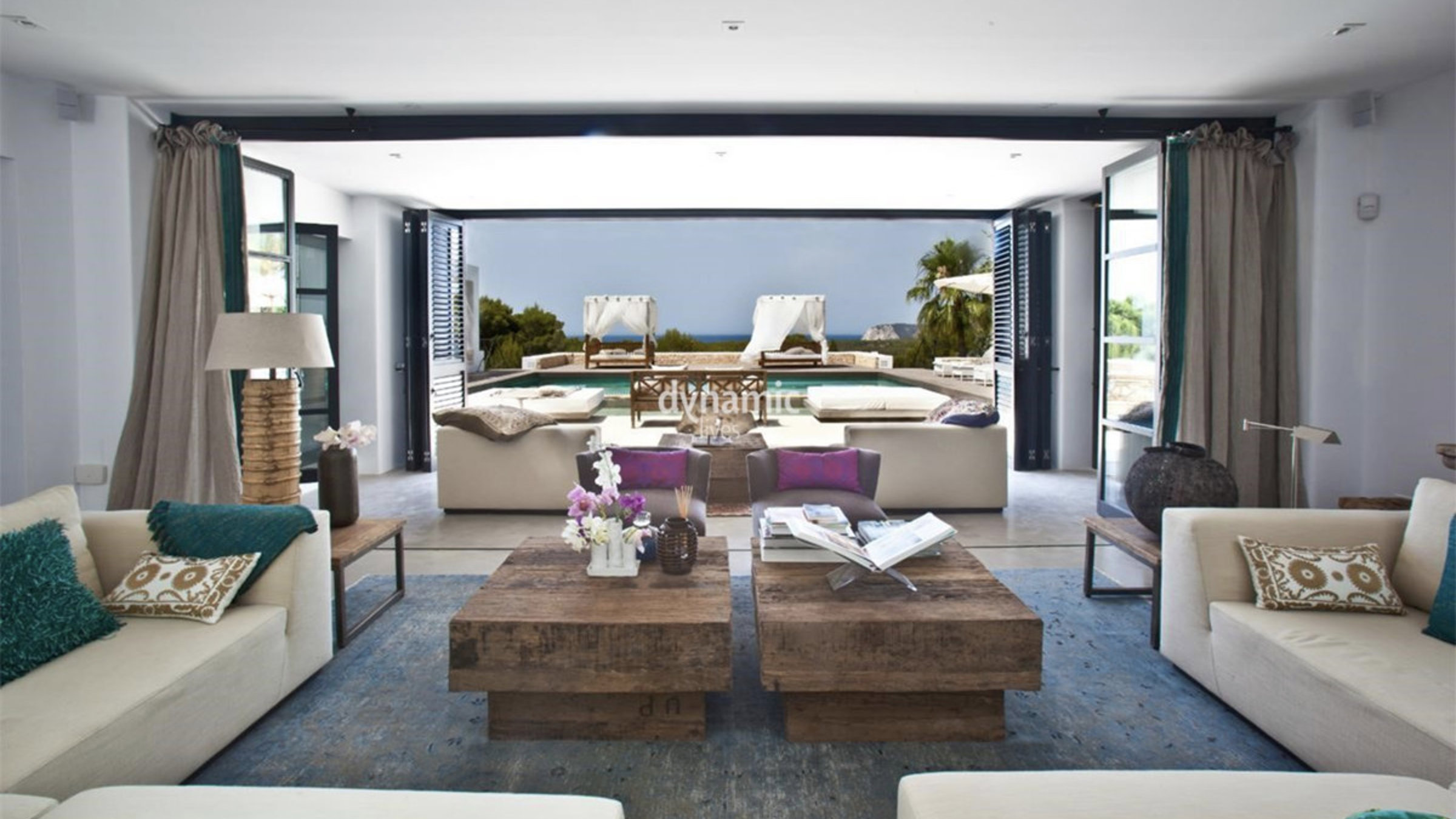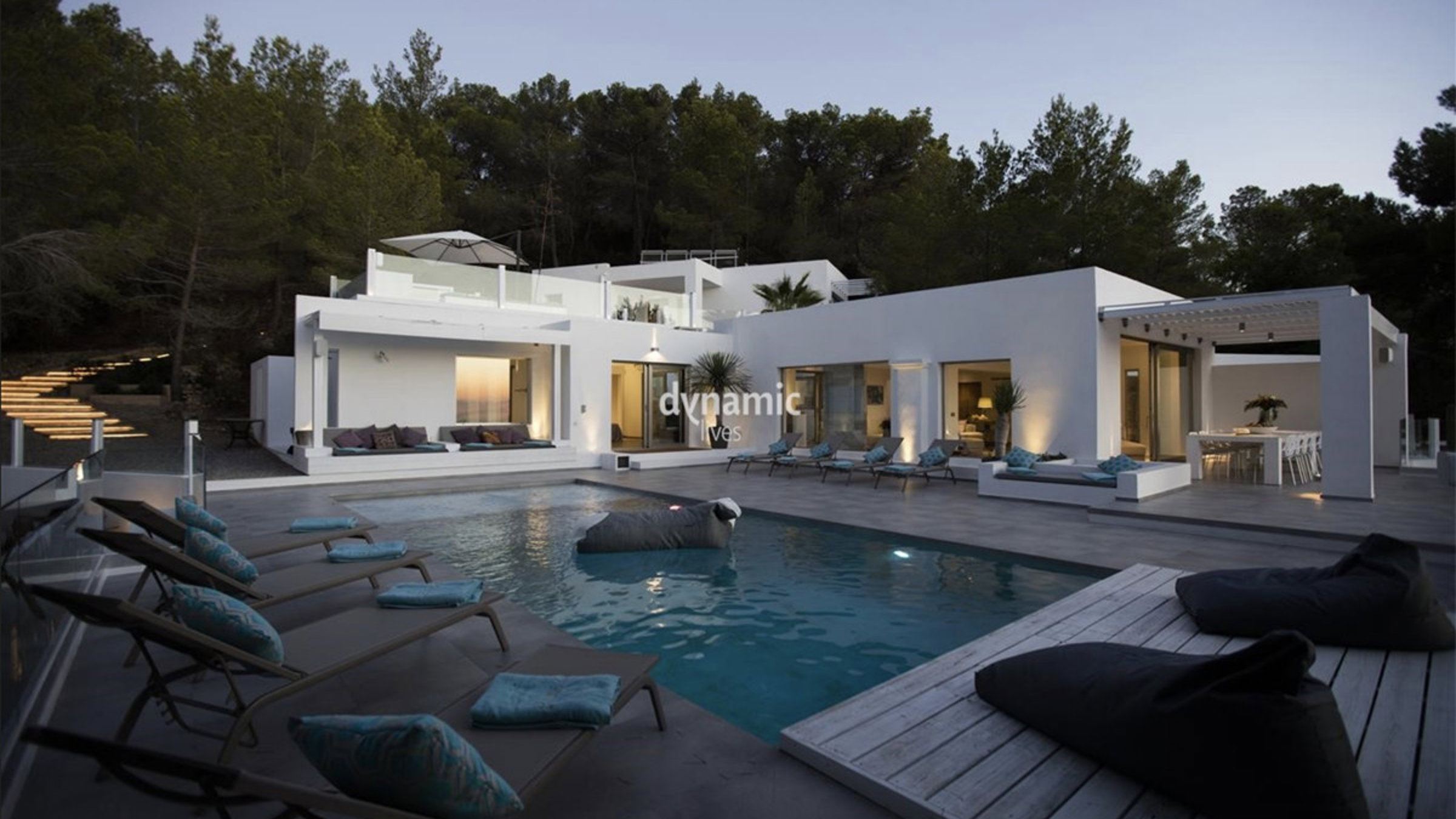 As already mentioned, the west coast of Ibiza is home to some of the most impressive sunsets, and Villa Dellas is a recently renovated luxury villa which takes full advantage of the surroundings.
The main villa consists of four intricately designed bedrooms with warm oak floors throughout; beautifully decorated, the villa has a large living area with open plan kitchen providing the perfect setting for a group or family gathering. Each room is also equipped with particularly large windows which add a great sense of space to the interior, while the interior also consists of all the modern facilities that you would expect to find in such a luxurious accommodation.
At the same time, a stunning terrace with sunbeds, panoramic views and inviting infinity pool are undoubtedly the highlight of what is certainly one of the most sought-after luxury villas in Ibiza.
Price: from €10,650/week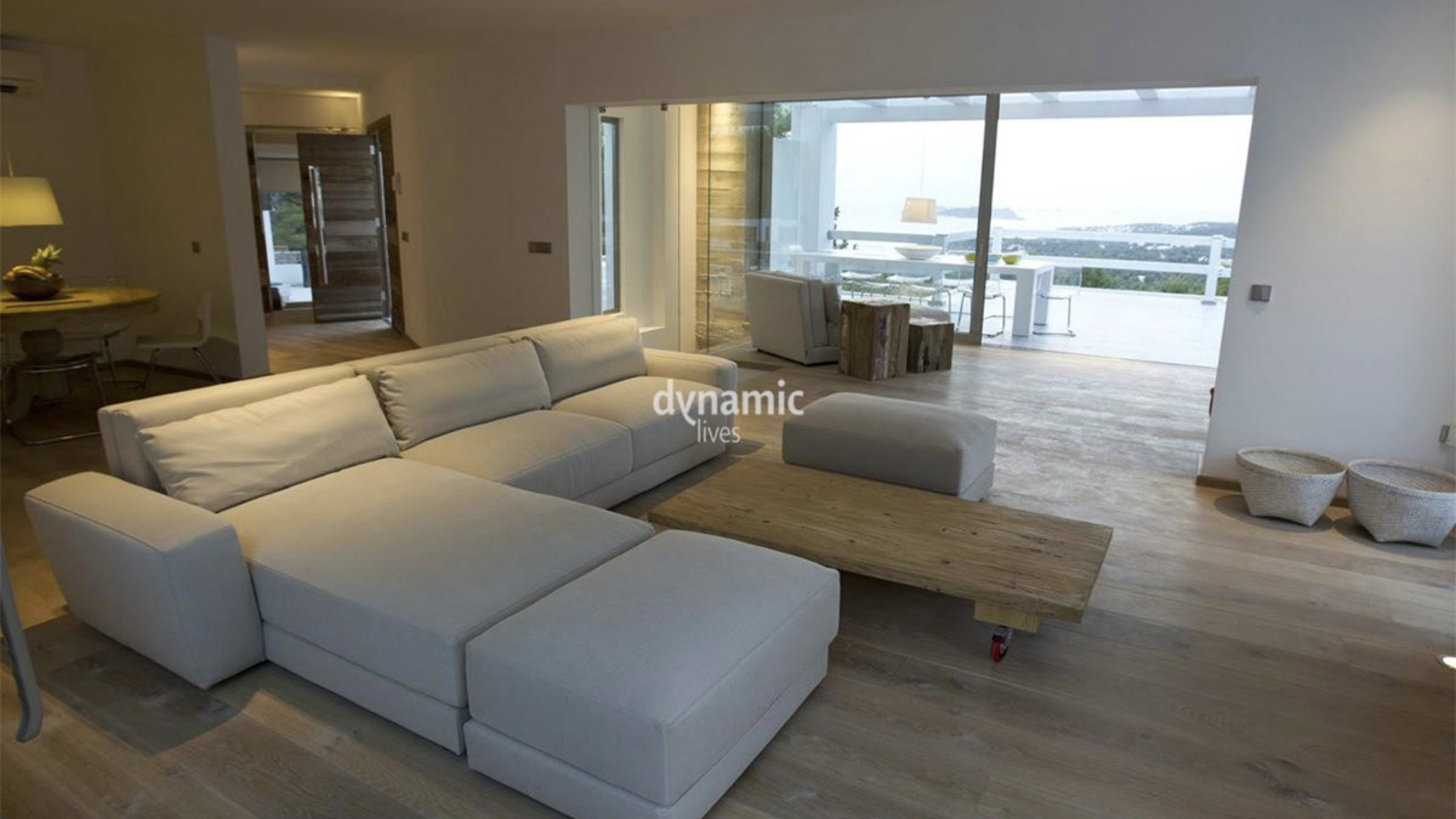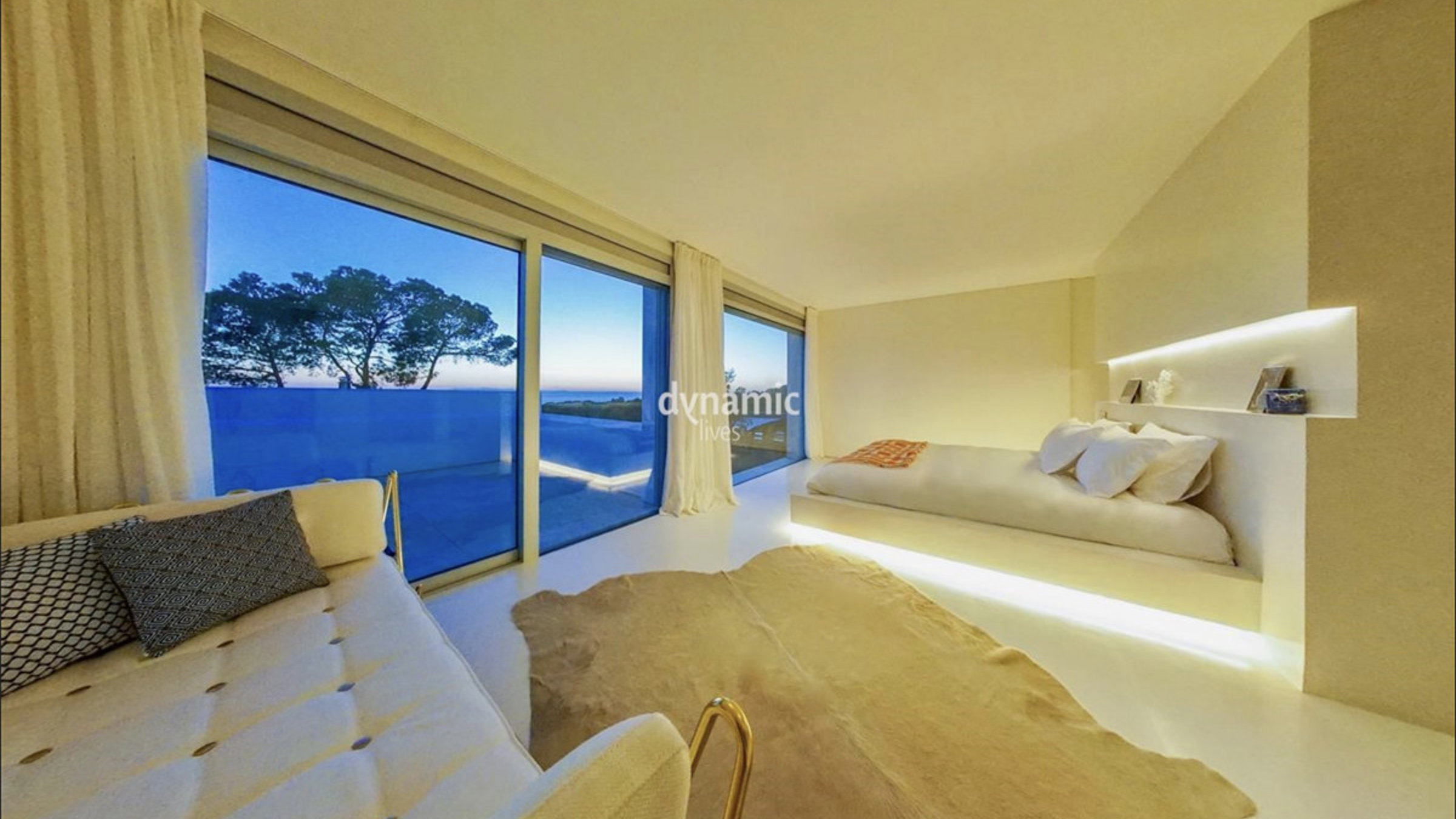 Cala Tarida is another exclusive region on the western shoreline of Ibiza, and when it comes to elite villas, there are few contenders as impressive as Villa Acqua.
Located perfectly to take advantage of best beaches in Cala Conte and Cala Bassa, to enjoy the red sunsets in this part of the world, Villa Acqua is one of the most contemporary villas in Ibiza with modern furniture, designer brands and rather expensive art at every turn from artists such as Richard Orlinski, Paulo Lenti and Moooi. However, there is also practicality throughout with no less than five luxury double bedrooms, a fully stocked bar area and an immense dining area to accommodate up to twelve guests. Lastly, an unforgettable outdoors terrace features spacious chill out areas and a swimming pool with unrivaled views of the Mediterranean Sea.
Price: from €15,500/week
---
As you can see, the standard of luxury villas in Ibiza can exceed even the highest expectations, from luxurious interiors, designer décor and ample space to stunning sea views and luscious surroundings. However, the true value of a stay in this part of the world is often in the finer detail and as you will see with the infinity pools and chill out areas in most of the above, this is something the luxury villas in Ibiza live up to in style.
Contact Us
If you would like to rent one of these villas, or to discuss about any of the other property in Ibiza, Formentera Mykonos or Sri Lanka, please contact Dynamic Lives on (+44) 203 411 3675.