Cala Conta graces the rugged coastline of Ibiza's west coast and is, without a doubt, one of the most serenely perfect places to swim, eat, explore and watch the sun dip into the crystal clear Mediterranean Sea. You'd be mistaken by thinking you are part of magazine travel campaign for the Caribbean as you gaze out over the array of little islands directly off the coast – it really does have that special kind of magic.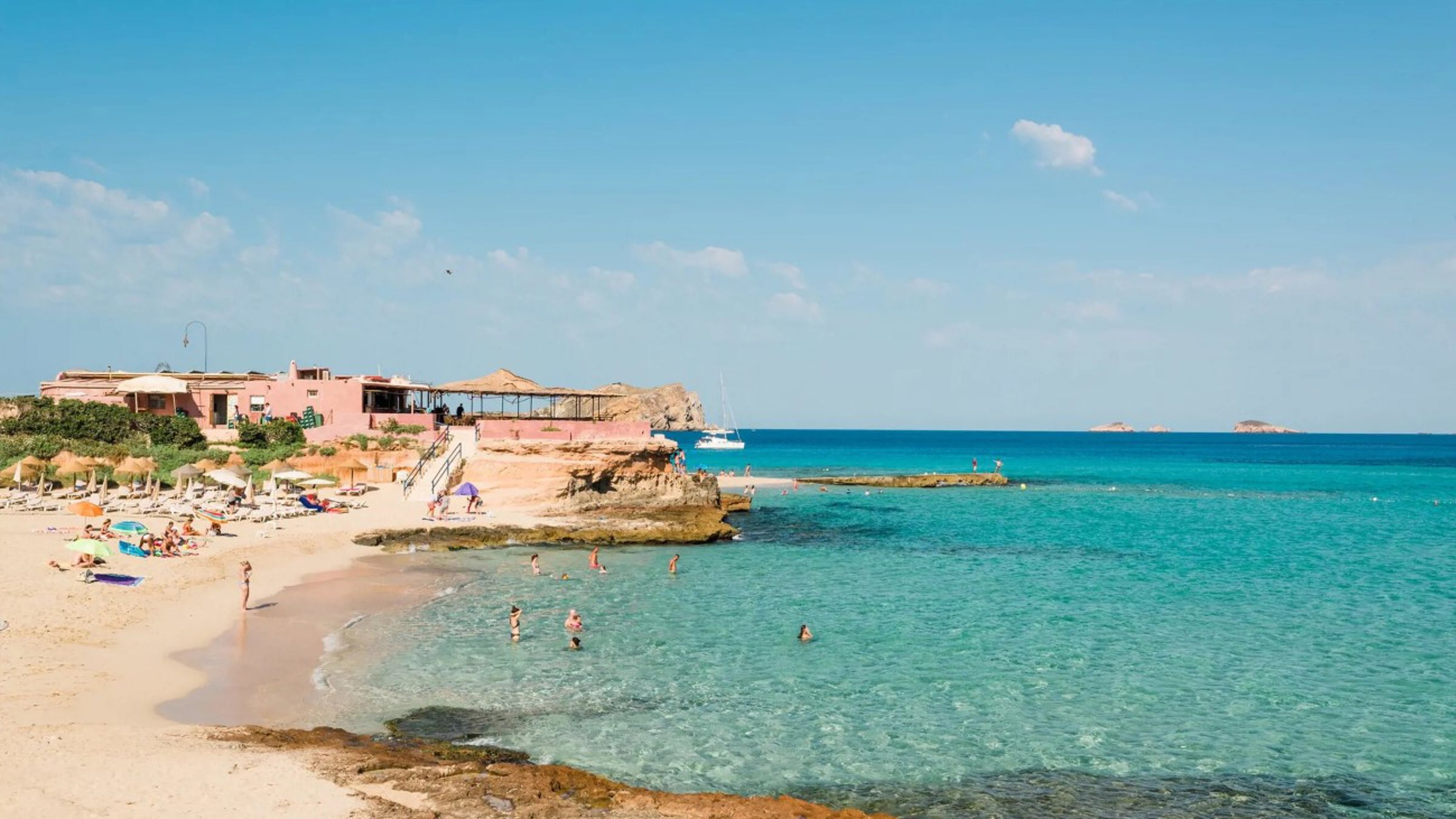 Engulfed by sand dunes and rocky cliffs, if the drive through the countryside isn't enough to get you into summer holiday mode, the beaches, coves and pristine turquoise water that awaits most certainly will. Whether you're arriving by scooter, car, boat or on a hike from neighbouring beach Cala Bassa, be prepared to have your breath taken away. Parking is no longer possible directly at the beach but there is a large space designated for this on the left, just before the barrier. The walk is short and let's face it, you've got time, unless running late for sunset! But more on that later…
With shallow clear water ideal for swimming, Cala Conta boasts two small sections of beach to choose from, divided by a striking rocky peak that juts out over the sea towards the island of Sa Conillera. To the right is where young families congregate – there's no barrier for kids to make friends when they all speak the universal language of fun – and to the left is more of a fun, young holidaymaker kind of vibe. Think takeaway mojitos under a rainbow of multi-coloured beach umbrellas. "We do recommend you get to Cala Conta early in high summer," says Dynamic Ibiza General Manager Electra Garcia, who grew up spending summers on these shores. "Over the last few years it's gotten busier than ever – but it's the universal good vibes that make it so fun." This stretch of coast is also perfect for snorkelling and if discovering what lies beneath is your passion, we can organise a diving adventure you'll never forget.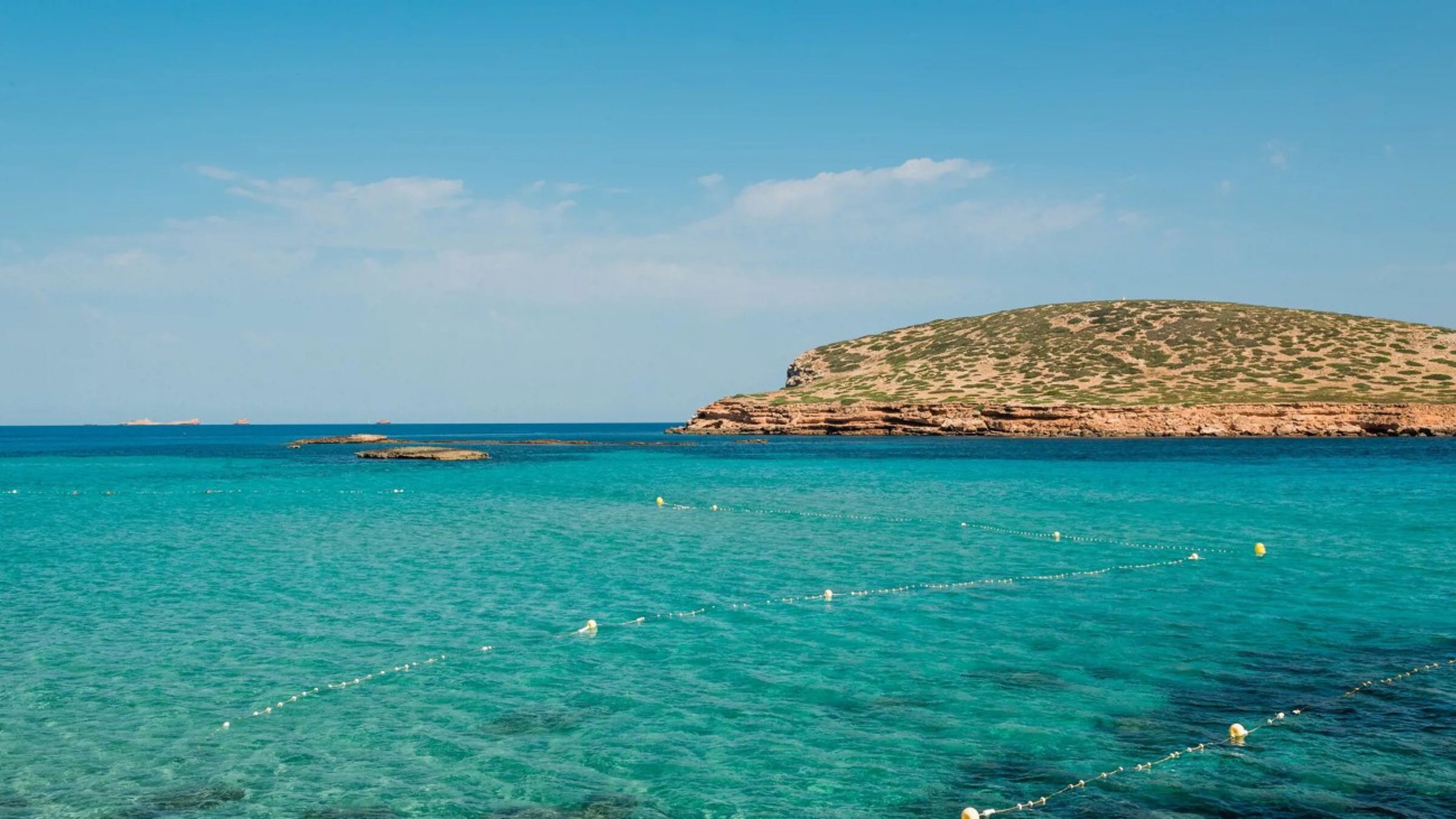 Holding court over the bay like GOT's Kings Landing, is must-visit restaurant Sunset Ashram. Whether you're up and down the easy access steps grabbing the aforementioned takeaway mojitos or claiming your pre-reserved booth for a sunset dinner, this iconic Cala Conta hangout always delivers. You've got to think ahead in summer – it's always booked out (don't worry, that's what Dynamic Ibiza Concierge Manager Ed Graham is here for) in high summer, but once you've nabbed a reservation you'll understand what all the fuss is about. Sunset Ashram is at once laidback and rustic, bohemian and beautiful, high quality and family-friendly, with an authentic Balearic beat inspired soundtrack from day to night. "It really does tick all the boxes," says Ed, who loves the varied, globally inspired menu that includes crosses from India to Thailand, Japan and back to the Med.
To escape the crowds but experience the very same sunset, S'illa d'En Bosc (pronounced seeya-den-bosk, meaning 'out of the woods') is just a hop, skip and a jump over the rocks. An authentic Spanish restaurant serving up great local dishes, it's reasonably priced and great for families and you're also more likely be able to walk-in and get a table, should the mood to be spontaneous strike. A short pebbly walk from here is the popular Ses Roques. "We're always mildly hesitant to share this dining location due to the amazing secret fisherman's cove just below", admits Electra. "But it's too good not to shout about really." House specialities include fish stew, rice with lobster, paella and a really simple but perfectly prepared juicy chicken dish cooked with black salt and pink peppercorns – hearty, homey and made with love.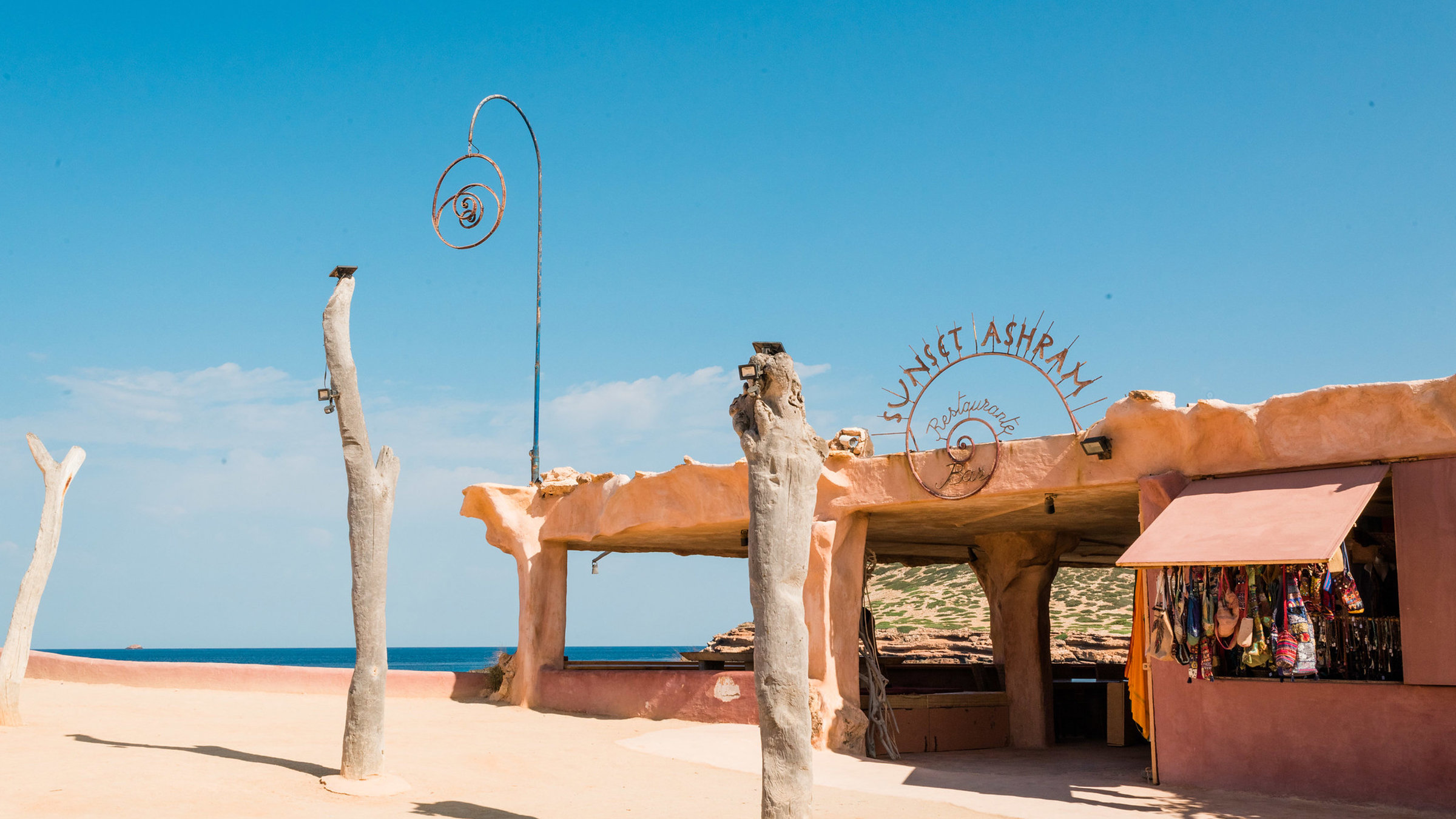 If you're a seasoned local, or you've visited Cala Conta many times over the course of your Ibiza holiday history, we suggest heading just a little further south for an Ibiza beach bar experience with a difference. Cala Escondida is a 100% eco-friendly beach bar, tucked away at the bottom of the cliff, holding pride of place on Cala Contita (little Conta) and one that has a leave no trace ethos – at the end of each season it packs away flat and leaves the landscape exactly as they found it. In the summer however, it's a rustic hideaway serving up a healthy bar menu from breakfast through to the last sip of your sunset cerveza. Out of recycled plastic cups of course. "It really reminds me of old school Ibiza," says Dynamic Lives founder George Burdon. 
On the opposite end of the spectrum – and ideal for those seeking luxury experiences – Seven Pines Resort Ibiza has fast become the place to be seen in Cala Conta. The resort's two restaurants, cocktail bar, luxury spa and amazing swimming pools are open to the public (ask Ed and his team to make a reservation for you). "The decadent breakfast at The View is the perfect way to start the day," says Ed. "We can pretty much guarantee you've never had eggs benedict with a better view." From 8pm, the gastronomy experience switches to an Asian inspired menu – fresh and direct from the Robata grill (an ancient style of Japanese cooking) - and the 40-metre glassed façade allows you to dine on the edge of the earth, safely, with views across the sea to the mythical Es Vedra.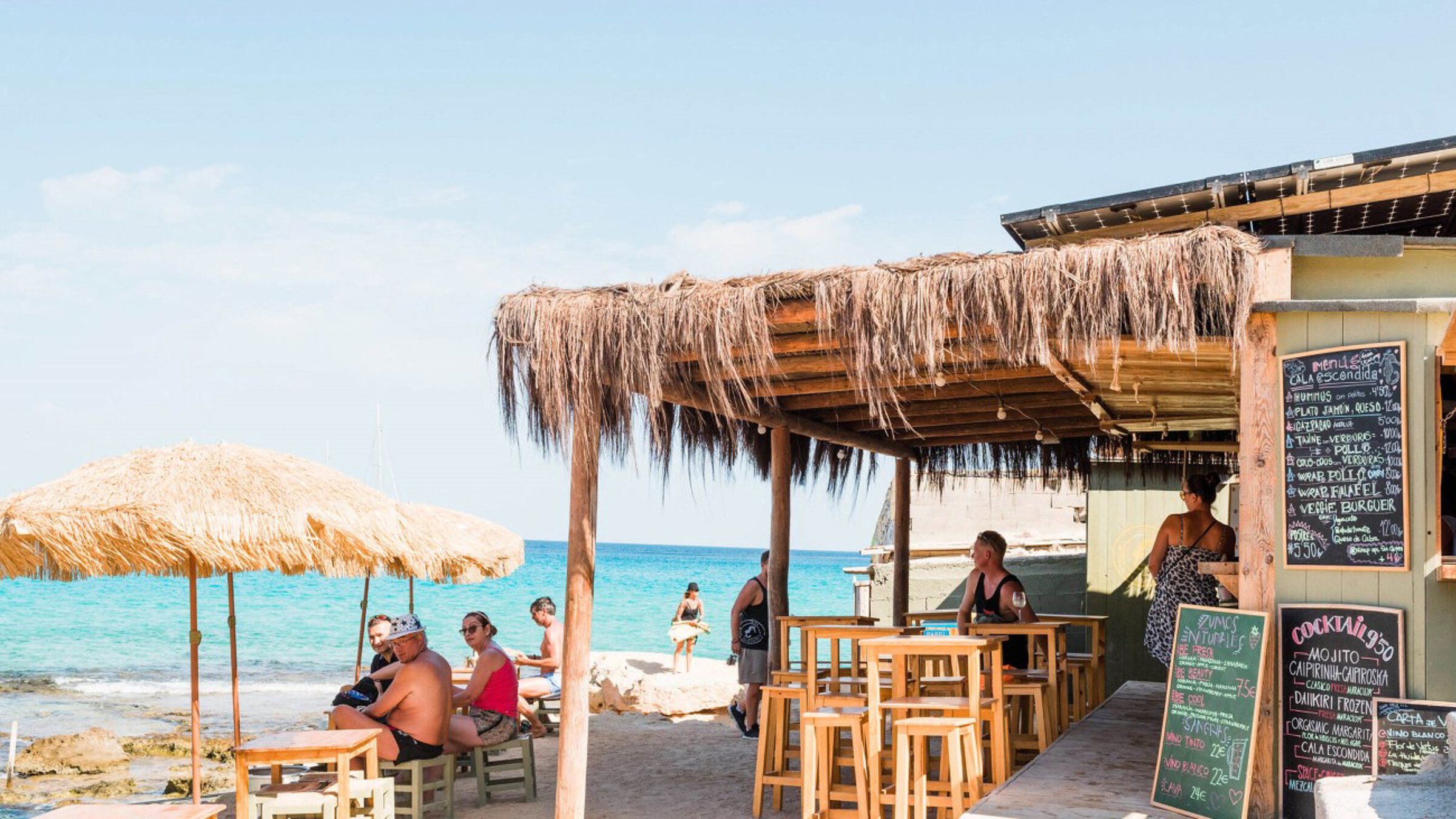 If you're seeking some me time, nothing beats a treatment in the Pure Seven Spa, where some of the private treatment rooms boast views straight across the Med to Es Vedra. All treatments are bespoke and natural elements like Ibiza salt and herbs are part of the pampering. At sunset o'clock, the resort's ground floor restaurant, Cone Club, is where you can take part in the daily Sunset Ritual – music, tapas, cocktails and signature Cava Sangria, with the magic moment heralded by the sound of an enormous gong. Further inside the hotel, the Pershing Yacht Terrace is the luxury cocktail bar open from 5pm to midnight, perfect for pre-dinner sundowners created by world-class mixologists, with live music every night from sunset. 
Back up on the cliffs adjacent to the hotel is Ibiza's very own version of Stonehenge – dubbed, as you might guess, Ibizahenge, by locals. While Ibiza does have many myths and rumours, this particular stone structure is not a mystery: Time and Space – The Speed of Lightby Australian artist Andrew Rogers is an installation of the solar system commissioned by Cirque Du Soleil founder Guy Laliberté, who also happens to live right on the cliff. The13 solid basalt columns, which form a Fibonacci sequence, can be seen from space, with the tallest column at 10 metres tall topped with 23-carat gold that becomes illuminated by the sun as it sets on the day of the winter solstice. "You don't have to be an art lover to appreciate this piece," says Ed. "It's just brimming with that Cala Conta magic." 
To experience the sunsets of Cala Conta – and not travel far to do it – take your next vacation in one of the Dynamic Lives villas close to the areas, so the beauty is on right your doorstep: Casa de Calmas, Villa Tutti and, Can Rocas