Ibiza is famous for its beach bars and world-class nightlife. But summer is just one way to experience the magic of the island.
Cooler temperatures and shorter days tend to deter potential travellers who would rather enjoy Ibiza in the height of summer. But the crisp air and lack of tourists reveal a whole new side to the island that shouldn't be overlooked. 
In this article, we tell you everything about Ibiza in December and reveal why it's a true  a winter wonder that you might not have considered before.  
Ibiza Weather in December
As winter settles over the Balearic Islands, you can expect much cooler temperatures compared to the hot summer months like July and August. The climate in Ibiza is much milder in December, with an average temperature of 13°C.
Temperatures can still be as warm as 16°C however, making December a very pleasant time to visit Ibiza as you can still enjoy sightseeing and beach walks in the day. This will drop in the evenings to about 11°C, so be sure to take a jacket if you go out at night. 
December is much wetter compared to the summer months as well. There will be around 70mm of rainfall over 10 days, so try to plan your days accordingly and opt for indoor activities where possible!
Winter also brings beautiful sunsets to Ibiza. At around 5:00 pm the sun will start to set and paint the sky with vibrant hues of red and pink. It's truly a sight to behold and the perfect backdrop for dinner, be it on a restaurant terrace or from the balcony of your villa. 
Festivals and Events in Ibiza in December
As the high season has long ended, December can feel much quieter than other months. This is a great time to enjoy local events and festivals and see Ibiza like you never have before. 
We think the following events are the perfect addition to a winter Ibiza trip. 
Christmas in Ibiza
We couldn't write about December in Ibiza without mentioning Christmas. Over the festive season, the island transforms into a Mediterranean winter wonderland. It's not your typical white Christmas on the white island, but you can still feel the excitement in the air as Christmas day approaches. 
From Dalt Vila to Santa Eulalia, streets will be lined with lights and decorations which bring a unique charm to the already picturesque destination. With the party crowd long departed, Christmas is a time for family in Ibiza and life seems to slow down.
As such, December is a great time for families who want to enjoy the beautiful island and create lasting winter memories on a sunny island paradise. The family feeling is all around as generations of local families can be found walking the beach, exchanging gifts and enjoying family meals in restaurants. 
Celebrations begin on the 2nd of December with the illumination of Christmas lights and the first of the festive markets will set up shop. Running up until early January, there is so much time to dive into the local scene and experience Christmas in a totally different way. 
December also gives you a chance to try the local Christmas dishes and branch out from the typical Western Christmas dinner. There won't be any turkey in sight, but rather fresh fish dishes and Salsa de Nadal; a traditional festive dessert. 
Be sure to book your Christmas meal well in advance to avoid disappointment; December may not be as touristy but Christmas day is still a popular affair. 
Festa del Vi Pagès 
In the heart of Ibiza, you can find the small village of Sant Mateu d'Albarca, which hosts their incredible Festa Del Vi Pagès in mid-December. The festival is a celebration of wine that is organised annually by the Neighbourhood Association and has been a major event for over 30 years.
At Festa de Vi Pagès local farmers bring their red wine to the festival by the litre and offer it for free. You can sample dozens of red wines and vote for your favourites. You can also indulge in loaves of artisanal bread, traditional sobrasadas, and other delicious treats from the many food stalls that pop up for the event. 
The wine festival also features live music from local performers as well as dancing. The flowing wine helps to keep the chill away and the festivities last well into the evening.
Cursa Patrimoni 
One of the most anticipated events of December is the Cursa Patrimoni. The mild winter days and historic city are the perfect setting for this 10km race that is held every year. The route includes some of the major sights of Ibiza Town, like the port and the promenade.  
The race began as a celebration of Ibiza Town's recognition as a UNESCO World Heritage site. The race is a friendly affair, with categories for children, teens and adults. It is completely free to enter and is a great option for those after more sporty experiences in Ibiza.
The race will see you explore all the nooks and crannies of the town, all the while being cheered on by onlookers. Even if you aren't taking part, the atmosphere of cheering crowds and ambitious runners is truly electric and you won't be able to help but show your support.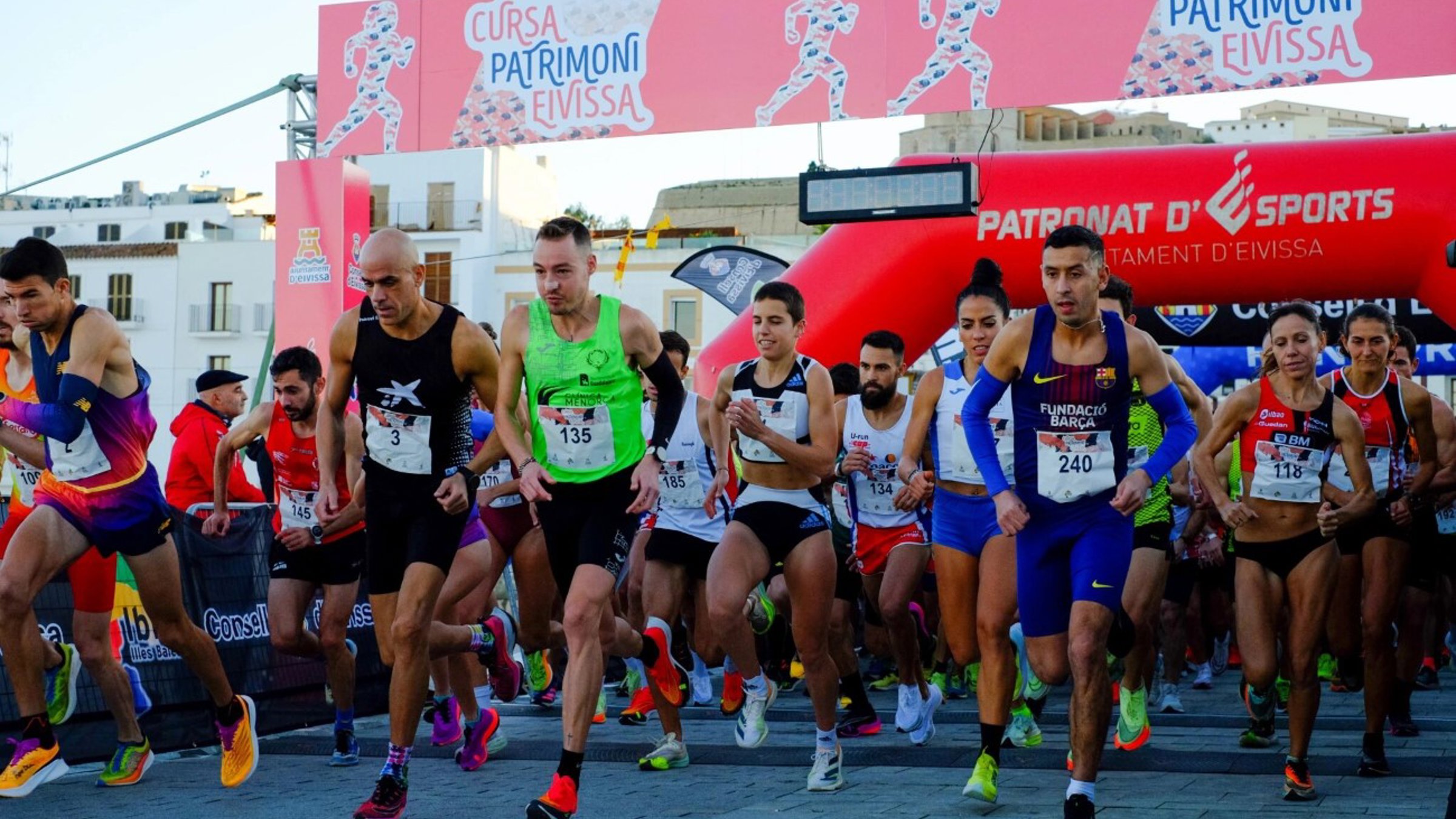 The Best Places to Visit in Ibiza in December
With the weather still somewhat warm and the streets free of throngs of tourists, December offers visitors some lavish sights and places to see, without the worry of crowds. Below are some of our top favourite places to visit in Ibiza in December. 
Old Town
Ibiza's Old Town, also known as Dalt Vila, is an exceptional attraction that invites visitors at all times of the year. Fortunately, with the quiet season well underway you can explore Dalt Vila without fear of crowds and take it all in at a more relaxed pace. 
Dalt Vila is the historic centre of the city and is characterised by its mediaeval architecture and dramatic walls. It was originally founded by the Phoenicians thousands of years ago and even today it hasn't lost its ancient allure. 
The beauty of Old Town is galvanised by the Christmas season, bringing decorative displays and nativity scenes to the cobbled streets. Dalt Vila is a stunning spot to look out over the city and the addition of the festive ambience turns it into a breathtaking sight in the evening. 
The famous Cathedral and Archaeological Museum are still available to explore. But December brings some new features to Dalt Vila, adding a whole new host of activities to enjoy. Workshops and carol performances take over the town and plazas. A short stroll to Square Antoni Albert i Nieto will treat you to an ice skating rink, where all proceeds go to charity. 
San Antonio
If you've come to Ibiza in December to enjoy the Christmas decorations, then you simply have to see San Antonio. Turning on the Christmas lights is a huge event across the island, but San Antonio's display is perhaps the most magnificent. 
San Antonio is known for its famous promenade featuring trendy bars and clubs. The nightlife lives on in December but has less vibrance than the roaring summer party scene. During the winter, San Antonio is a great place to enjoy tapas while taking in the serene sights of the bay. 
The fountain square comes alive with the Christmas spirit and even includes Santa's Grotto for the kids. It's a great spot for families as there is a whole programme of activities for children and adults.
The Best Things to Do in Ibiza in December
Ibiza's tourist offering becomes much different in December. With the nightlife having settled for the off-season, we recommend the following 3 activities for your trip to Ibiza.
Ibiza Christmas Markets
With Christmas on the horizon, there are so many things to do in Ibiza town. We've already mentioned the decorations and activities, but the true star of Christmas in Ibiza is the festive markets. 
Every town and village will have their own markets filled with unique gifts, chic clothes and delicious treats. It's the best place to select gifts for your loved ones back home. 
Vara del Ray hosts the main market in Ibiza Town. The air is filled with the scent of freshly made foods and the sounds of eager shoppers and musical performances. Street artists come to entertain visitors as they peruse the artisan stalls searching for the perfect handmade gift. Be it for someone back home or just for yourself. 
Las Dalias in San Carlos is a famous hippie market that draws in curious customers year-round. In December, Las Dalias becomes a hub of Christmas crafts, jewellery, handmade toiletries and delicious liqueurs. With over 40 stalls to discover, you are guaranteed to find what you're looking for, and then some. 
Festive Fair Ground
Every year at Can Misses, on the outskirts of Ibiza Town, there is a festive fun fair open every day and well into the night. This fair is full of amusements and rides that will excite both children and the young at heart. 
It's got all the classics you'd expect for a fun fair like a merry-go-round, fair games, bumper cars and more. You'll be pleased to know there are also plenty of food stalls serving fairground staples like cotton candy and hot dogs, as well as winter treats like churros and hot chocolate.   
The fun fair runs into early January and is a wonderful place to spend a December evening. The spirited atmosphere will bring a smile to any face and heartstopping rides, like The Titanic, are a great thrill. 
Winter Walks and Hiking
The cooler temperatures of December are an inviting time to explore the natural landscape of Ibiza. You can stroll down the beaches, which will be quiet and idyllic this time of year. You can take a dip in the sea if you'd like, but it will be pretty cold! 
You can find stunning natural beauty at Ses Salines natural park. The 15,000 hectares of land has plenty of coastal walking trails and picnic spots. 
Ses Salines also features stunning salt pools that are an astonishing range of colours. Due to the levels of salt evaporation, the pools can appear green, blue and even purple.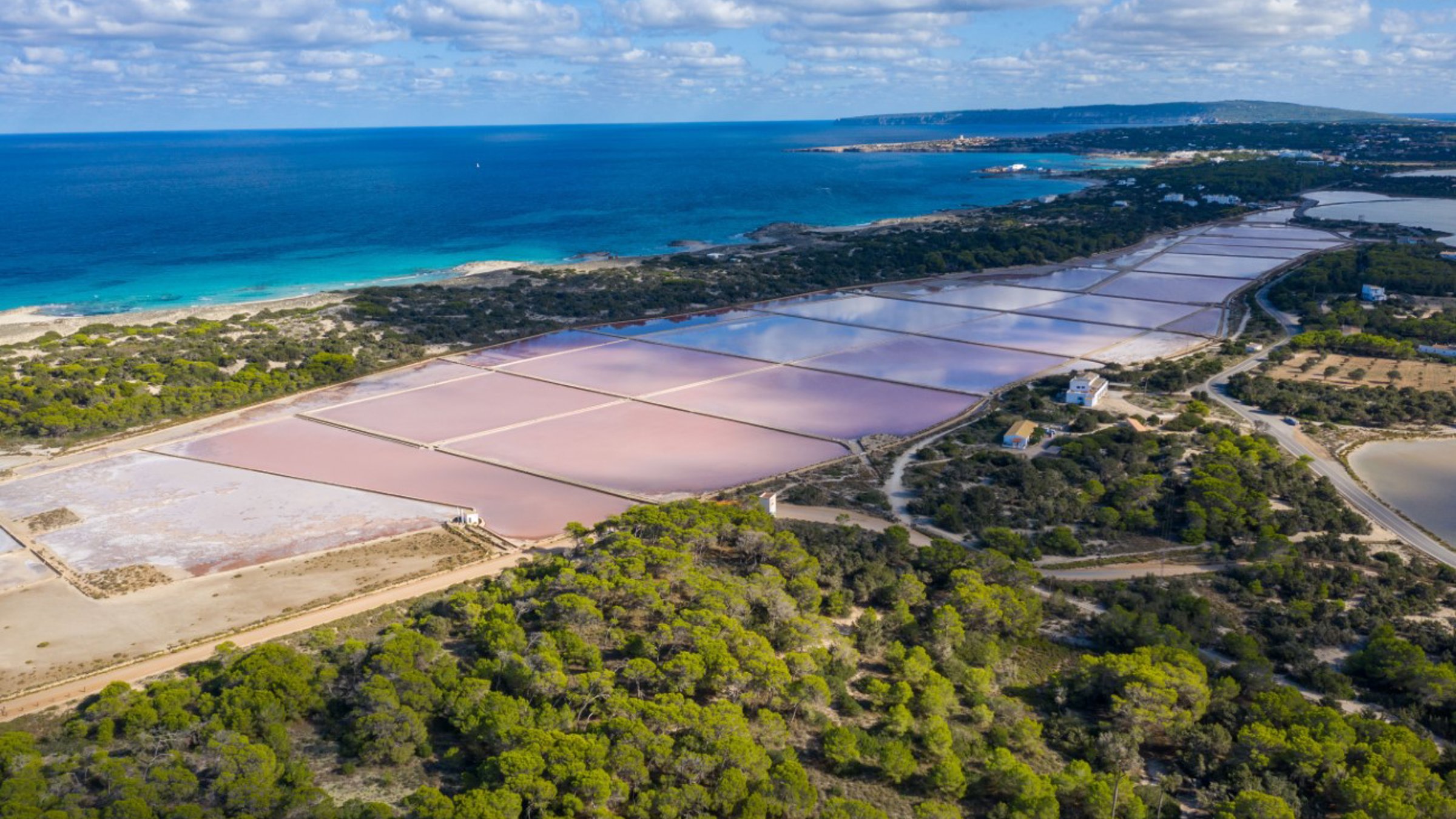 FAQs
Is it worth visiting Ibiza in December?
Ibiza has a much different atmosphere in December than in the summer months. With fewer crowds, you have more time to explore the sights at your own pace. 
There is also a much greater emphasis on family and community. Visiting Ibiza in December feels like seeing the authentic side of the island behind the infamous party mask. 
Is Ibiza busy at Christmas?
You can expect some tourists and a few locals who will also be enjoying the Christmas festivities. However, it is the off-season, so there won't be any long queues or massive crowds to worry about.
You won't find shopping centres packed full of eager shoppers trying to get their last-minute gifts, but rather open, airy markets with unique goods that you might have never thought to buy.  
Summary
When you visit Ibiza in December it almost feels like an entirely different island. While there are still upbeat parties and club nights, the general feeling of Ibiza feels much more relaxed and tranquil. 
The main attractions are all still available and are even more inviting as they will be intimately quiet. But the true appeal of Ibiza in December is the Christmas markets and programmes that fill the island with activities and opportunities that you won't find at other points in the year. 
Does a Mediterranean winter escape sound like just the trip for you? Check out our incredible luxury villas, perfect for families, friends and couples. Contact us now to get planning your December dream holiday.