Donned the hub of the south west, the popular village of San Jose is conveniently located just 10 minutes from the airport and a stone's throw from many of Ibiza's most beautiful beaches. Home to several of the island's most-loved dining spots, it's a place where one can easily reside for days on end without needing to move very fast or very far. And that's exactly why we love it.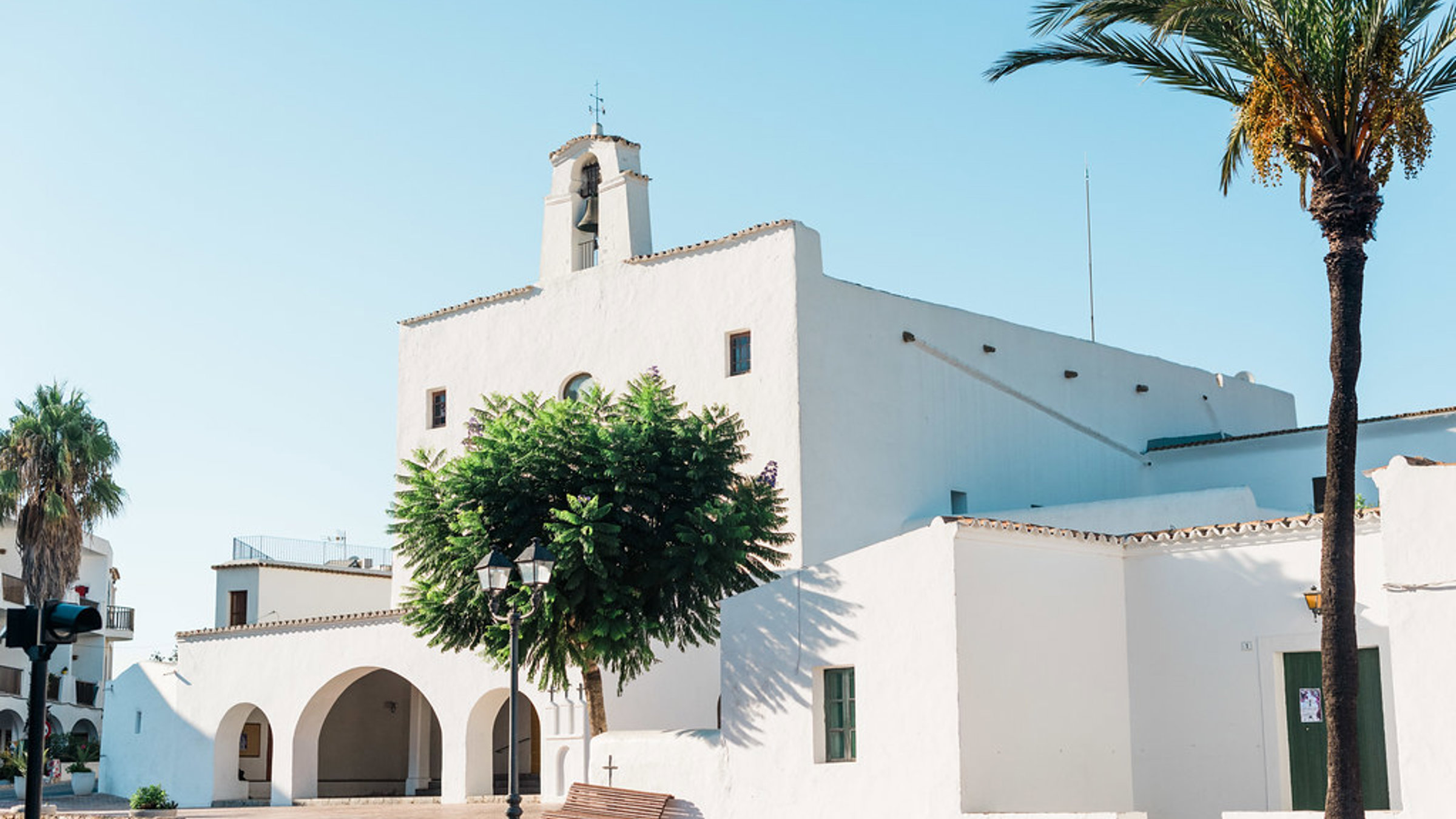 "It might not be the tiniest or most old-worldly town on the island, but San Jose has always been one of my favourites," says Dynamic Lives founder George Burdon, who has been visiting the area for more than two decades. It's the very unique fusion of contemporary lifestyle and Ibicenco traditions found throughout the village that makes it appeal to people from all walks of life. Architecture here is a mix of modern terraced houses and top-floor apartments with shops and restaurants at street level, but turn a corner and the quaintest florist, local bar or the village's grand white church stares you straight in the face – a reminder you are most definitely in a Mediterranean village. Glance up at the surrounding hillsides however, and you'll be privy to some of Ibiza's most stunning modern villas – big, bold and beautiful. 
"San Jose is the perfect central location for a villa holiday if you're looking to explore the island," says Dynamic Ibiza General Manager Electra Garcia, who grew up in Ibiza and knows what she's talking about. "The south west beaches such as Cala Conta, Cala Tarida and Cala Vadella are all close by but it's also just a few minutes down the road to the glitzy south east, where the buzzing seaside hotspots of Cala Jondal, Es Cavallet, Las Salinas and Playa d'en Bossa await." If you love an active getaway, Electra also recommends sampling the hikes shooting off from various roads in the San Jose village, her favourite being the trail up to Sa Talaia – the highest point in Ibiza. "Apart from being the only spot for 360-degree views of Ibiza, if you're in Ibiza for a full moon, it's incredible to watch the sun set and full moon rise at the same time," she says.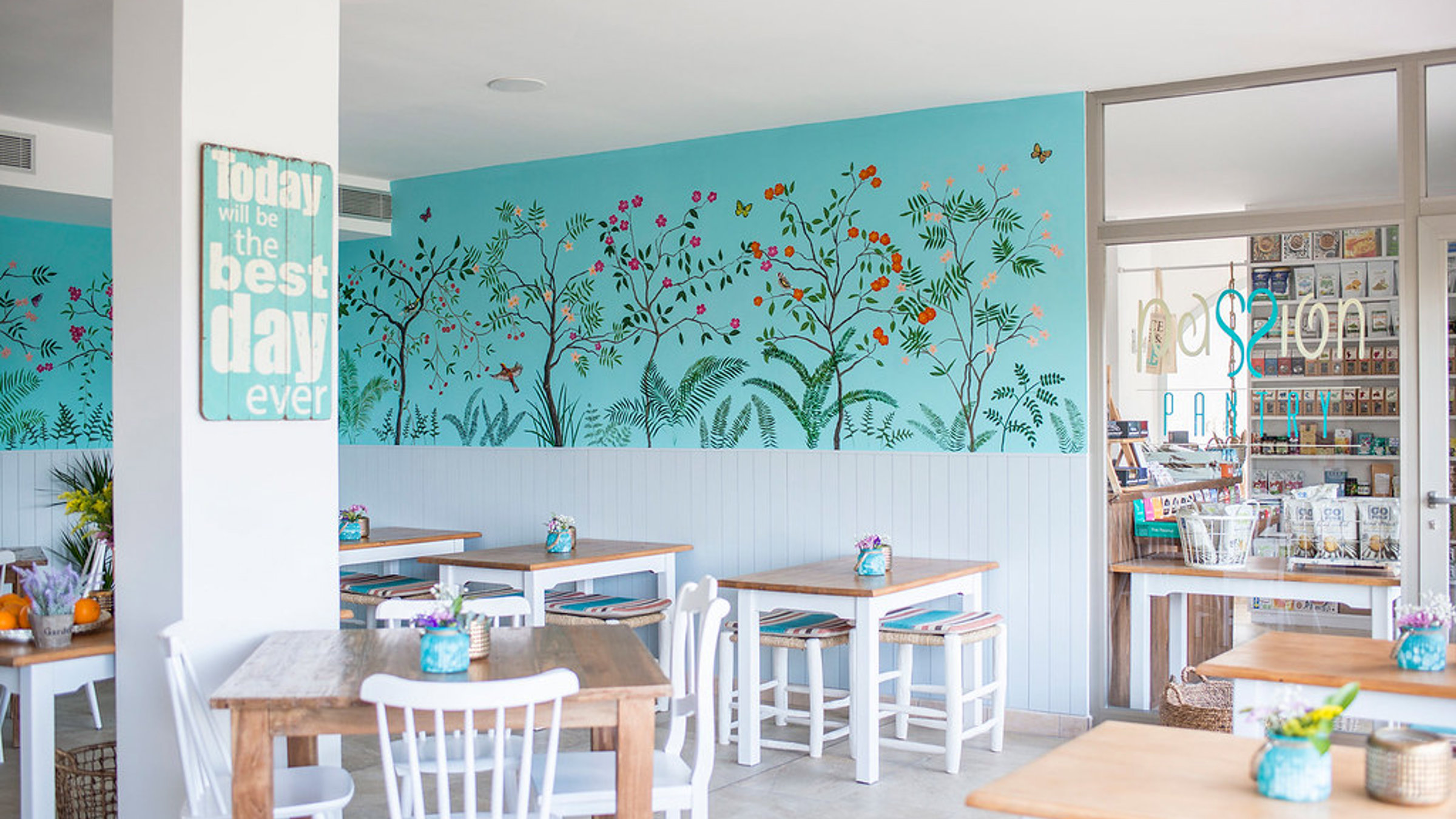 When it comes to quelling hunger pangs, San Jose ticks all the boxes. With its big terrace and airy indoor dining space, Passion Restaurant – the grown-up sister of the popular healthy café chain created by Lana Love – is considered the 'home of health and happiness' in Ibiza. Here, you can eat-in or take-away; indulge in brunch or lunch whilst the kids play happily in the pedestrianised square, grab smoothies, juices and snacks on your way to the beach, or stop off for some après-sol coffee and cake. Just around the corner from Passion is long-time local favourite, Can Llorenc Café – super simple, yet serves great coffee and tasty tostadas (crunchy toast) any way you like them, all day long. 
Directly opposite the church is the outdoor oasis, Raco Verd – a popular haunt with locals. Open from 10am serving breakfast, lunch and dinner with a Spanish and Mexican touch, Raco Verd started out approximately 40 years ago selling sangria, accompanied by Flamenco musician, under the olive tree that still stands there today. Its authentic spirit lives on with live music on Thursdays evenings and Spanish Flamenco on Saturdays. Behind here is the legendary San Jose tapas hotspot El Destino, offering arguably some of the island's best tapas – think Moroccan flavours, hot and cold selections, vegetarian heaven and desserts to die for – along with very palatable prices. It's always busy, so book ahead – better yet, ask Dynamic Ibiza Concierge Manager Ed Graham and his team to book it for you.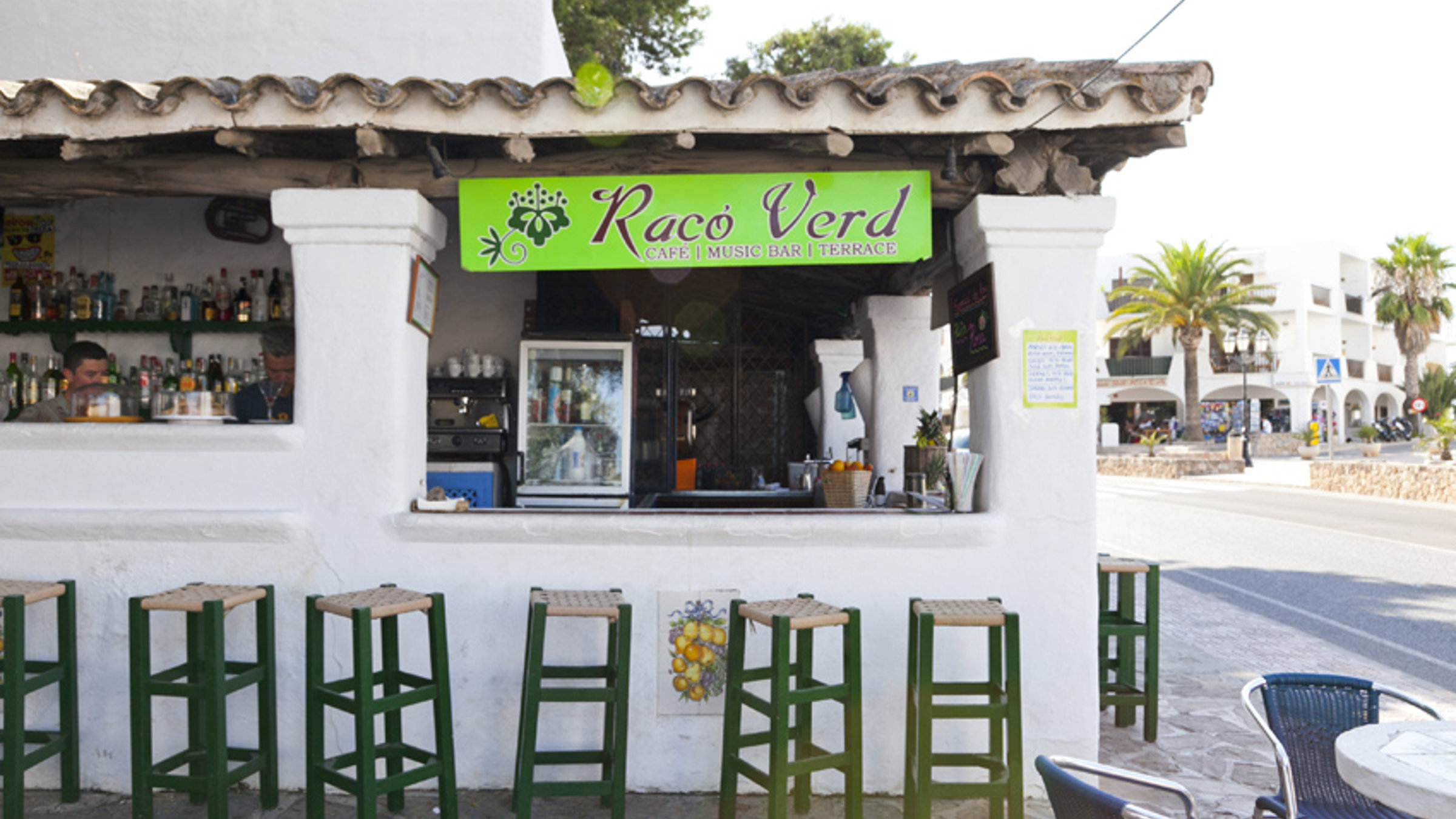 It's a hard and fast rule that pizza makes everyone happy on holiday and we can't go past Es Vergé (which also happens to serve up Ibiza's best kebabs). Perched on the corner of the main road at the turning to most south west beaches, it's a perfect dinner stop on your way back to the villa from a day under the sun. Of course, there is that famous saying that Italians do it better, and if you pass by the magical garden restaurant of Can Domingo – which incorporates a dedicated pizza terrace called Mimí that serves up typical Neapolitan style pizza and classic Italian street food – you can be the judge of that. "It's fun for the whole family and great for early dinners with kids," says George. "You order a selection of different pizzas then a pick and mix of your favourite pizza toppings for the ultimate DIY pizza experience."  
Inside the main finca at Can Domingo however, is where the grown-up's fine dining dreams come to life. The magical garden twinkles with lights, the service (and wine list!) is impeccable and the cuisine is truly next level, with plenty of creative options for vegans and vegetarians. Live jazz nights on Tuesdays, a live DJ on Wednesdays and a live guitar and saxophone act on Saturday nights make it the perfect place to start your Ibiza night. If dinner and a show is more your thing, the quirky SLUIZ Restaurant brings a touch of risqué cabaret to the area – a tongue-in-cheek date night like no other! Up on the hill, with a view over the Benimussa valley, Can Limo is Peruvian dining at its finest – it was love at first sip with the Pisco-based cocktails, even before we'd sampled the ceviche – and then way back down the hill, the gorgeous, family-friendly Can Bass is a Galician-owned, modern Mediterranean restaurant that serves up little buckets of crispy chicken wings (among many other delectable dishes!) that have been known to change lives.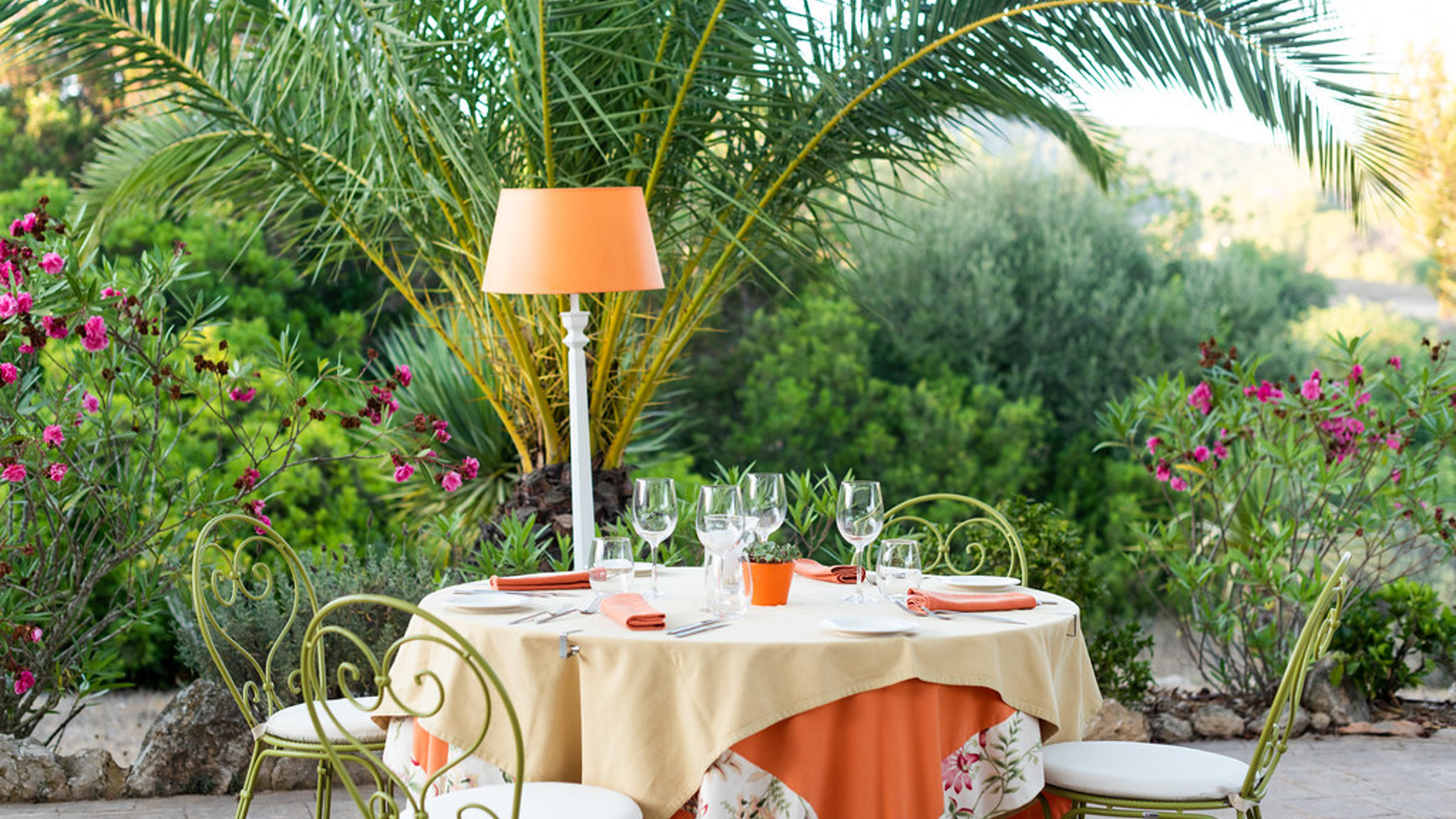 If retail therapy is on your list of holiday must-dos, Electra shares some more tips: "If you forget your shades en route to the beach, Raco Verd also has a boutique with some seriously cool eyewear that won't break the bank. You'll also find unique pieces by local Ibiza designers such as Rare Bird Ibiza, Wardrobe of Dreams and Aquamarine – better than any souvenir you can buy at the beach. Aurobelle, in the heart of village, is also great for hippie chic fashion and jewellery." More Ibiza-inspired shopping can be found within the aqua walls of Sal de Ibiza – from island-made alcohol and chocolate to local cookbooks and of course, salt direct from the Salinas flats. Meanwhile at Happinez Ibiza you can rekit your home in the typical Ibiza villa style with no need to worry about excess luggage charges – they ship your purchases to anywhere in the world! 
Some other need-to-know addresses if you're staying in San Jose: Cas Costas – an organic market where you can pick up great food, and especially great coffee, any time of day; Hipercentro, the local supermarket where you can stock up on groceries and the best fresh-made bocadillos for your beach day; La Gourmandise, a French café offering fresh-basked pastries your picnic basket; Sa Cultiba, the best fruit shop in town and the local butcher, Carniceria Toni is the place to buy meat for your barbecues. Or, you could leave all the chores to us – that's exactly what we're here for. All you need to do is enjoy your stay in San Jose! 
You can easily let a week pass and not need to leave San José, so to enjoy all on offer, check out our nearby villas: Villa Asombro, Villa Espa and Villa Dellas.