We often talk about 'the old Ibiza', but there's also much to be said for 'the new Ibiza' too. Nowhere embodies the spirit and culture of contemporary island life like Marina Botafoch – the lively harbour district that sits perfectly juxtapositioned across the water from Ibiza's old town. Million dollar yachts bob on the sparkling water, designer boutiques and high-end restaurants glisten like gems on the frontline and the endless temptation of Ibiza's nightlife culture hums after dark. If you want cosmopolitan glitz and glamour, Marina Botafoch is the place to be…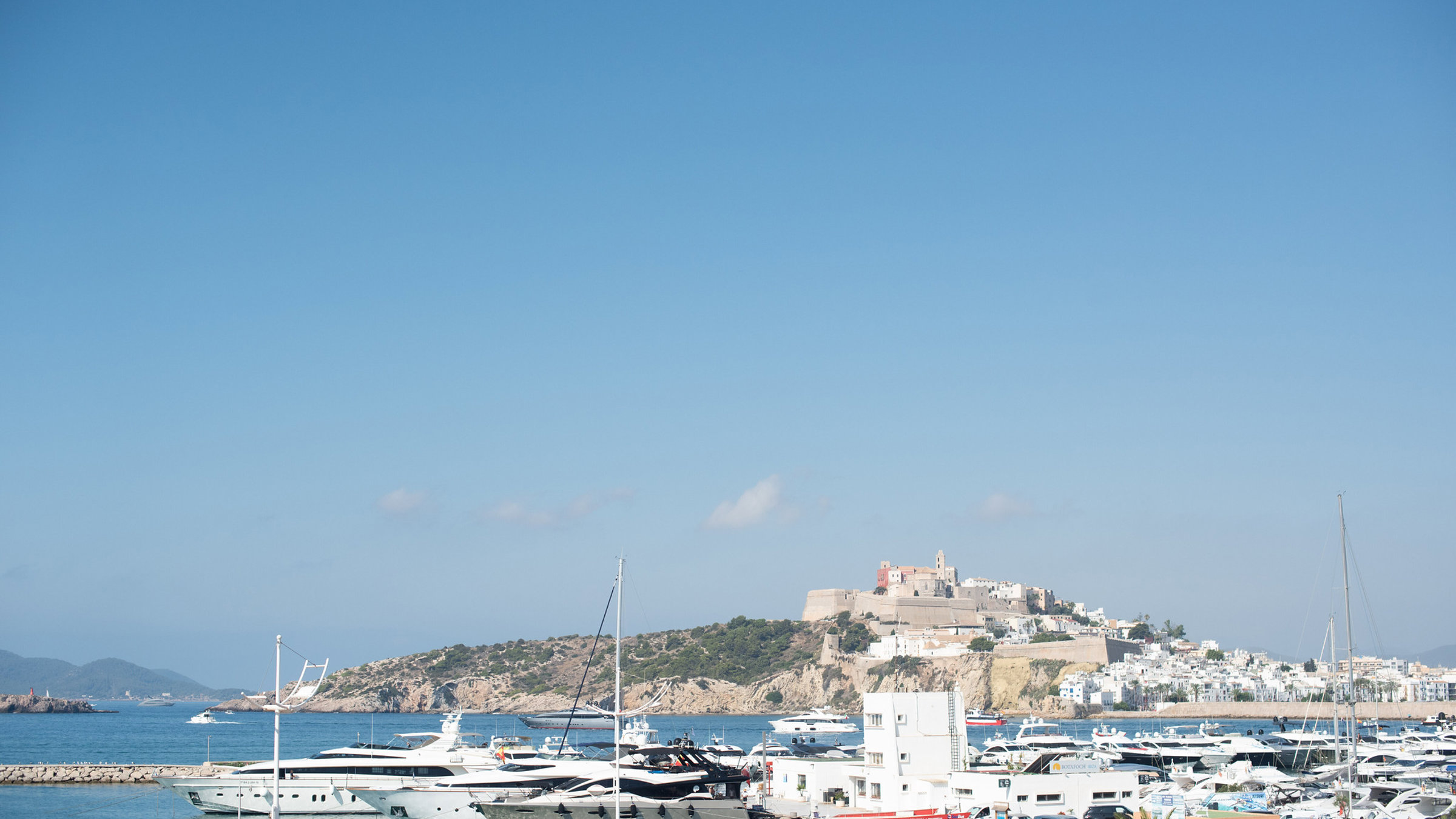 "It doesn't matter what time you're in Marina Botafoch," muses Dynamic Ibiza general manager Electra Garcia, who grew up in Ibiza and has watched the area evolve over the course of her lifetime. "There is always something going on." The area's nautical culture kicked off back in 1984 when the Marina first opened, at the same time as a local property boom saw plenty of luxury apartment complexes spring up in the area. It seemed the international jetset wanted a place where they could moor their yachts, come to shore for the night, have a glamorous evening and then set sail again the next day. They've been frequenting Marina Botafoch ever since.
Mornings are a real buzz here – the harbour springs to life bright and early as skippers and crew start prepping their vessels for the daily Ibiza to Formentera 'commute'. The smell of fresh coffee wafts out of the cafés (not to mention the takeaway cardboard cups carried by everyone walking by) – old school fave Box 7 and hip newcomer Massa Coffee dominate the Botafoch end of the Marina, while there's no question that iconic Ibiza hotspot Passion Café, and its sister Passion Pantry, are the only places to go for your cup of joe towards the 'nueva' end of the port. If you're not in a hurry to get on board your boat, breakfast at Passion truly can't be beaten. "The menu at Passion is the biggest, and the best breakfast menu in Ibiza, with something for everyone," says Electra. "Vegans, vegetarians, parents, kids, fitness bunnies, yogis, DJs, health nuts – you can't go wrong."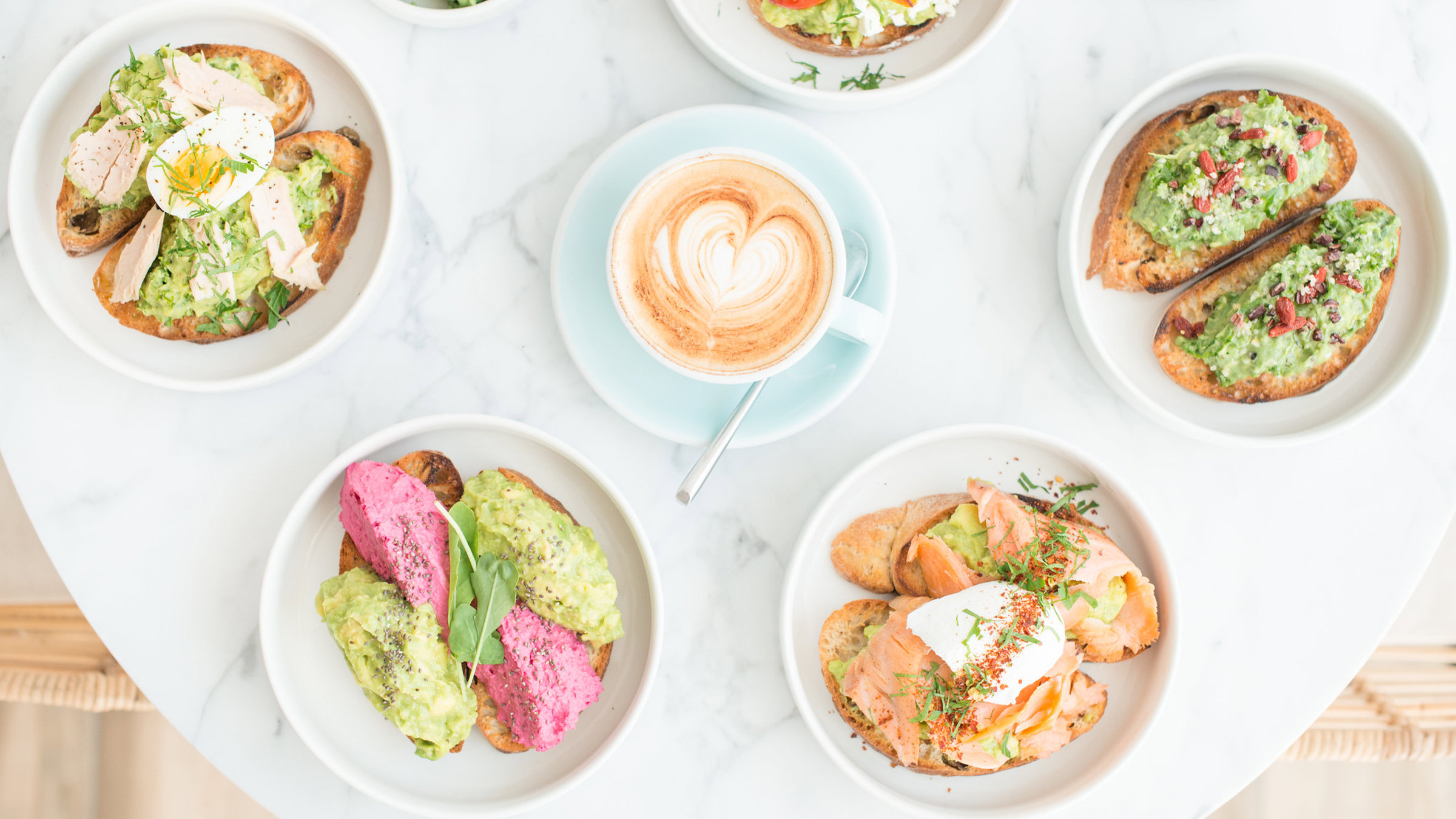 Once all the luxury yachts set sail for the day, a sense of calm falls over the Marina – but not for long. Lunchtime attracts the next round of visitors to the area, along with the locals – both expat, and born and bred – who come down from their apartments to enjoy their daily dose of lunch with a view. "Having lunch with the iconic skyline of Dalt Vila in the background has become a quintessential Ibiza experience," says Dynamic Lives concierge manager Ed Graham, who also grew up in Ibiza and now organises plenty of luxe long lunches for our clients. "It can also be easier than trying to organise a trip to a busy beach club for lunch in high summer – it's door to door, from the villa to the restaurant, and back again." 
Trattoria del Mar has been a long-time favourite of ours in the Marina for a decadent lunch – it offers classic Italian cuisine with a high-end twist and the wine list is simply incredible. Smack bang in the centre – between Marina Botafoch and Marina Ibiza (general referred to by locals as 'nueva') – is the sophisticated seafront Cappuccino Grand Café, where waiters in waistcoats and bow-ties and chic cane furnishings give the restaurant a hint of old-school Mediterranean glamour. Nab a table outside and you'll quite possibly never want to leave thanks to the fantastic people watching here. The menu has international appeal – from salads and sandwiches to sushi, seafood and pasta – and don't leave without sampling the fresh-made cake of the day.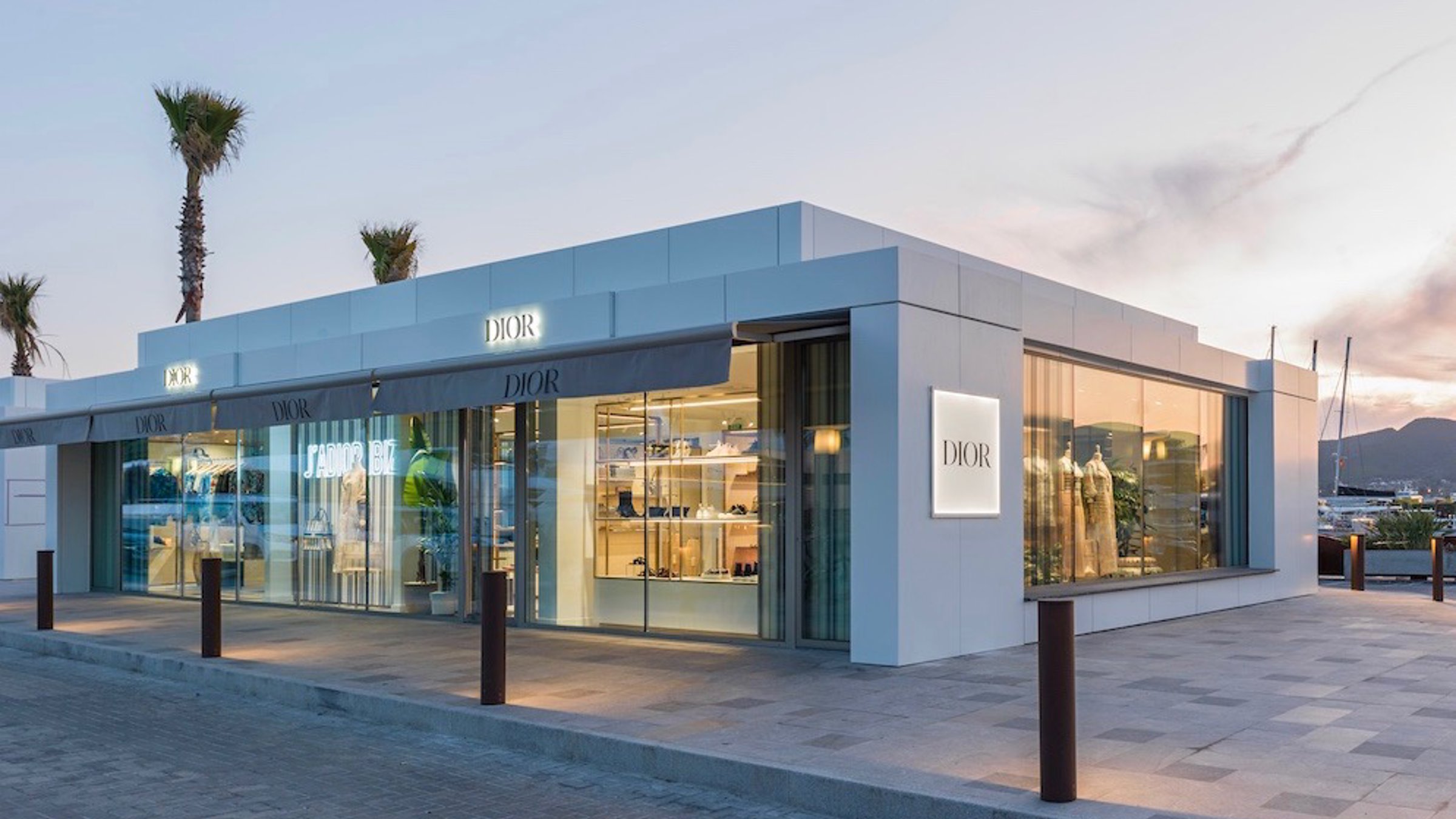 Out on the promenade, sporty types are jogging, walking, rollerblading or working out with their personal trainers – just a few minutes walk from there is the long stretch of Talamanca beach for those who like soft sand running or SUP. If you're not feeling sporty (that's totally OK, it's your holiday after all), Marina Botafoch also boasts the island's premier day spa – Open Spa at Ibiza Gran Hotel. "Many of our villa clients love a luxurious day out at a spa, and Open Spa is truly world class," says Electra. "The therapists are highly trained and the products used are among the best in the world. Whether you book in for a facial, a massage, a body ritual, or a full-day of pampering, you also get to experience the relaxing hydra-circuit the hotel is famous for."
Shopping is yet another pastime that's popular in Marina Botafoch and in 2019, the retail therapy levels have gone to the next level, with the introduction of a series of new designer pop-up boutiques in Marina Ibiza. A glass-fronted Dior boutique takes centre stage here – even if you thought you'd packed all your summer wardrobe staples, it's hard not to be tempted by the creations of designer Maria Grazia Chiuri (the red and white striped nautical sweater emblazoned with 'J'adior IBIZA' is perfect for breezy nights on the yacht deck) and Kim Jones. "It's what credit cards were made for!" laughs Electra. In the same area, Hublot, Dolce & Gabbana, Bvlgari and TAG Heuer offer the kinds of holiday souvenirs you didn't even know you needed (until now) – meanwhile, in Marina Botafoch, a selection of unique mid-range boutiques are curated with classic Ibiza looks, from swimwear, all-white crochet to sequinned party frocks.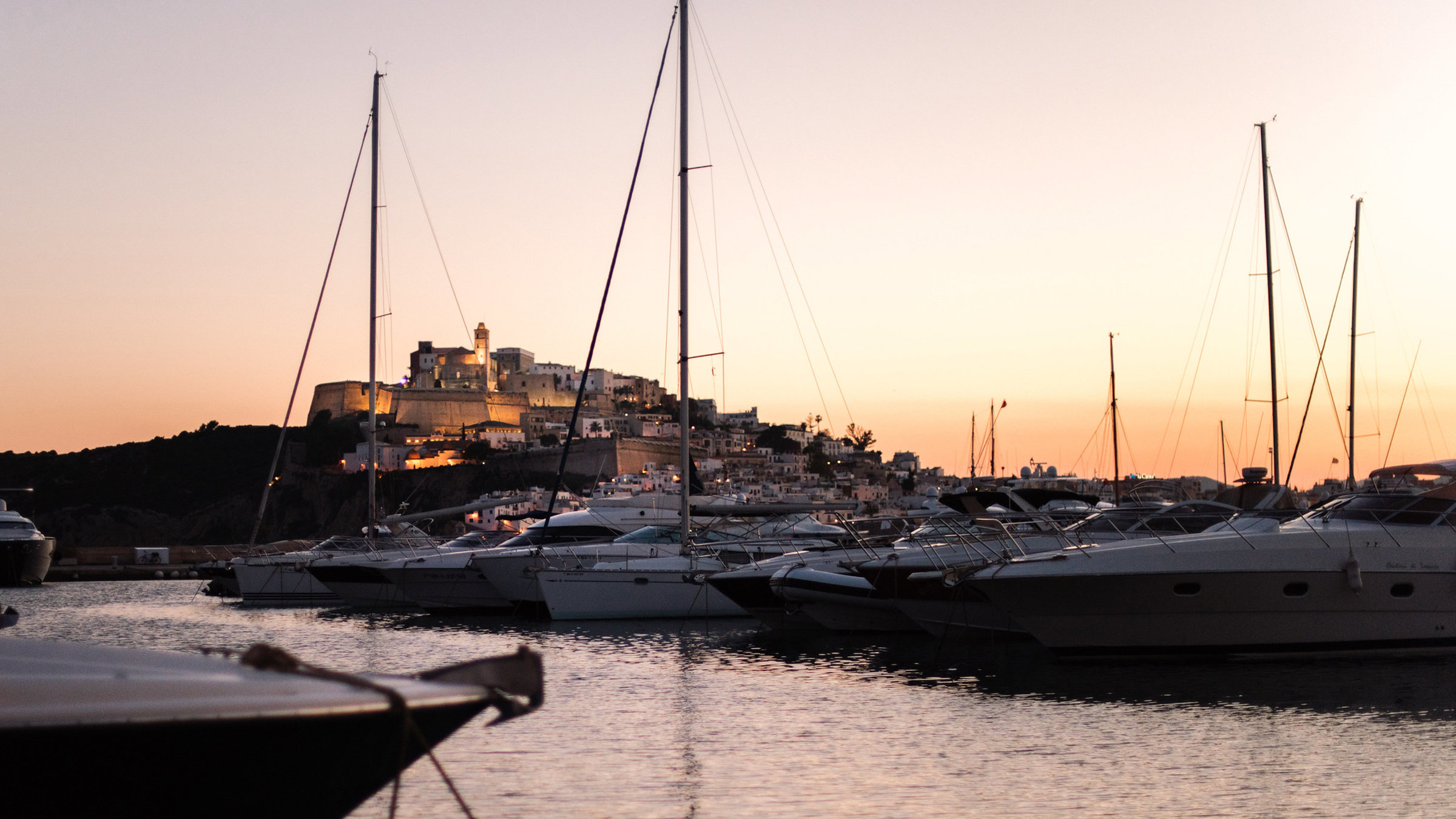 The 'traffic' jam of boats comes back into the marina just before sunset, a sea of sun-kissed skin, salty hair and champagne smiles. Once everyone has freshened up, it's all about finding the best location for dinner – and it's here where Ed excels in the recommendation department. "Families always love the classic pizza, pasta and warm Italian welcome at Il Giardinetto," he shares. "While our younger clientele and influencers are more partial to the dinner disco experience at STK Ibiza, the Italian aperitivo vibes at IT Ibiza and late night sushi at IZAKAYA." He continues to rattle off a list of eateries that makes you realise you could easily eat in Marina Botafoch every night of the week. "Foodies really love the new Levantine restaurant in Mikasa Ibiza, and the Michelin-like experience at La Gaia in Ibiza Gran Hotel," he continues, and there's more. A newcomer to the area is ROTO Ibiza, perched right on the water with views across to Dalt Vila. With MasterChef 5 winner Jorge Brazález at the helm, its home-style Spanish cuisine is accessibly priced – we predict big things.
Party people will feel right at home in Marina Botafoch – every which way you walk you're surrounded by some of the best nightlife in the world. Laylah Ibiza opened its doors just a few months ago, but has already become theplace to be for a pre-party get together. The sleek lounge bar serves up Israeli and Mediterranean influenced sharing plates while special guest DJs (you know, the kind you see on billboards) drop by for unannounced sets before they hit the clubs. Clubs too, have their own high end restaurants – none other than Catalan Michelin star duo Albert and Ferran Adrià are behind the experimental cuisine concept at HEART Ibiza, while Cirque Du Soleil's Guy Laliberté controls the entertainment. Lío Ibiza does dinner and a cabaret show, while the iconic Pacha Ibiza offers the crowd-pleasing combo of sushi and steak.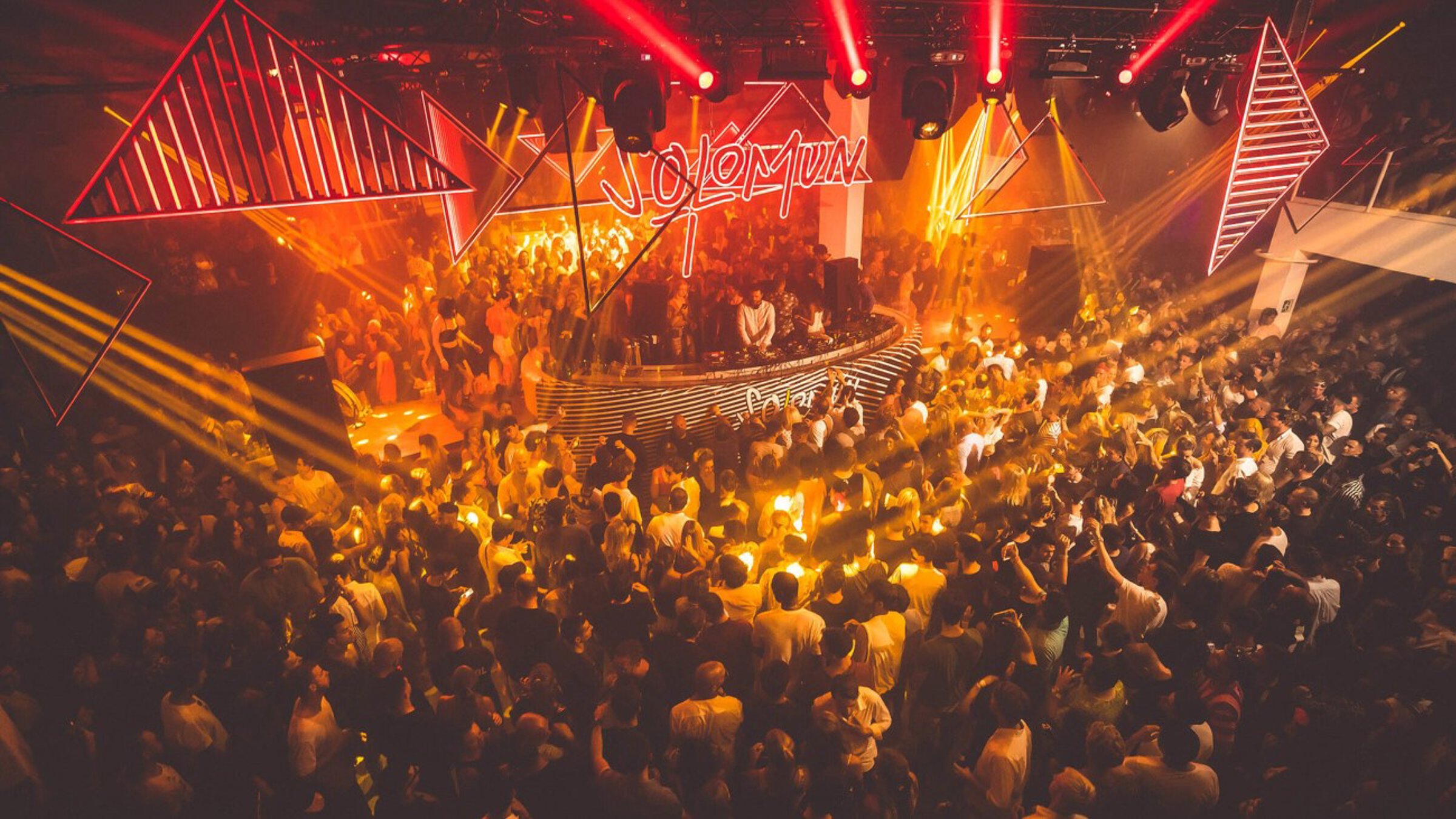 "Organising a VIP table at the clubs is still by far the best way to enjoy Ibiza's clubs," says Ed, of the all-night dance-athon that follows dinner in the aforementioned discotheques. He and his team have a black book bursting at the seams to get you escorted beyond the velvet rope and into a prime position to survey the dancefloor, while your own private waiter pours your drinks all night. When you're ready to return to the villa, we can have your driver ready and waiting to collect you and whisk you home – unless of course, you feel like trying your hand at blackjack at Ibiza's one and only casino before calling it a night!
If you'd like to stay near the glitz and glam of Marina Botafoch, we have a selection of sleek and stylish villas in the surrounding areas, including Can Martinet, Villa Destino and Villa Volcan. If you're not staying in the area but would like to arrange a visit, simply ask Ed and his team to tailor the perfect Marina Botafoch experience to suit your group.