There's a lot to be said for the south west coast of Ibiza. While we love all marked divisions of the Ibiza compass, when you drive down the winding road that leads to the southern edge of the island, the anticipatory sense of pleasure is overwhelming thanks to vast blue skies; endless sea and miles of lush green countryside. At the end of that road is Es Cubells – a charmingly authentic village that is a must-visit for holidaymakers and island locals alike.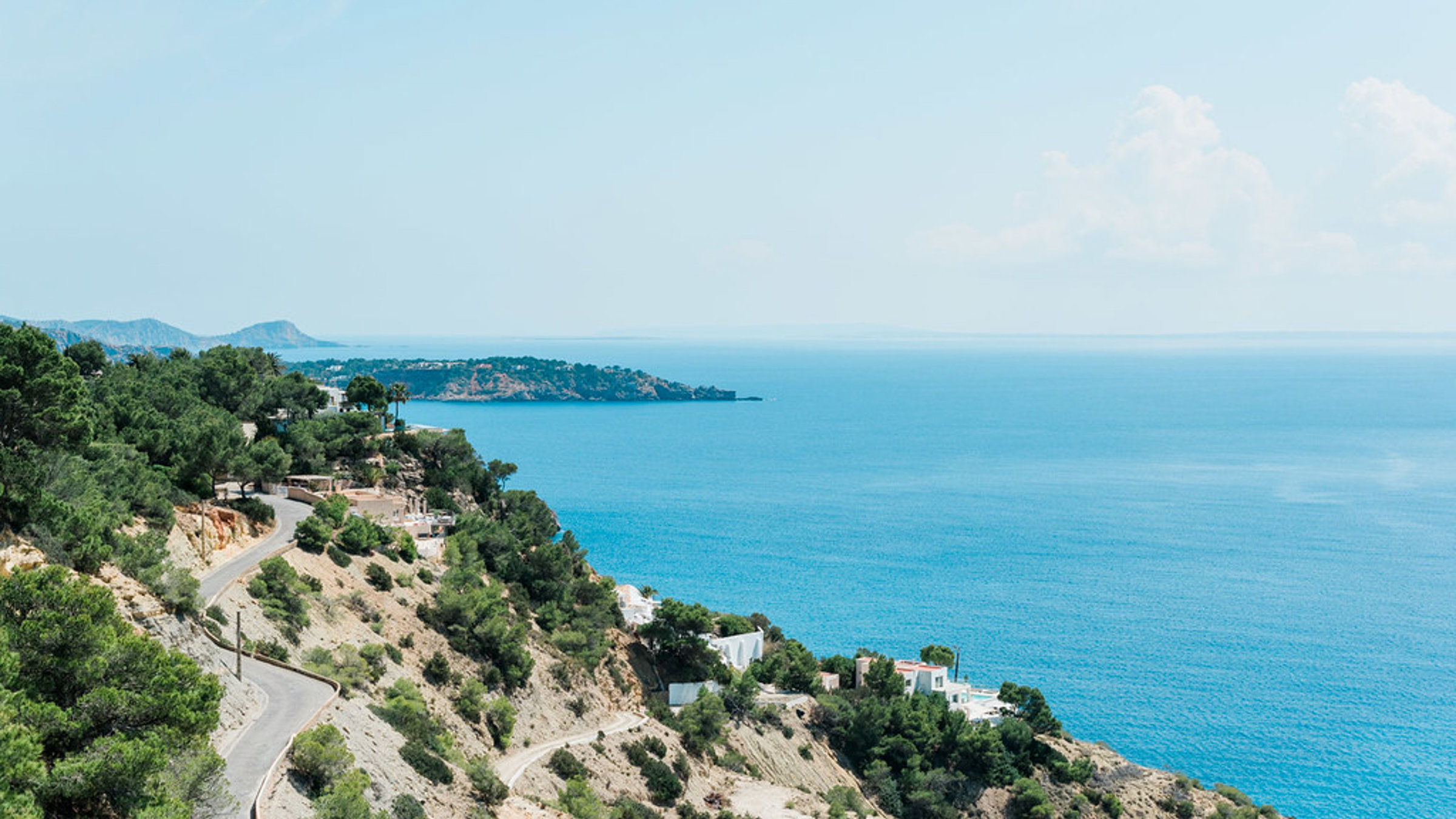 Park up, walk straight ahead, soak in those incredible vistas – to the right, to the left and across to Formentera – and take a big breath of fresh Mediterranean air. Forget wherever you were before you arrived; forget wherever you're going afterwards. Time seems to stand still in Es Cubells – it's all about living in the moment. "Es Cubells is one of the smallest villages on the island," says Dynamic Ibiza Concierge Manager Ed Graham. "But it's a place you can go back to again and again. In all the years I've been visiting, it's never lost its magic." Make no mistake – this tiny town has everything to whet your appetite. The offerings in Es Cubells are simple and traditional but let's be honest – isn't that what you want when you're visiting a village that is exactly that? And when it comes food brimming with traditional simplicity, there's no question the Ibicencos do it best. 
Run by brothers Pepe and Toni, Bar Llumbi is the most noticeable restaurant in Es Cubells, presiding over the cliff edge (don't worry parents – there's a small road and safety fence in between) and serving up three solid family-frendly meals a day. A pre-beach breakfast overlooking the Med is hard to beat – think tostadas con tomate (toasted baguette with a homemade crushed tomato, sea salt and olive oil topping) or the famous homemade tortilla (Spanish omelette). Lunch and dinner are a Mediterranean affair – mama's famous pork chops, the freshest dorada you can find and gambas al ajillo (garlic prawns) have become local legends. The portions are plentiful and the impeccable service comes with smiles all round. An insider's tip: if it's not on the menu, just ask (nicely, with a por favor, of course) and generally you will receive.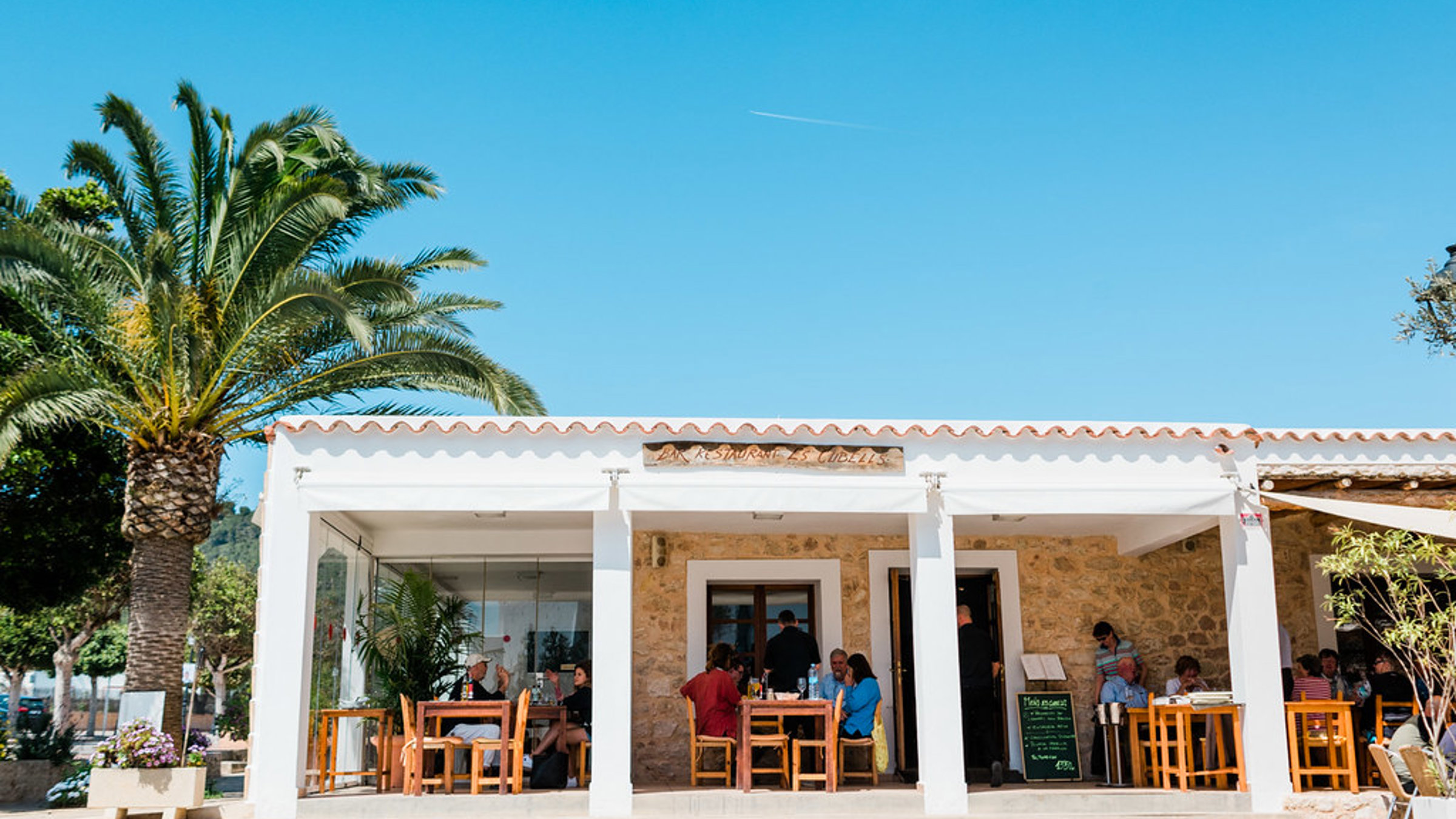 Those seeking a true taste of Ibiza should grab a rustic wooden table in the sun at Bar Restaurante Es Cubells, opposite the church. The biggest dilemma here, according to Ed, is choosing between the island's two typical fish stews: bullit de peix (traditional fishermen's stew followed by a second course of rice cooked in its broth) and guisat de peix (chunky fish stew) – both best washed down with an icy cold beer or a chilled vino blanco. If it's paella you have a hankering for however, you'll need to veer slightly off-course via a quick bumpy drive or leisurely half-hour walk down to the very bottom of the cliff to an all-time Es Cubells favourite, Ses Boques (aka, Ibiza's worst-kept secret). 
A truly idyllic location that was triumphantly restored after being all but destroyed by torrential storms a few years ago, this family-run business is authentic Ibiza beach dining at its finest. Widely renowned as the place to go for Ibiza's best paella, fresh seafood and local veg are lovingly prepared using the family's 40-year old recipes and are best indulged before or after grabbing a little sun on the rocky beach in front of the restaurant. "Ses Boques sits on million-dollar real prime estate, but this little gem encompasses everything we love about 'the real Ibiza'," notes Dynamic Ibiza General Manager Electra Garcia, who has been dining here her entire life. "It's rustic, honest, friendly and great value – and they serve the best boquerones on the island."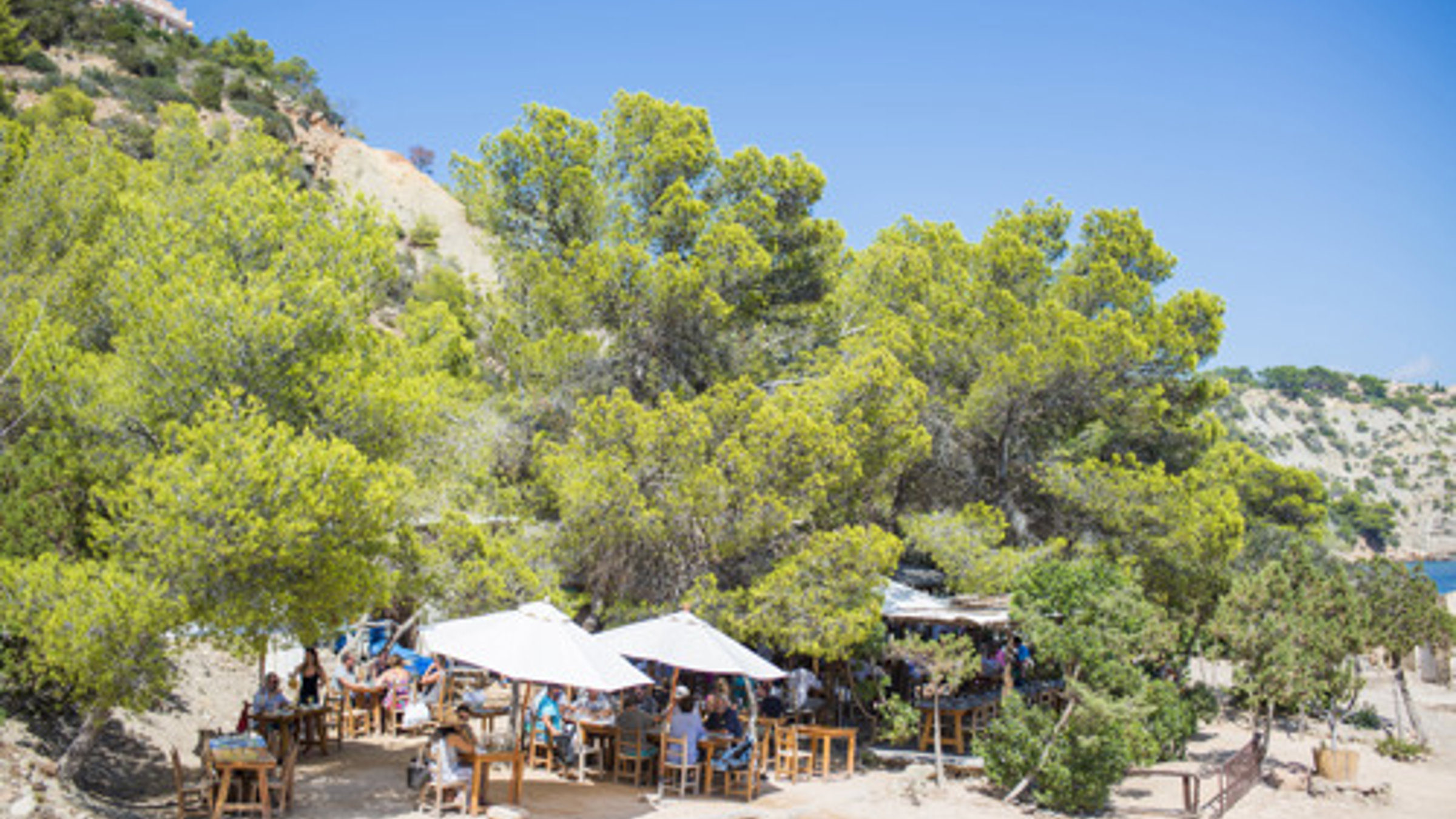 Swimming, floating and snorkelling in the sea at Es Cubells is what makes everything – everything – a-ok. Diving is ideal here – Ed and his team can connect you with instructors who not only know their stuff, but also know the best underwater locations to explore. Just a few minutes away, Es Xarcu offers another dirt track experience leading to a pine-scented, secluded cove popular with locals, while its neighbouring cove boasts another legendary but impossible-to-find little chiringuito – a quintessential feet-in-the-sand dining destination our team can lead you to (and get you the prime table!). 
For those who love a hike – and are fit for the challenge – the nearby beach of Cala Llentrisca is completely secluded, generally only visited by divers and those privileged enough to own a fisherman's hut on the rocky shoreline. Most hikers start from the church in the village, then follow the asphalt lane that clings to the cliff – mind your footing on the steep slope down and eventually you'll get arrive to to this little piece of paradise. "It's worth the trek, but not for the faint hearted," says Ed. "We can also arrange a guided hike if you'd prefer a local to show you the ropes." Our other favourite thing about this cove? There's no mobile phone coverage, so you can take the time to bliss out!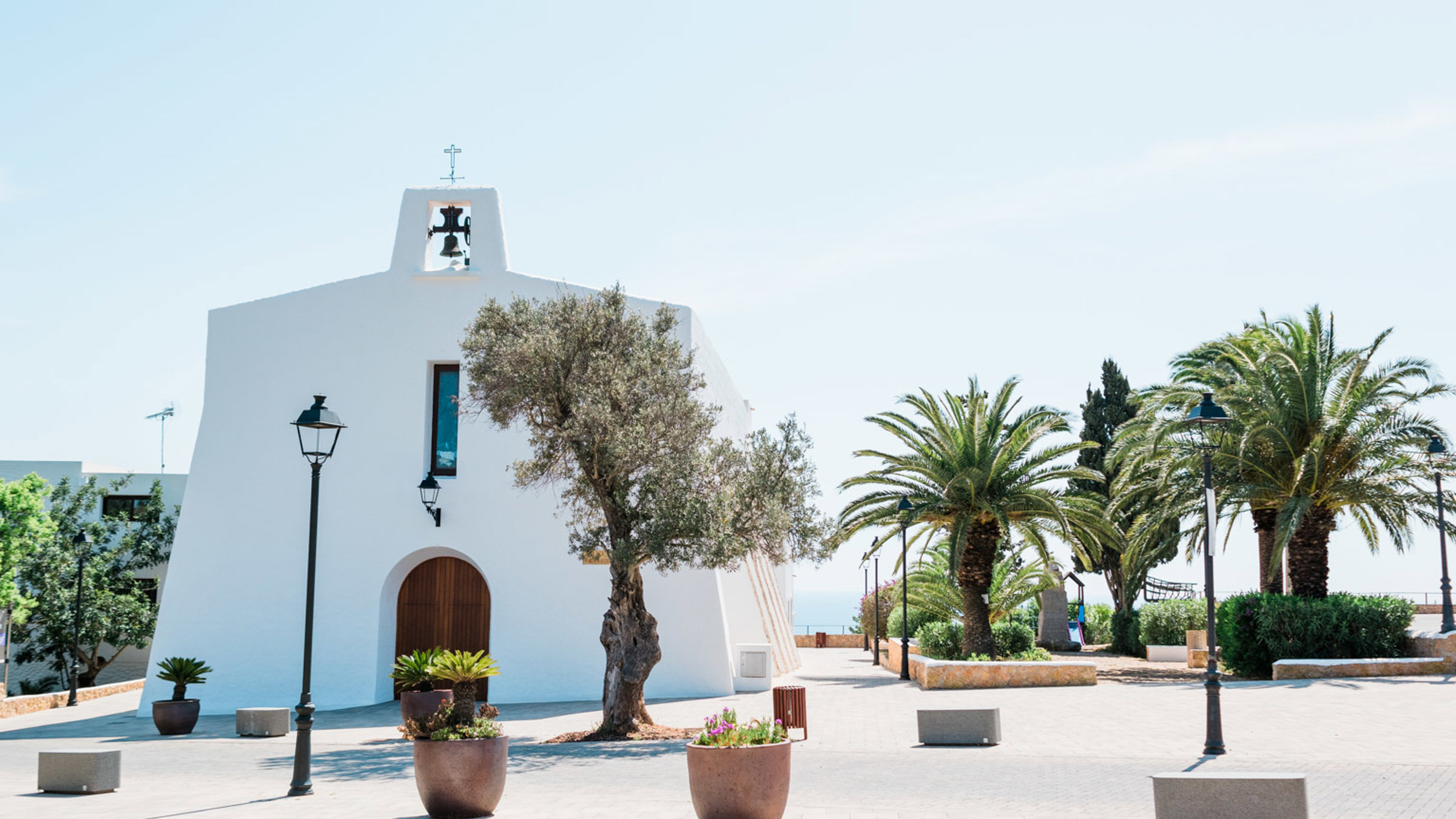 Back in the village, the Es Cubells church is a story within itself, coming with beautiful traditions, tragedy and even resurrection. The church is one of the youngest on the island – rebuilt and re-opened in 1957 after its destruction during the Spanish Civil War – but it is also one of the most picturesque and easily the most in-demand for weddings in Ibiza. Every Sunday there is a small, artisan market with several stalls selling unique, handmade pieces you won't find in the more commercial markets across the island. Walk around to the rear of the church to see why it's the absolute perfect church-with-a-view to say 'I do'.
Tranquil by day and sleepy by night – aside from the the un-announced live music at the buzzing local supermarket-slash-barbecue-restaurant Can Mestre – Es Cubells is wonderful little melting pot of people from all walks of life. There's also a sweet little playground for the kids, a million Instagram photos to snap and you never know who you might meet. "You're just as likely to see the local chapter of the Hell's Angels stopping off here for a beer while touring the island as you are the born and bred locals who run the organic farms in the nearby fields," says Dynamic Lives founder George Burdon. "Between them all are groups of friends and families who are staying in the stunning villas in the hills nearby – there's no segregation and that's the charm of Es Cubells." 
Getting married or completely in love with Es Cubells? Contact us for more information on villas we can offer in the area including Villa Fenicia, Villa Atlantis and Villa Can Jordi.