As the weather finally cools down in Ibiza, the island begins to attract a different type of holidaymaker. The type of people who want to raise their heartbeats, count their steps and quite possibly their calories look to Ibiza as a place to get physical – the cusp of the summer season is ideal for fitness and detox style getaways, and our team can help coordinate a weeklong fitness schedule, a hardcore bootcamp, or just a few days of healthy activities, depending on your goals.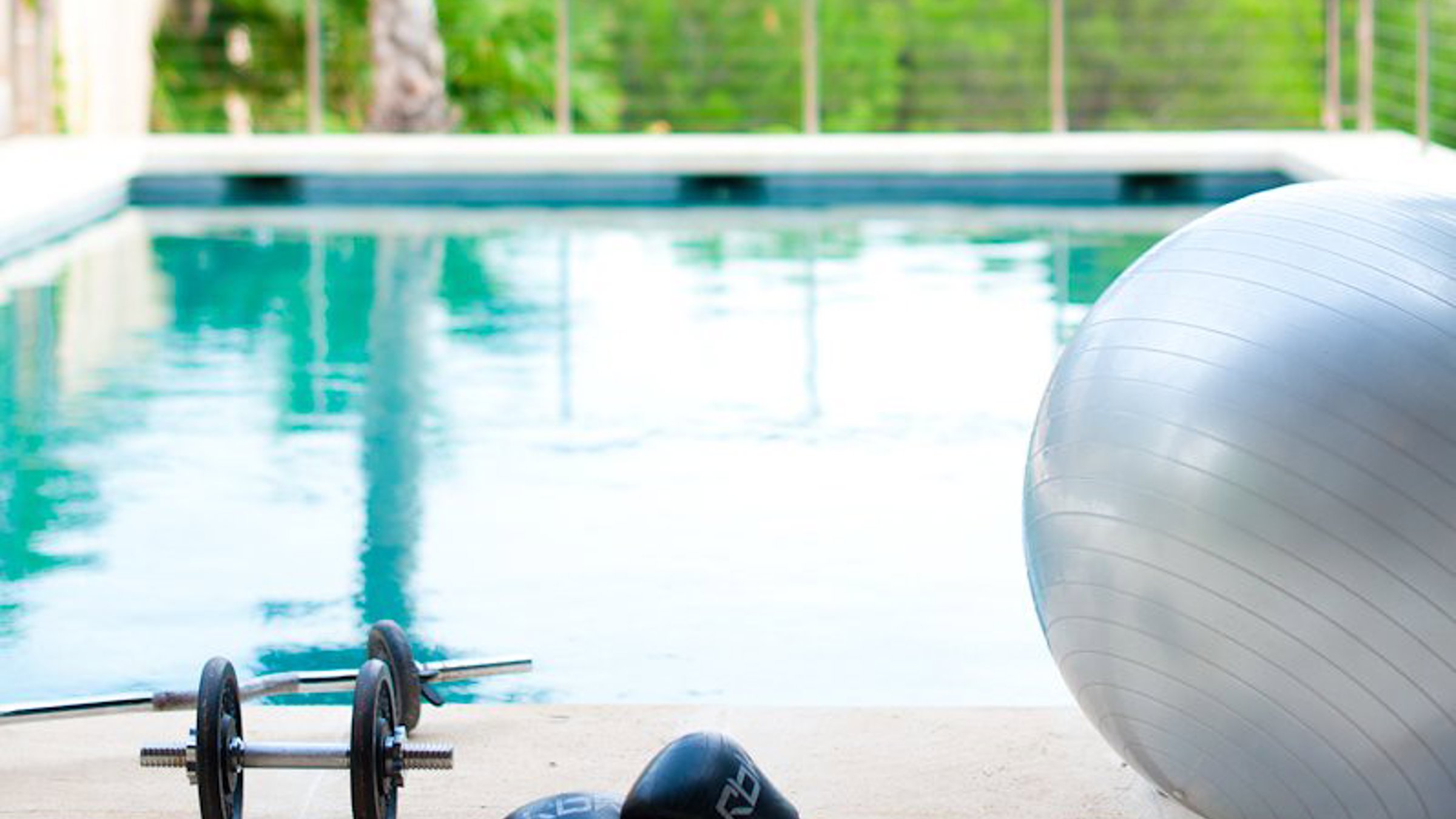 Over the past 18 years, we've naturally built up a long list of contacts here in Ibiza, and this includes fitness and nutrition experts. Once we've found you the ideal villa to use as a base (many of our properties have amazing high tech home gyms), our team can match your needs with the right person to guide you towards your health and fitness goals or even help you find something new to add to your home fitness routine. Marisa Van Welzen, our long-term wellness concierge partner, leads the charge when it comes to curating healthy holidays. She believes fitness is always best when it's fun, and encourages our guests to take their routines out of the gym and into the fresh air when they're in Ibiza. "This time of year is perfect to combine fitness goals with an Ibiza holiday," she explains. "The weather is still perfect but the heat is turned down just a bit."
At-home fitness routines are usually organised around work schedules and what's available in your area but there are no such limitations to your time when you're on holiday here in Ibiza. "People can come to the island and do a whole retreat-style program," says Marisa. "Or it might be that just one member of a group wants to take a day or two away from the family for themselves to train or detox." Whatever combination you need Dynamic Lives can make it work for you. Instead of dashing to work after your early morning training session, there's no reason you can't lie by the pool or take a siesta. That being said, if you're looking to really put yourself through the paces, Marisa and her team can arrange that too.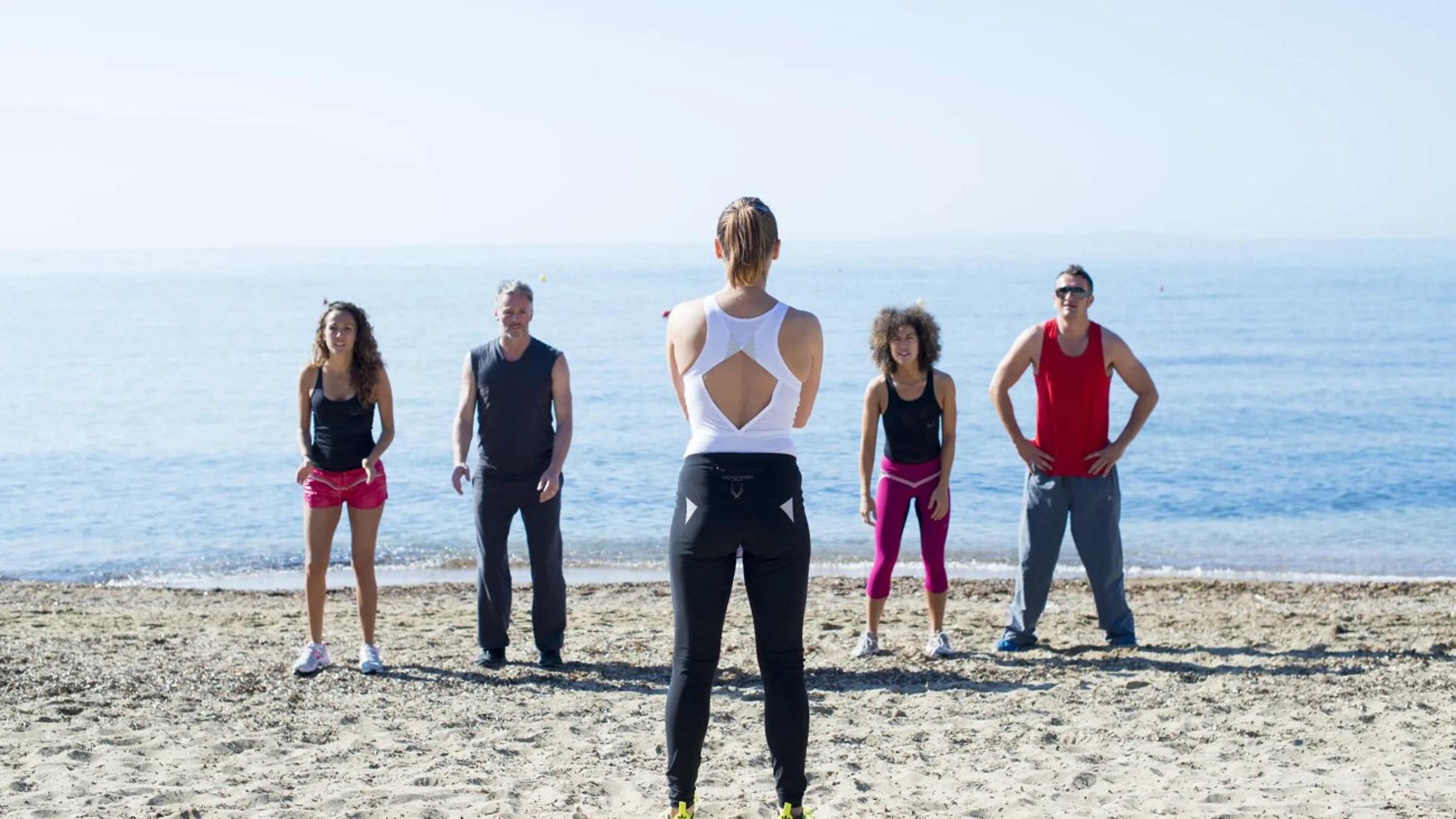 One-on-one programs can be designed to perfect your techniques, introduce a new sport or up-keep your home workout, while group training provides a whole new experience. "Training with your family, friends or colleagues is a super nice way to interact with each other," says Marisa. "You bond in a way that's different from the usual beach day or going out to eat." Our professional trainers are well-versed in group dynamics, expertly managing different experience levels, previous injuries and individual goals. Organising a private trainer for your holiday crew lets you have fun and get fit at the same time. Alternatively, joining an already established group means you get to meet true Ibiza locals.
Ibiza's beaches and forests provide breath-taking venues for sport. Soft, golden sands or sun-kissed clearings surrounded by pine trees are a world away from sticky sweaty gyms and polluted air. But once you've checked into your luxury Ibiza villa, it might be hard to choose between Ibiza's beautiful outdoors and the luxurious privacy of your holiday home. We know this from experience! Thankfully, an early morning yoga, Pilates or training session on the terrace sets you up for a great day of island exploration while a late afternoon run (or walk) can be the perfect pick-me-up energy boost before setting out for the evening. Can't decide between the great outdoors and your villa? Mix it up and choose both – our team can make it happen.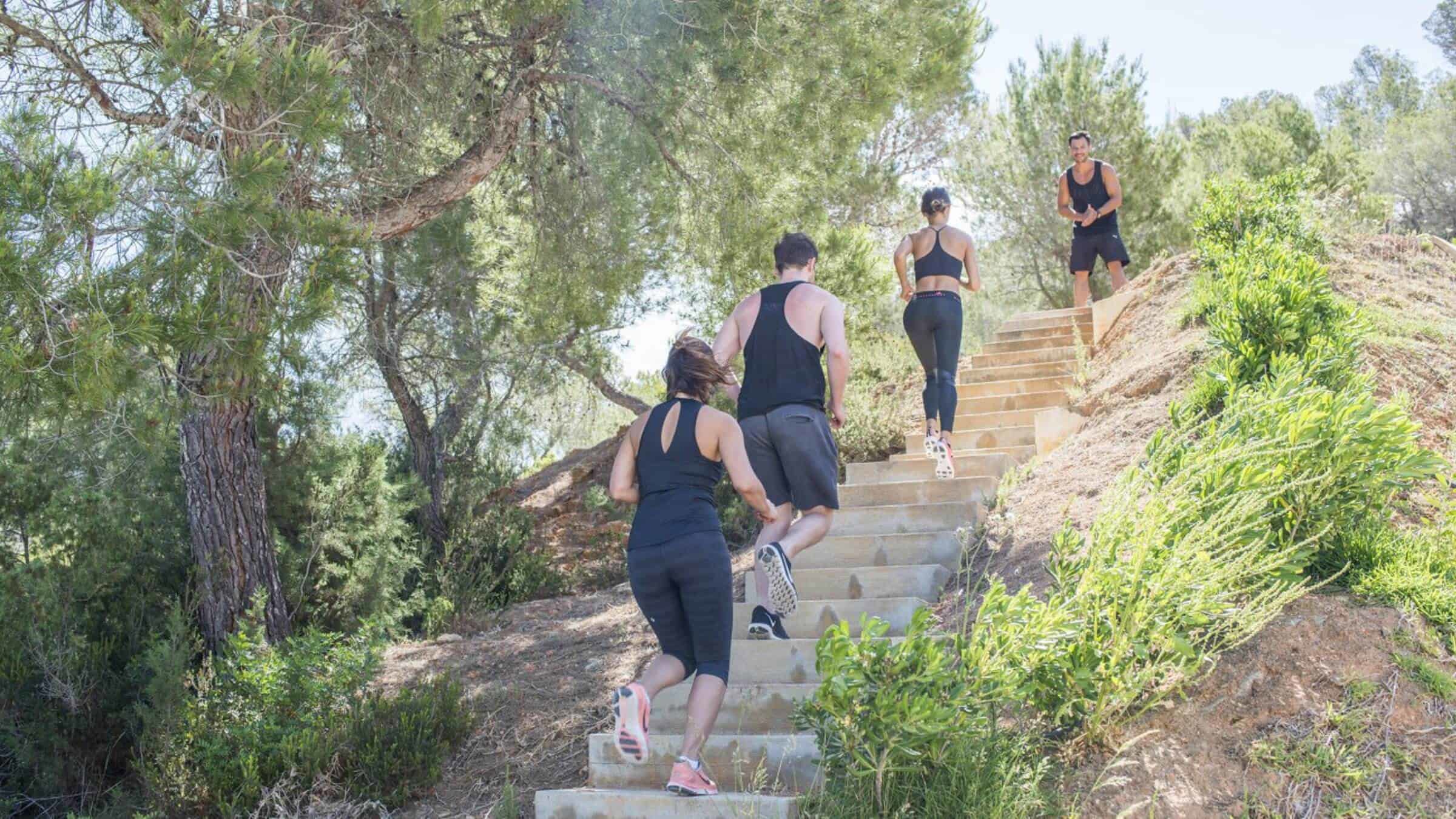 Taking some time out to focus on your fitness during your Ibiza holiday can also allow you to try something new. Dynamic Lives works with professional trainers in everything from stand-up-paddle boarding, boxing and martial arts to tennis coaches, swimming experts and running professionals along with yoga, Pilates, mountain biking, kayaking, weight training and anything else you could think of. Adding variety to your routine challenges the body in new ways and might even spark a brand new direction for your own personal fitness journey. Simultaneously, if you're a keen runner, swimmer or tennis player, you can take the time to finesse your skills and push yourself further with a private coach.
Nutrition is also a major part of staying fit and healthy but we all know holidays make it hard to stay on track. Indulging yourself in Ibiza is forgivable, after-all the restaurants and bars are hard to resist. Island aficionados will be familiar with the results of overindulging so planning a couple of days of detox might just be the thing to get you through. Marisa recommends private sessions with a qualified nutritionist to hone in on the best way to work through your nutritional profile and achieve your goals, or we can organise a private chef for the duration of your stay to make sure your meal plans are both healthy and delicious. Our team of experts are determined to create unforgettable experiences that also just happen to get you fighting fit – and they're here to guarantee you have fun while you do it.