Family villas in Ibiza have never been so luxurious! Ibiza may not be the first place that jumps to mind when you start planning your family holidays, yet there is so much more to this wonderful Balearic Island than the party scene for which it is so famous. In fact, it's hard to imagine a more perfect destination for all the family.
Great weather and safe and stunning beaches are two of the obvious highlights. However, when it's time to take a break from the coastline, there are many more attractions to be discovered. Imagine you and your family exploring the Ibizan countryside, taking day trips to neighbouring islands, or visiting the ancient caves at Can Marçà. Dynamic Lives offer a selection of family villas in Ibiza for your next family vacation; from spacious rural fincas to luxury family villas overlooking the sparkling Mediterranean Sea.
Finca Marbella
Many visitors to Ibiza hardly stray from the coast, yet those who do are rewarded with spectacular landscapes, from picturesque olive groves to impressive interior mountains. It's a great place to get exploring by bike. We have a large portfolio of rural finca villas set in extensive grounds to choose from, including the luxurious Finca Marbella.
This secluded villa, which sleeps fourteen guests in seven bedrooms, is one of the finest in our collection and an ideal family rental. Located near the charming town of San Jose, Finca Marbella overflows with traditional rural charm and stylish elegance.
Set amongst 88 hectares of private grounds, the finca boasts ample outdoor space to relax in. The children can happily spend their days playing in the large garden and the swimming pool will be a hit with all ages. The outdoor area boasts a covered alfresco dining area with a barbeque, which is perfect for family meals.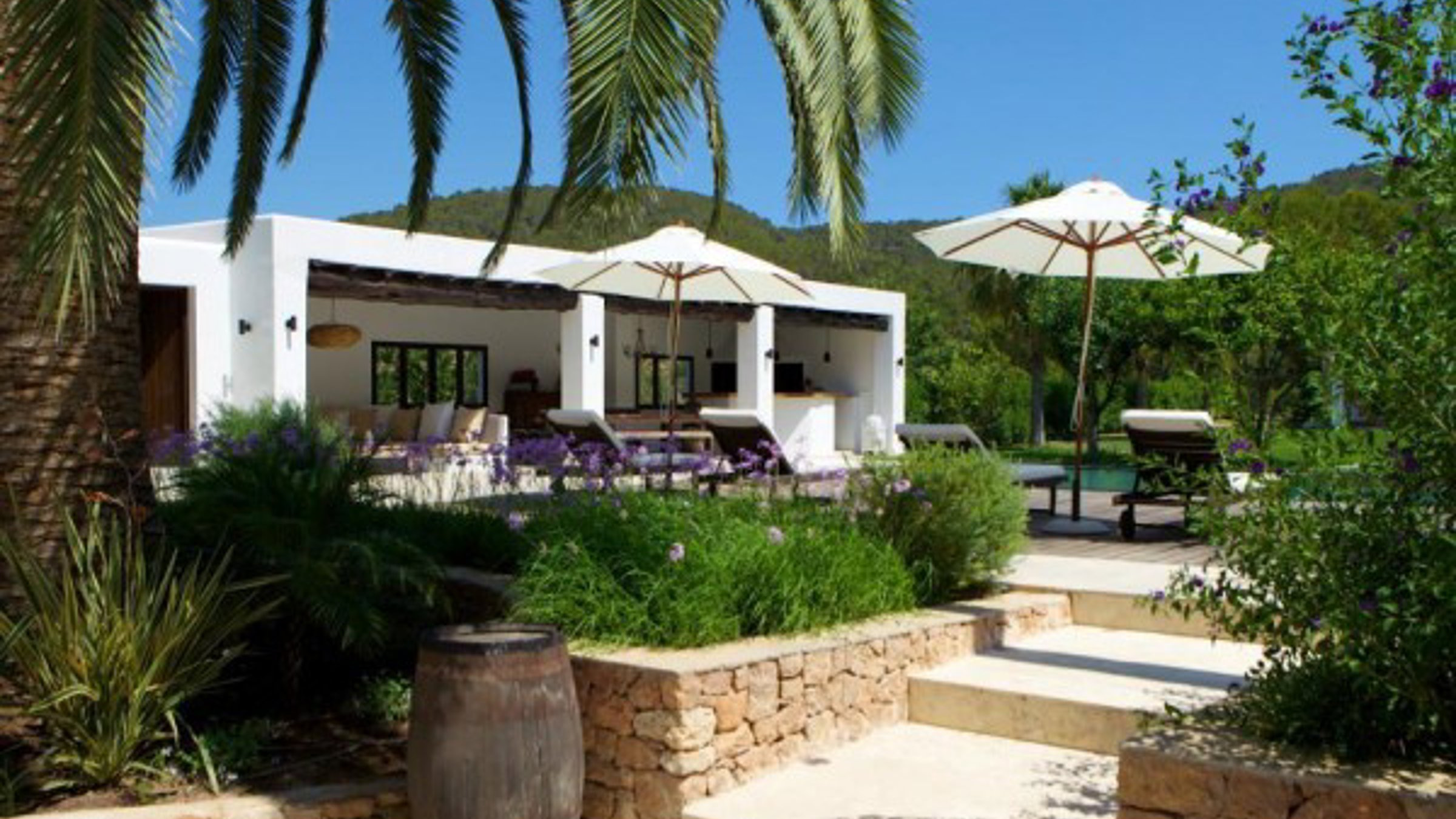 Villa Cardona
If you prefer to wake up to a sea view or wind down to a beautiful sunset, then we truly have the perfect child friendly villa to recommend! Located just a five-minute drive away from Ibiza Town, Villa Cardona offers panoramic views down to the Mediterranean from its setting in the hills above St Jose road.
This modern villa boasts all the necessary facilities to ensure your children are safe and catered for as they enjoy their holiday. The villa offers great facilities for the kids, including a large 13 x 7 metre pool that comes with a pool fence, a ping pong table and a large, flat garden area that is ideal for running around in.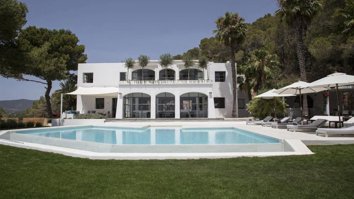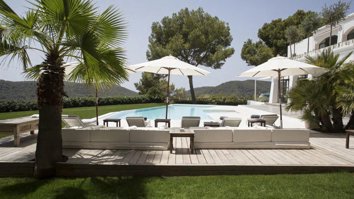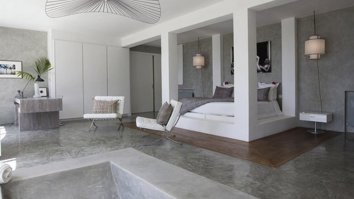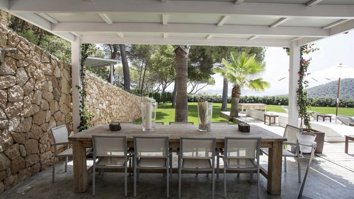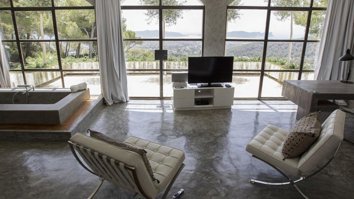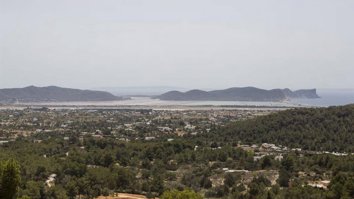 Can Palerm
If you are looking for a peaceful, yet tempting holiday, don't look any further.  Villa Can Palerm dominates one of the hills just next Sant Josep, a charming village boasting anything you might wish: shops, bars, restaurants, a church, a shady arbour, interesting sites and much more. Stunning sunsets and sea views can be enjoyed from one of the many inspiring corners spread all over the large grounds, ensuring a very relaxing environment, perfect for reading, resting, or simply enjoying a glass of wine. Nevertheless, you will not forget your family members as you have plenty of choices for sharing your holiday time, from enjoying the attractive pool area to a tennis match in the private court. This exquisite five-bedroom villa is faithful to the original structure of the traditional finca, matching contemporaneity through modern comforts. Simple in lines and sophisticated in style, the interiors are the perfect expression of luxury when meeting simplicity.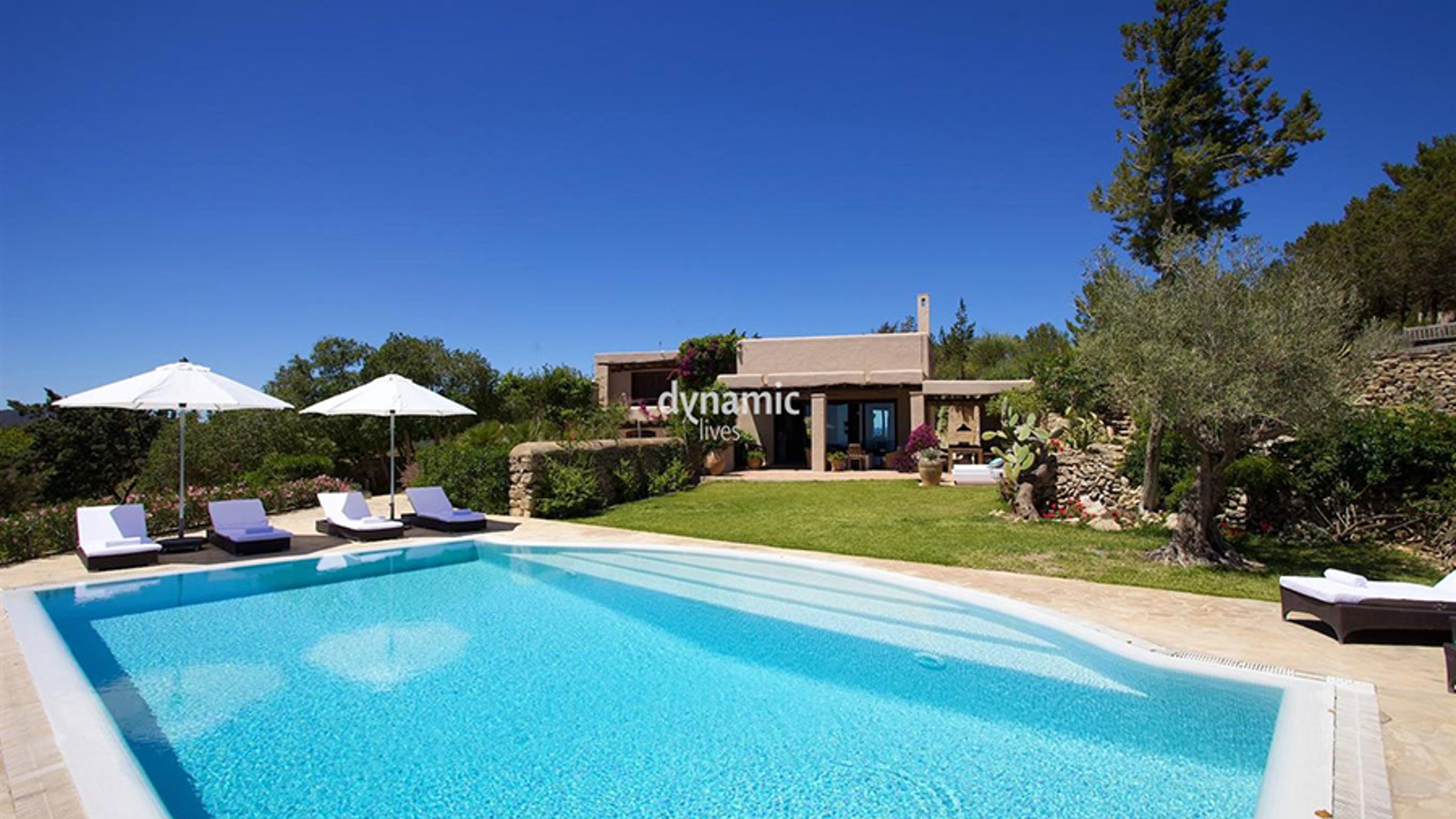 Villa Ses Carlos
Geometries, natural tones, Villa Ses Carlos is the perfect synthesis of modernity and comfort. Set near Cala Bassa, one of the most beautiful bays on the west coast offering the greatest beach clubs, this beautiful five-bedrooms villa combines a perfect natural environment (comprised in 14000m² of land) with a real oasis where comforts abounds. Is a kitchen full of family states a picture on a kitchen wall, and it couldn't express better the feeling that Villa Ses Carlos gives. The large pool, the outdoor kitchen and pergola, the spacious perfectly equipped living area ensure the best scenery for enjoying family life. It is designed for being an extension of the way you aspire to live.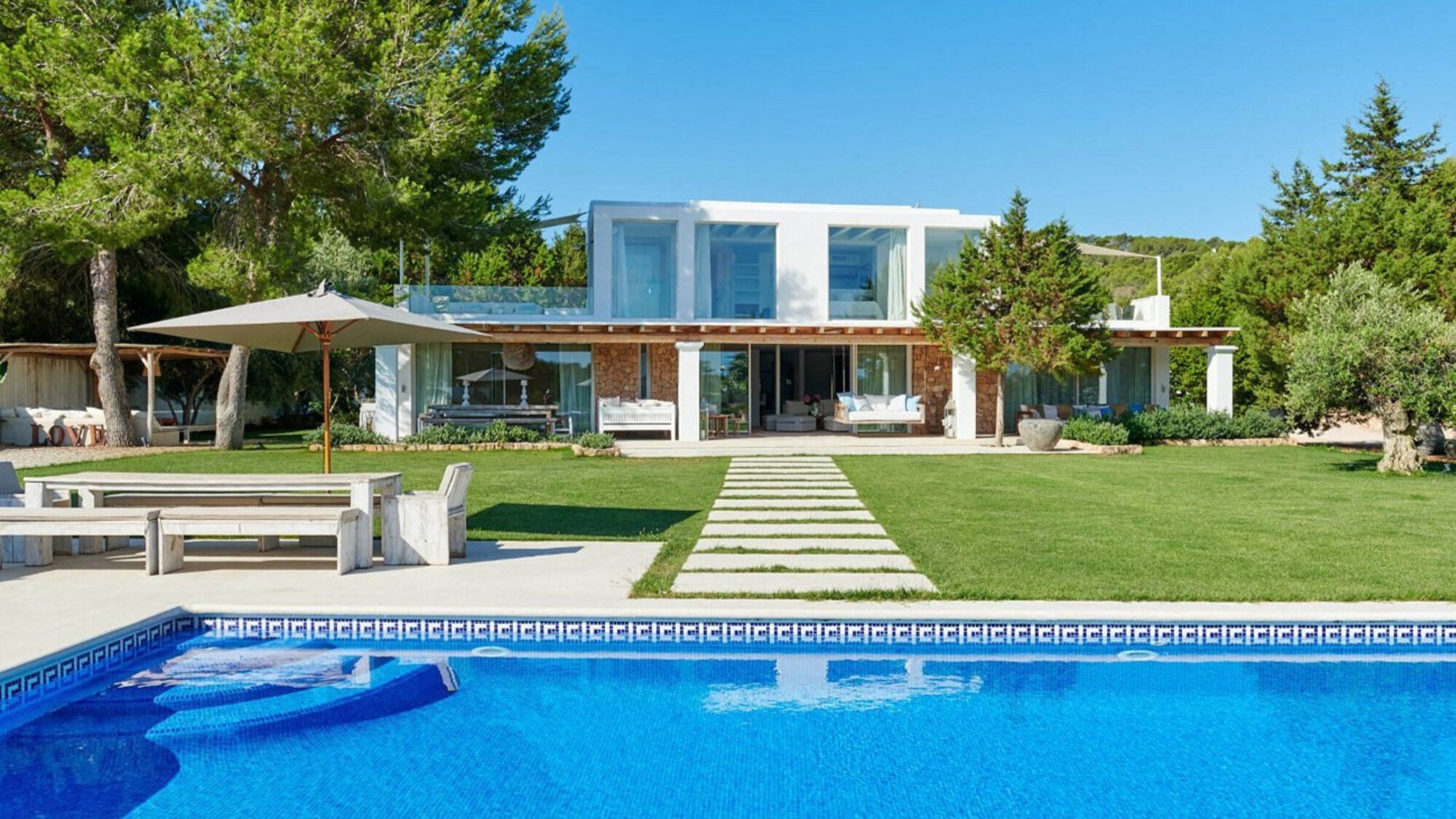 Casa Rios
Get inspired from the moment you arrive to the moment you depart. Casa Rios is situated between Santa Gertrudis, a village of unique charm, with plenty of restaurants where to spend wonderful nights, and the tiny village of San Lorenzo.  The splendid architecture, the attention to detail reflecting the highest Mediterranean spirit, the comfort of the best quality materials, create altogether a welcoming feel that will stay with you long after you've returned home. A spacious, bright open-plan living area embrace the hearth of the family life, opening to the perfectly kept gardens with a 16 meters pool. A villa designed for relaxing, while the children have their own spaces and activities, including the possibility, offered by the owners, of having with them the friendly dog Bonnie. You'll be in the heart of Ibiza, with everything within short drive, and plenty of possibilities for reaching the best beaches in a few minutes' drive.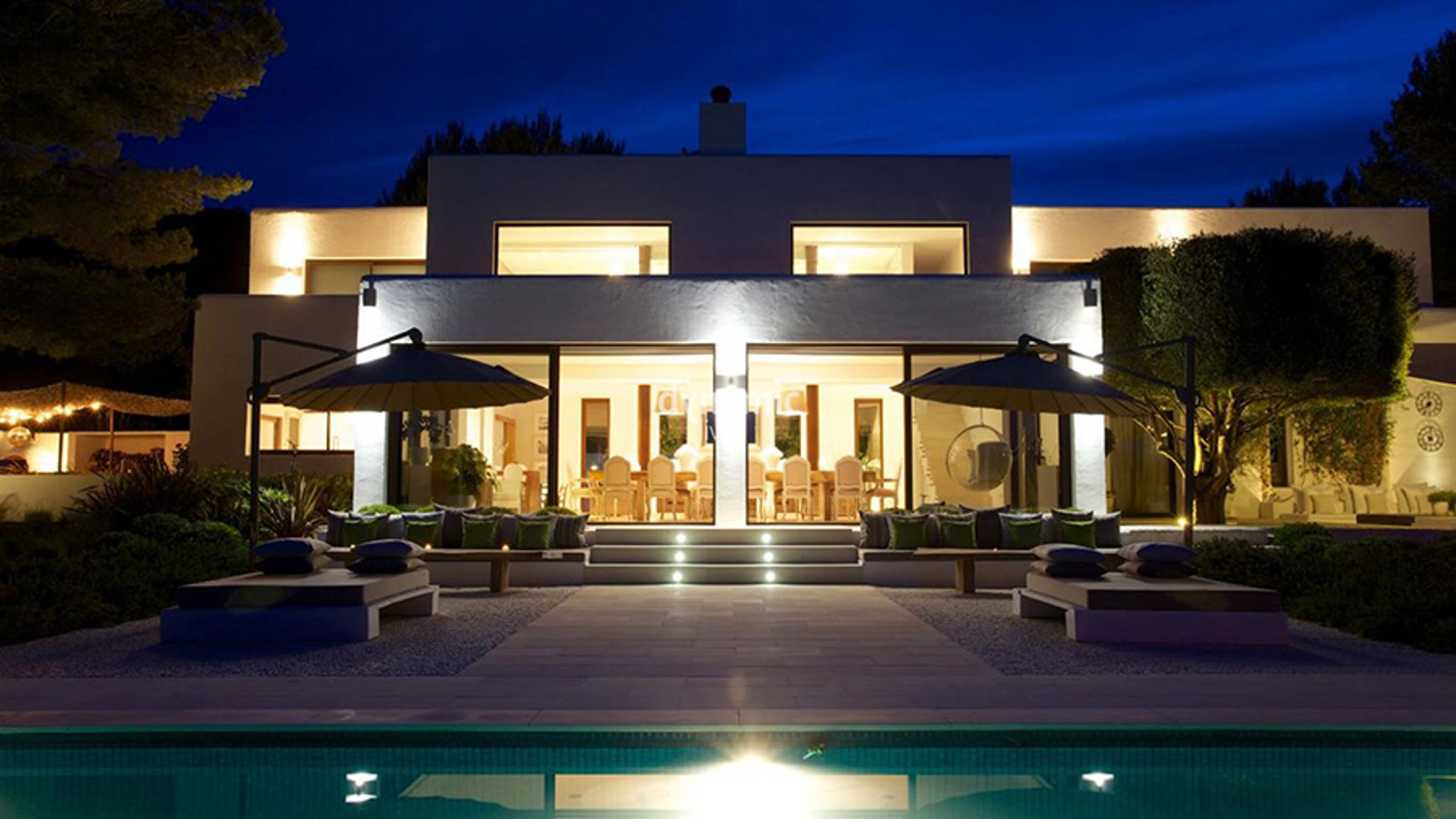 Can Talaya
Situated in the peaceful area between the tiny village of San Rafael and the iconic Santa Gertrudis, Can Talaya is a recently renovated rural villa, perfect for those looking for quietness and tranquillity, and with easy access to beautiful beaches such as Benirass, Cala Gracio and Cala Salada. As if by magic, you will be pampered by contemporary life-style, enveloping architectural shapes and by plenty of personal services available for you such as private chef, childcare, in-house massage… The accommodation is split into a main villa and a guesthouse, offering to two families the possibility of holidaying together yet retaining some privacy.
As part of the VIP concierge service offered by Dynamic Lives for all our villa rentals, nanny services can be arranged for when you have a romantic dinner for two or evening with friends organised.