When you Google Ibiza, one of the first images you're likely to stumble across is the iconic Dalt Vila skyline. A UNESCO World Heritage Listed site, the ancient walled city rises high above sea level and overlooks the port, the marina and the bustling town below – a symbol of Ibiza's endurance throughout history and a beacon for all those who seek a taste of her true spirit. And speaking of taste… it also happens to be the culinary capital of Ibiza.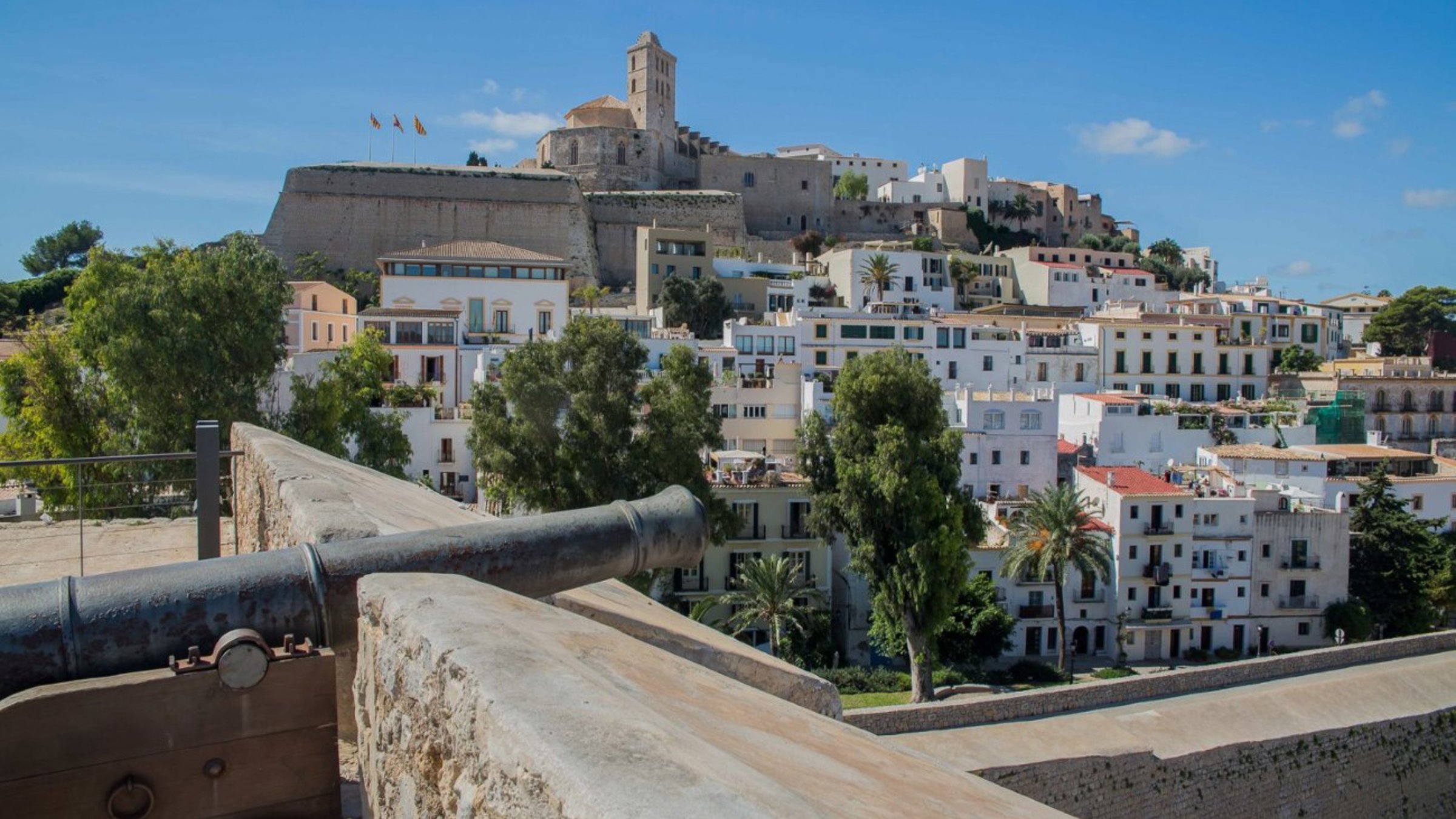 There are thousands of years' worth of history held within these fortified walls, and while many European old towns of a similar era are crumbling into rubble, Dalt Vila is beautifully preserved and also a residential area. Gaze up at the beautiful old apartment buildings with their intricate wrought iron trellises and terrace rails, vibrant bougainvillea dripping from balconies and you can imagine what Ibiza was like in the early 1900s, when poets, artists and writers flocked to the area. Today, the population is a mix of third or fourth generation Ibicencans living in the family homes, ageing hippies and the young creatives who find inspiration all around. Writers, photographers, tattooists, filmmakers, painters, designers, jewellers… the creative spirit remains in Dalt Vila. You just never know who you might meet.   
By day, it's a very chilled affair – the languid summer heat prevents many people from venturing up the ramparts to explore the winding cobbled streets. Those who do are rewarded with a breathtaking view from the top. If you're interested in history, the team from Magnetic Travel can organise early morning walking tours so you can learn more about the area's fascinating heritage. If you're just going for a wander without a guide, be sure to stop-off at S'Escalinata – affectionately known as 'the stairs bar' by locals – for a pre-walk sandwich, a coffee or cocktail. "We have a 'no house music' policy," says owner Silvio of the chilled vibes – he introduced this laid-back concept around five years ago after having his own 'Ibiza moment' on those same stairs just one year prior. Expect to hear world music, reggae, afrobeats and anything but dance music as you laze on brightly coloured beanbags contemplating which way to walk next…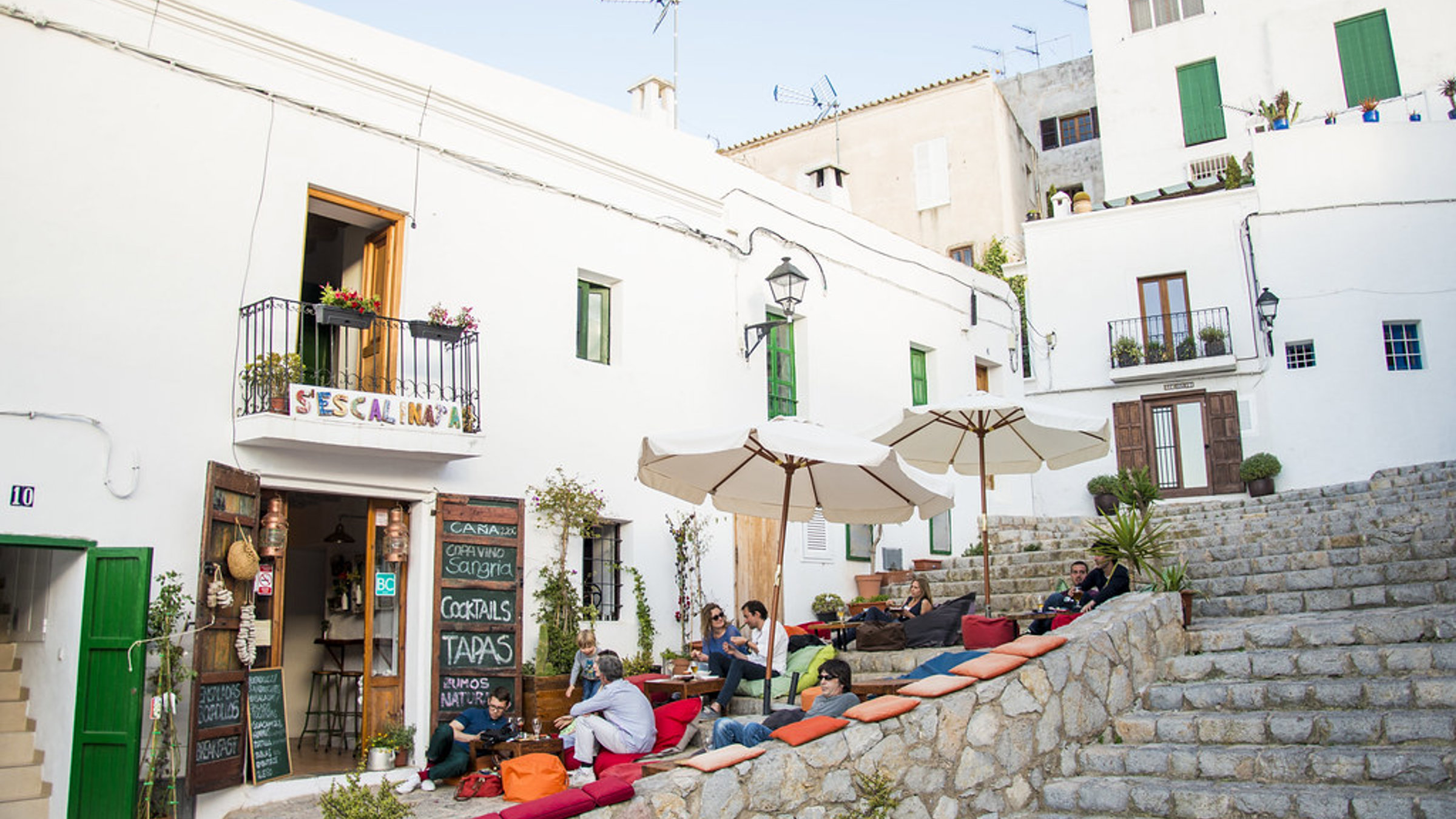 While daylight gives the beauty of Dalt Vila a chance to shine, at night, she really comes alive. Antique street lamps give the cobbled streets a warm golden glow as the who's who of Europe stroll through the ancient drawbridge to dinner. "You can spot first-timers wobbling on high heels while all the local girls wear flats," says local journalist Kristie Rogers, who has lived in the heart of the main plaza for over a decade (and has never worn heels since she moved in). Speaking of dinner, if there's one problem with Dalt Vila, it's this: you are spoilt for choice when it comes to dining options. Thankfully, our local team are well-versed in the art of Dalt Vila dining and are only too happy to point you in the right direction. 
It's an international affair so you can eat as early as 7pm (yes, that's early for Ibiza) making it great for families before the sun sets. "Kids always love running up and down the ramparts pretending to be pirates," says Dynamic Lives founder, George Burdon, who has spent many a night dining with his family in Dalt Vila. "There are amazing street performers to keep them entertained – buskers, magicians, stilt-walkers and mimes – but the ones that make the kids squeal with joy every time are the back flipping Brazilian capoeira performers." One of our favourite kid-friendly restaurants is Plaza del Sol, adjacent to S'Escalinata. Here, the last rays of the sun linger before it sets over the hills. There's plenty of safe space for little ones to run around plus a family-friendly tapas menu that's easy for kids to pick at between games.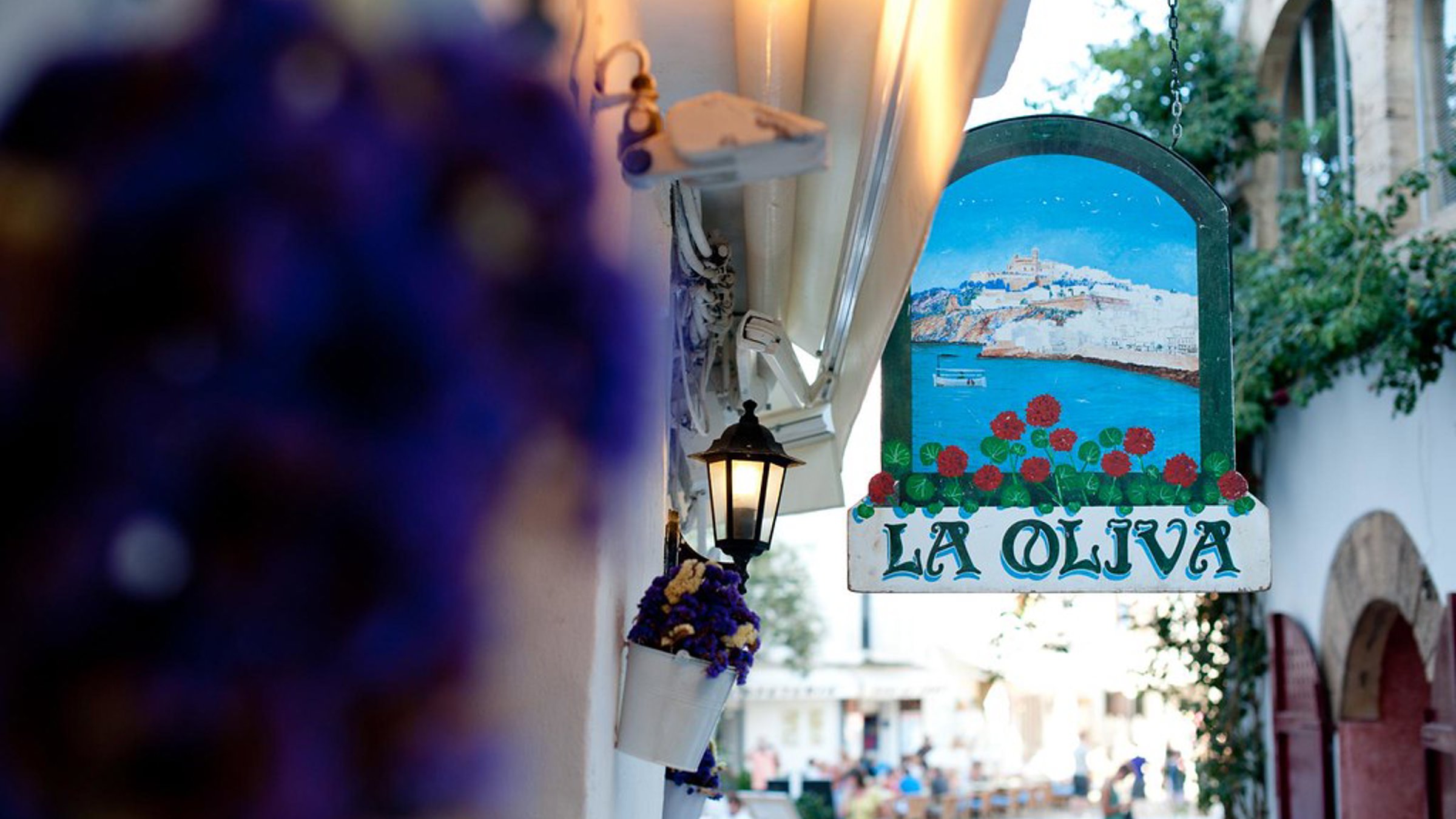 Down in the main plaza – which is dubbed by most holidaymakers as 'restaurant square' – the decadent dining options are plentiful. Set in the very centre of the square is the show-stopping El Olivo Mio – a vision of Flamencita-style red and white polka dots and bohemian hand-painted chairs – where French-inspired Mediterranean cuisine is the order of the day. Just next door is the treasure trove, La Torreta, quite possibly the only restaurant in the square where it's even more preferable to sit inside, thanks to the cool subterranean cave-like private dining room for large groups. A huge part of the appeal here (beyond fine dining favourites like duck confit, suckling pig and the house specialty, an incredible seafood lasagne) is the attentive and sometimes OTT service. Let's just say when there's cause for celebration, these guys pull out all the stops. 
Next door is La Oliva (not to be confused with El Olivo Mio – we've heard tales of a family-feud that led to the two restaurants being names so similarly), a chic and sophisticated family-run space that has been holding court in the square since 1986. Here the cuisine is creative Mediterranean with a touch of Asia, and there's a quaint little bar space for pre or post-dinner cocktails. At the top of the square – and taking up a huge stretch of the street – is La Dispensa, an eclectic and relaxed eatery with a newspaper style menu that truly offers something for everyone. Alternatively, try newcomer Popa for international street food matched by amazing cocktails – owner Danilo is one of the world's top flair bartenders so puts on an impressive show – or crispy focaccia and silky carpaccio at Sa Rosada, or typical paella and salt-crusted fish in the romantic Restaurante Cen d'en Parra.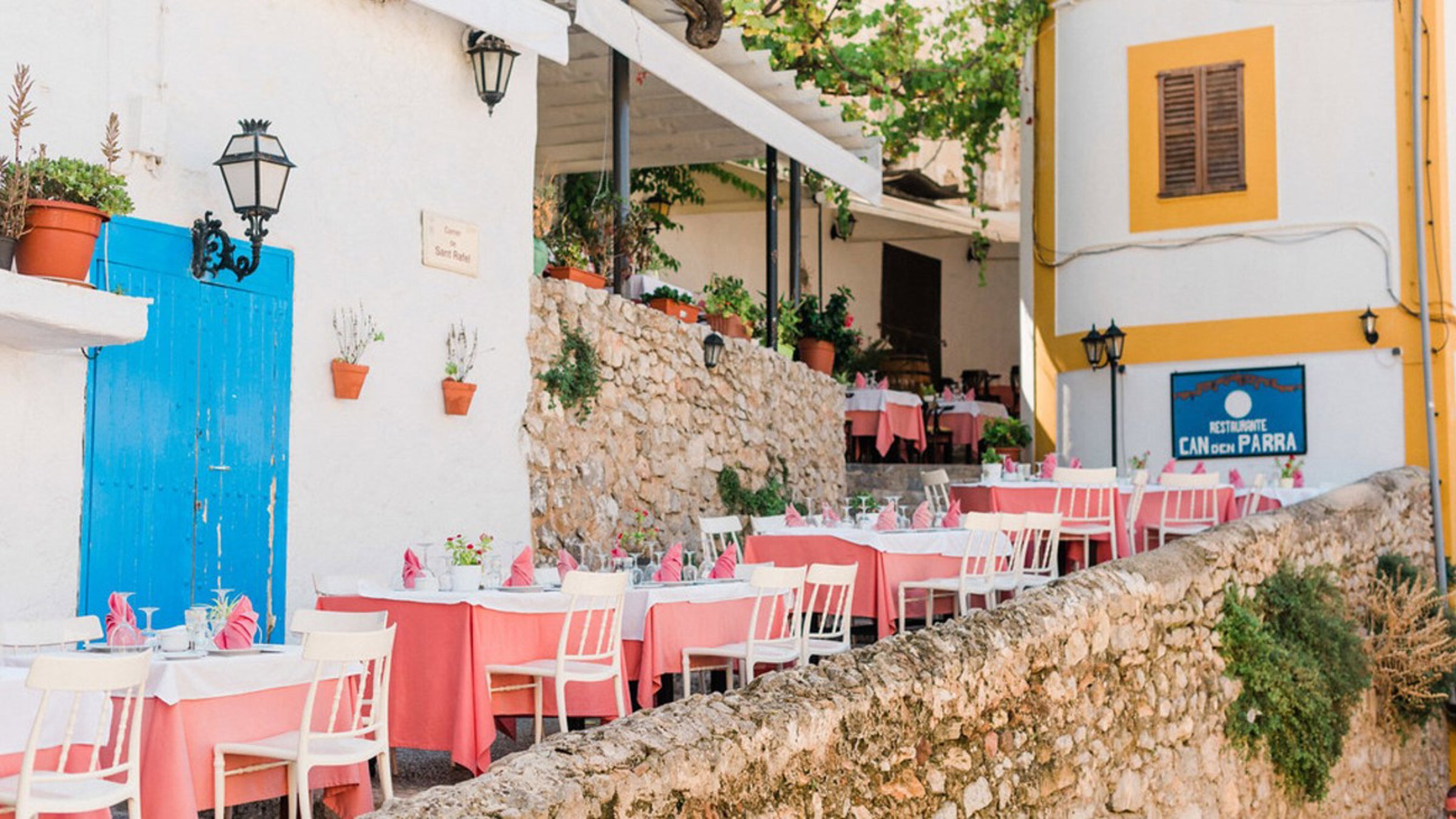 While the restaurant square is teaming with world-class eateries, there are still some hidden gems to be found within the walls of Dalt Vila. Tucked into a tiny corner and hidden beneath a canopy of vines away from the foot traffic of tourist, La Scala is quite possibly the most romantic location in the old town, manned by the most charismatic waiters on the island. A carnivore's delight, you can't go wrong with the Black Angus fillet or the veal escalope here while the John Dory in champagne sauce is another firm favourite. A rave review in the New York Times in recent years means reservations are now always essential – ask our concierge team to make sure you don't miss out. Finally, if you want a taste of ultra-luxe high-end fine dining, Japanese fusion restaurant Kyupiddo is set at the very top of Dalt Vila and girls, feel free to wear those heels as the restaurant sends its cute little golf cart to pick you up at the bottom of the ramparts.  
Speaking of heels and all things fashion, high-end boutique Annie's is the place all island fashionistas make a pilgrimage too on their ibiza holidays – with railings bulging with designer vintage plus edgy and emerging local designers. It's high-glam and good fun, with a 1970s soundtrack playing as women from all walks of life strut their stuff through the centre of the tiny store. Annie's keeps the same hours as its neighbouring restaurants, so you can opt for some late night retail therapy and an après-dinner costume change should the mood strike. Whether you're heading out into the Ibiza night or back to the villa to hit the hay, there's one final stop we simply have to recommend you make before tottering back down through the drawbridge into Ibiza town and that's Punto G, where you'll find the best gelato this side of Italy. 
While the nature of Dalt Vila means there are no villas within its walls, contact us if you'd like to stay in a villa nearby, such as Can Martinet, Villa Volcan or Villa Destino. Our team can help arrange restaurant reservations – as many as you like – and guided tours through the area.