Paella is a traditional Spanish dish which is loved all over the world. We spoke to Tess from LoveFoodIbiza to find out the best recipe for the celebrated dish, which can be prepared with the help of a personal chef at your luxury Ibiza villa.
The secret to making authentic and delicious Paella is all about having the best ingredients (and knowing how they work together!). The secret is Restaurante El Carmen's Secret Sofrito – an aromatic blend of gently sautéed onions, garlic, plum tomatoes, saffron, dried nora peppers, smoked paprika and chicken livers! This last ingredient might come as a surprise, especially for a seafood dish, but it's all about adding as much texture and delicious flavour as possible, using fresh, high quality ingredients. Classic Sofrito is an essential of Spanish cookery, and the incredible depth and richness of flavour it provides will make your paella taste out of this world.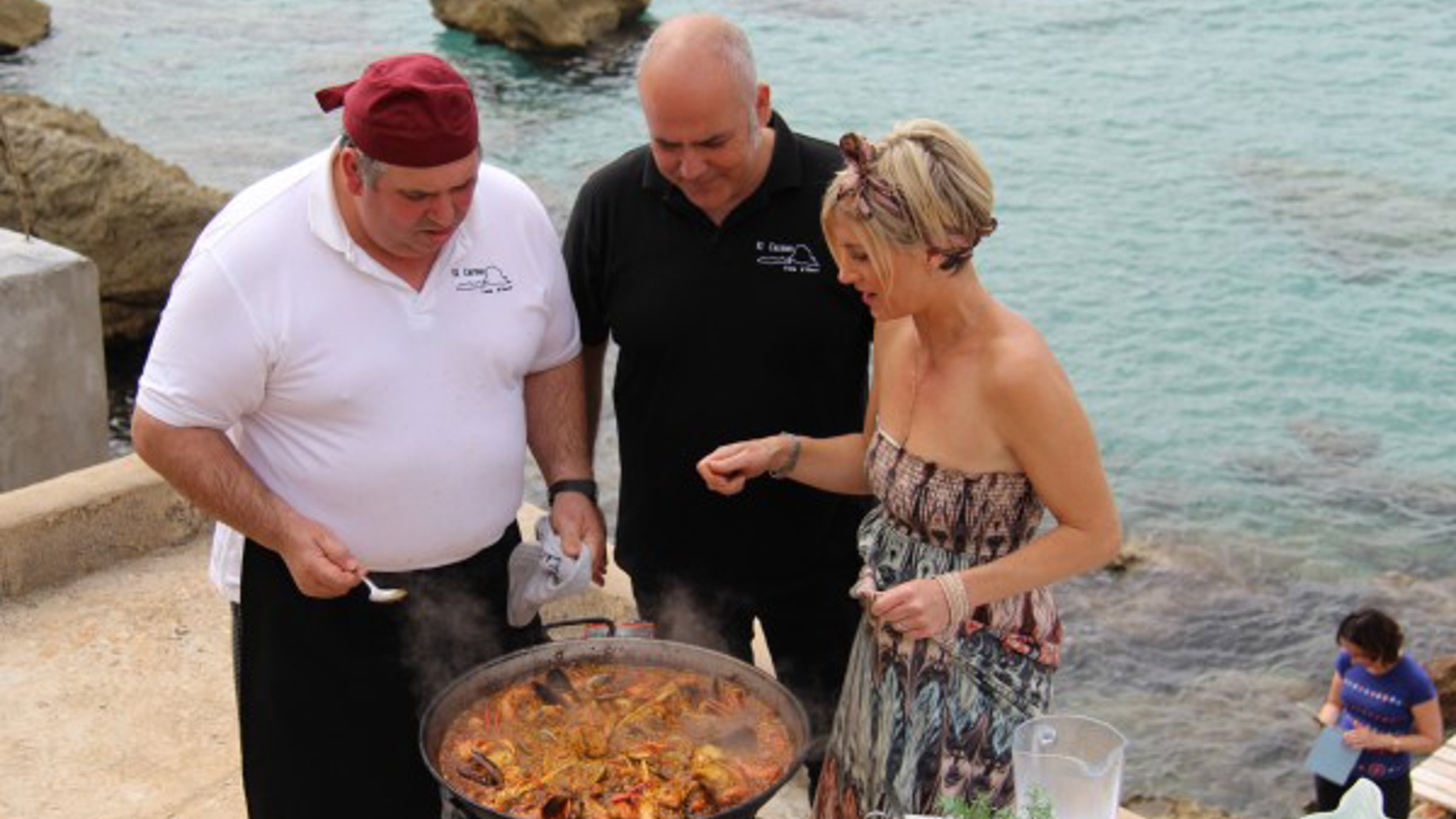 Tips for making the perfect paella
Paella is a rice dish, and choosing the right kind of rice is essential. You'll want to use a Spanish bomba, such as La Fayera – a short grain variety which is perfectly suited to traditional Spanish cooking. And remember – unlike making a risotto, you should avoid stirring and leave your rice undisturbed.
Your main ingredients should always be perfectly fresh, and it's worth taking care to source the best seafood, shellfish, chicken or rabbit that's available to you (it'll make all the difference in the end result!) However, you shouldn't overlook the finer details, such as the stock you use to cook the rice. The best stock is made with a heavy dose of passion and is made especially for the paella – El Carmen create theirs from scratch using prawn heads, fennel, fish bones, tomato and brandy, all included to add a complexity of flavour to the finished dish. 
Finally, if you want to enjoy your culinary masterpiece in the true Spanish way, you'll want to serve it at midday, outside in the fresh air where it belongs. Elizabeth Luard, Author of Classic Spanish Cooking says: "Rice dishes are traditionally only served at midday. Valencians, the rice experts of Spain, maintain that anyone eating paella in the evening is either a tourist, or a native being polite to a tourist."
Ingredients
Sofrito Sauce
3 x spoonfuls of olive oil
10 x plum tomatoes chopped
1 x sliced onion
4 x cloves garlic chopped
3 x small dried Nora peppers chopped
250g of chicken liver (remove for vegetarian)
2 x teaspoons Spanish smoked paprika
1 x handful chopped parsley
1 x dash of saffron
1 x dash of salt
1 x pinch of sugar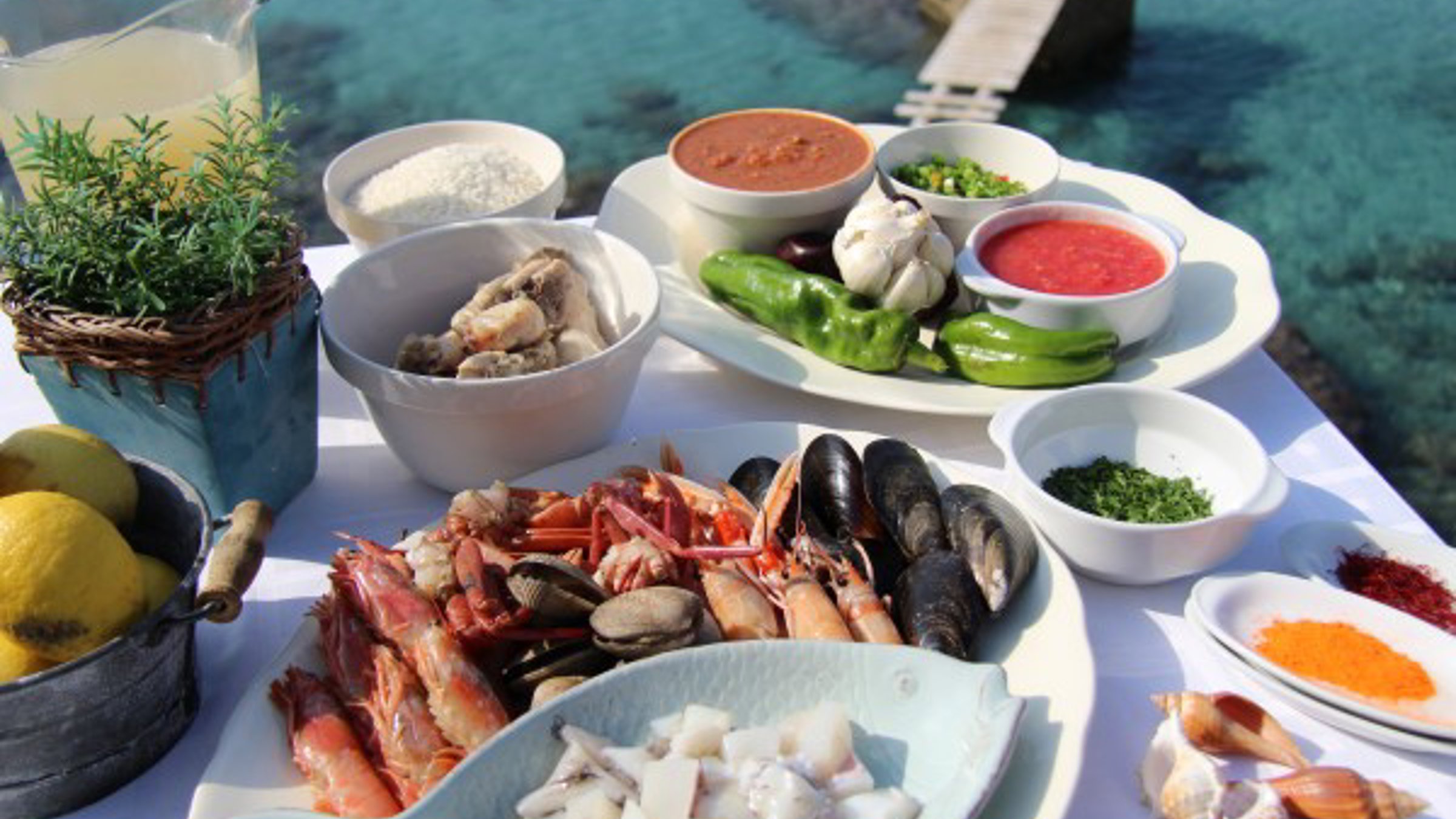 For the paella
5-6 x tablespoon of olive oil
8 x langoustines
12 x big uncooked tiger prawns
250g big fresh and clean mussels
200g fresh calamari, cleand and sliced
300g large fresh and clean clams
1½ green peppers, seeded and chopped into small pieces
400g tin or carton of passata
4-6 x cooked, boneless chicken thighs, cut into chunks
400g of secret sauce
600g short-grain paella rice, such as La Fayera
1 x heaped teaspoon loosely packed saffron strands
2 x litres good quality fish stock
1 x Handful of chopped fresh parsley
lemon wedges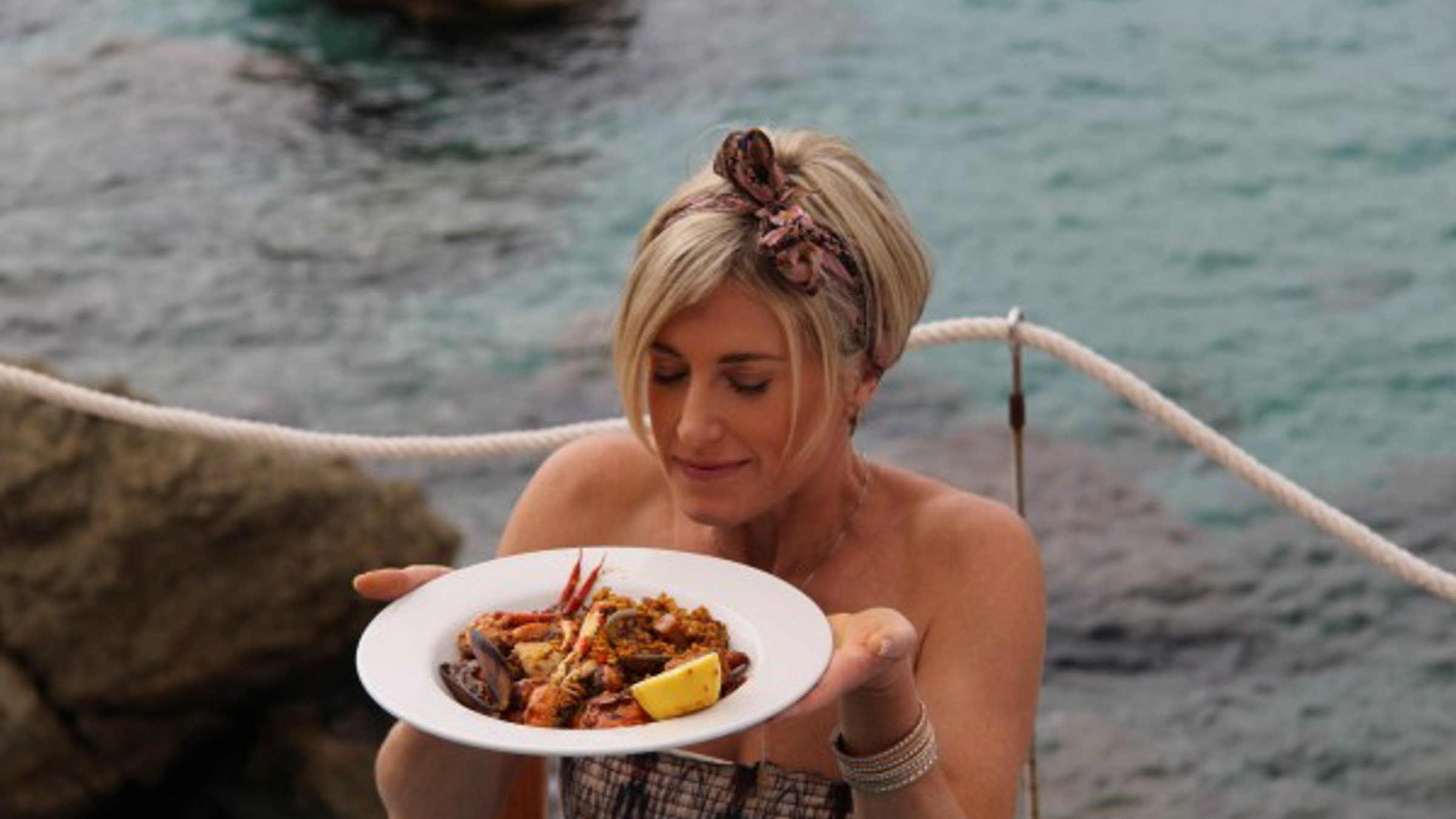 Method
For the Sofrito (You can make this in advance.)
Put the tomatoes in abowl of boiling water for 3 minutes before peeling and discarding the  Heat olive oil and add the onion, sugar and salt. Cook for about 20 minutes, stirring occasionally, until the onions become golden brown.
Stir in the garlic and chopped chicken livers for a couple of minutes, then addnora peppers, smoked paprika, parsley, saffron and cook for another 30 minutes on medium heat. The sauce is just right when it deepens in colour and the oil separates out. Puree it with a blender, or pass it through a fine sieve before seasoning to taste with salt. It will stay fresh in the fridge for a week, or can be frozen for three months. With this sauce you can achieve paella nirvana!
For the Paella
Place a 50-60 cm paella pan over a burner, if you have one, (or place on 2 cooking rings on a hob.) Add the oil and heat until smoking hot, and then add the langoustines, prawns, mussels and clams. Fry for 6–8 minutes until everything cooks evenly and the mussels and clams open (discard any closed ones). Remove from the pan and set aside.
Add the calamari and green peppers and fry for 5 minutes until the peppers are just softened and the squid becomes white and opaque.
Pour in the passata and cooked chicken and thoroughly stir, before pouring in the Secret Sofrito and scattering fresh parsley over the top.
Place all the cooked seafood in the pan apart from the clams, carefully placing the langoustines on the top in a symmetrical design. Gently pour over the fish stock and add the paella rice and 2 teaspoons of salt before bringing to the boil. Leave to simmer for 6 minutes over a medium-high heat, but do not stir, remembering to turn the pan every 2 minutes. Then reduce the heat to medium and leave to cook for a further 14 minutes, again without stirring, by which time all the liquid will have been absorbed and the surface of the rice should be pitted with small holes.Turn off the heat, cover the pan with a clean tea towel and leave to rest for 5 minutes before serving. Serve warm straight from the pan with lots of lemon wedges, bread and aioli. Taste the sublime authentic taste, and enjoy.